Jason Isbell
Jason Isbell
Eilen Jewell
Melbourne Recital Centre – Tuesday 29 March 2016
Croxton Park Hotel – Friday 1 April 2016
$70, $80
SOUTHERN ROCK RECITAL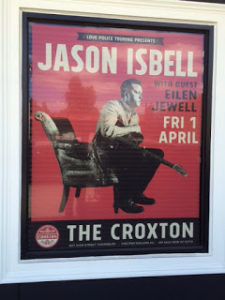 In the narrative of a number of his songs, Jason Isbell often finds himself heading out on the open road in a battered old car or pick up truck. So far, so Springsteen you might think. And the two singers do share some similarities; their songs illustrate empathy for the blue collar working man and profess an understanding of women, plus they both tend to speak out of the bottom corner of their mouths.
However, there are also some major points of departure. Where Springsteen is generally telling the tale of a young tearaway on an escapade with a young lady or a group of mates, Isbell more often than not is on the road alone, making good his escape from a tricky situation and reflecting on where he'd just gone wrong. Their respective song selves generally come to similar realizations about life and love, but Springsteen just seems to have more fun along the way. And he usually gets the girl.
What's in a Name?
The other thing I noticed while listening to Jason Isbell perform at the Melbourne Recital Centre this week is just how bad his characters are with names. The characters in his songs either forget the names of the people they're with (24 Frames), forget their own name (Alabama Pines, Speed Trap Town), think it sounds funny when someone says ther name (Codeine) or don't even get called by their own name (Children of Children). Either Isbell is having an identity crisis or an unusually high proportion of his characters suffer from early onset Alzheimers.
John and I might be suffering from something similar; for we had booked tickets for Jason Isbell's show without realising we already had tickets to see The Decemberists on the same night. While this was unfortunate, there was never really any question about which show we'd attend, for Jason Isbell's two most recent solo albums are among the best releases of the past few years.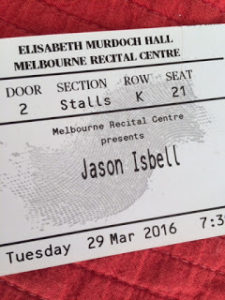 If singing about driving around in cars provides one point of comparison between him and Springsteen, then songwriting knowhow provides another. Isbell can convey a life story in a couplet and unpack all its feeling in his inflection. If Bruce Springsteen is The Boss, then Jason Isbell must be 2IC. So we also bought tickets for his club show at the Croxton Park for the following Friday night.
Eilen Jewell
Eilen Jewell was the support for both nights. I had heard one or two of her songs previously, and although they had more of a country tinge than I would usually tolerate, the songs were pretty good and she has a lovely languorous lilt to her voice.
She certainly attracted her own crowd because instead of the half empty audirorium that usually greets support acts, the place was packed right from the start. She also received more than a cursory polite greeting as she took the stage; so much so that she felt the need to point out that she wasn't in fact Jason Isbell.
In performance Jewell's abundant charm shone through with witty patter between songs and a winning personality. The musicians were uniformly excellent, including Jason Beek on drums, Shawn Supra on upright bass who looked like a young Athol Guy, and grizzled guitarist Jerry Miller, who was wearing a cowboy hat and looked like he'd stepped straight out of a Sam Shepherd play. He got the sort of introduction and cheer that suggested he is a big name in his own right, and he certainly had the appearance of someone who has travelled a few musical highways, to say nothing of his playing, which was effortlessly brilliant. A quick Google search later revealed him to be a guitar legend of long standing – founding member of Moby Grape, he knew Hendrix, played with The Doors and came in at no. 68 in Rolling Stone's list of 100 greatest guitarists of all time.
It certainly speaks to my ignorance (or relative youth) that I didn't know of him, but then, my musical education was largely gained in the Seaview Ballroom in the early 1980s. So unless he was once a member of The Fall, or had spikey jet-black hair, leather jeans and a heroin problem, I probably wasn't paying much attention.
The only person I knew to wear a cowboy hat in that era was Tracy Pew of the Birthday Party. Unlike Pew, I suspect Jerry Miller's cowboy hat was less an item of fetish wear, and more a signifier that he was an actual cowboy. In this instance such headwear indicated that we were in for a full-on honky-tonk, country and western ho-down. In fact it was only that the Recital Centre is a seated venue that we avoided an outbreak of boot-scooting during Jewell's set.
So, not my thing really, and possibly I nodded off momentarily, but she seemed like a beautiful person and the audience responded very enthusiastically. So much so their applause kept jolting me awake.
Free from the stultifying confines of the concert hall, her set at the Croxton Park Hotel three nights later seemed more energetic and dynamic, benefiting perhaps from a high spirited audience that were standing rather than seated, and drinking it up in TGIF mode. Plus she'd done her homework on the local idiom and vowed that they were there to "Rock the Croc!"
Which they duly did. Her sets included Heartache Boulevard, Needle and Thread, High Shelf Booze and Rio Grande among others. On both nights quite a number of people responded to her entreaties to visit her at the merch desk during the interval where she would sign anything "within reason." Her fanbase, if the queue at the Croxton was anything to go by, is 50+ year old balding, paunchy men.  Possibly not what she envisioned when she embarked on her career, but at least it's a demographic that buys vinyl and cds rather than downloads it illegally.
The Jason Isbell tour t-shirts on sale at the merch desk bore designs that looked like whiskey or bourbon labels, which I thought odd for someone who is supposedly a recovering alcoholic. I've read that Ryan Adams was instrumental in helping stage an intervention to help Jason Isbell get sober, which made me wonder just how bad he must have been – having Ryan Adams sponsor your sobriety would be like having Rolf Harris act as a character witness.
Elisabeth Murdoch Hall
The Melbourne Recital Centre was purpose built for chamber music ensembles, but economic realities have meant that the group operating the venue have had to broaden their offering to include other types of music, including – God forbid – rock 'n' roll.
It was deisgned with acoustic fidelity and clarity as paramount, so the interior of the Elisabeth Murdoch Hall boasts a polished and carved timber finish. It looks great, but more importantly, it sounds incredible. There are some acts it wouldn't necessarily suit, such as Batpiss or Ouch My Face, but for any artist trading in finesse and subtlety it is probably the best venue in Melbourne.
The only problem with the design of the hall is that there aren't enough toilet facilities. I can't speak for the Ladies, but when you have the combination of rock bands and a full bar, you need to cater for more than five or six at a time in the men's.
The other design flaw is that there is no centre aisle in the stalls. I assume this is to preserve the acoustic fidelity of the auditorium, but it means that there are 35 or so seats strung out across each row. If you're in the centre, that's an awful lot of "Excuse me's" and "Sorry's" you have to mutter as you edge across in front of people, nudging their knees and stepping on their toes while placing either your arse or your crotch in their face. Still it's a small price to pay for a decent venue, and when you think about it, the situation offers its own possibilities for frisson.
Jason Isbell
All that aside, I was looking forward to hearing Jason Isbell's beautifully crafted songs in a proper concert hall. I've seen him perform solo previously, as support to Ryan Adams some years back, but missed his 2014 shows that my band buddy John still raves about. Since then, he's released Something More Than Freean album that, despite winning Grammys, is every bit as good as its predecessor, Southeastern and should sound amazing played live with a band.
Isbell and his band took the stage and played Stockholm and Palmetto Rose – two of his rockier numbers that tested out the hall's acoustic limits.
The lineup consisted of Sadler Vaden on guitar (with a name like that, you simply have to become a lead guitarist in a rock band, or a porn star), Jimbo Hart on bass, Derry deBorja on keyboards and Chad Gamble on drums, as well as Isbell on electric and acoustic guitar. During musical interludes when not required at the microphone, Isbell strolled about the stage checking out what each musician was up to, somewhat in the manner of a school teacher supervising their class.
Reference to his former band, The Drive By Truckers, generated a series of whoops from the audience, particularly the guy sitting two rows behind me who gave an extra cheer when Isbell began Decoration Day.  There was no doubting this chap's Isbell fan credentials when he gave an equally loud cheer for Alabama Pines– another song from Isbell's pre Southeastern period.
Jason Isbell himself alternated between electric guitar and acoustic. It was during the quiter numbers that the power of his voice rang clear and he was able to extract the acoustic advantage the concert hall bestowed, in particular during Travelling Alone, The Life You Chose and Different Days.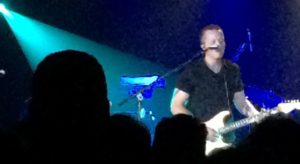 Never Gonna Change, another Drive By Truckers number, ventured into the realms of prog rock performance with Isbell and Sadler Vaden exchanging competitive guitar licks while facing each other. It wasn't quite Bowie fellating Mick Ronson's guitar, but it wasn't too far removed.
The band left the stage as Isbell commenced playing Cover Me Upsolo on his acoustic guitar. Vaden hid in the shadows and added slide guitar accompaniment. As the song continued to build in intensity, the band gradually returned one by one to help lift it to its showstopping crescendo. This was one of the highlights of the set, with Isbell's impassioned voice filling the auditorium, and the band accentuating the singer's ardour with a majestic and potent backing.
From here the band brought the show home with a succession of outstanding tracks, including the the gentle folk of Relatively Easy and the jaunty If It Takes a Lifetime, before concluding with the gutsier 24 Frames and the sublime Children of Children – probably the highlight of the album as well as this show. The woman behind me let out an audible sigh when he sang the line about the years he took from his mother's life, "just by being born". I had to dab a tear away myself. It's a powerful song and this performance of it was fervent and intense.
As he put his guitar back on its stand and waved an arm in salutation, the standing ovation was unanimous and instant, mainly because it had been a remarkable show, but possibly because the seats had grown quite hard after more than an hour and while I can't speak for everyone else, I was taking any excuse to stand.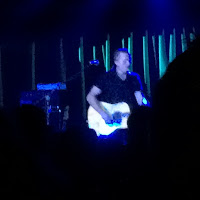 The emotions stirred up by Childlren of Children carried over into the first encore number when Isbell took the stage alone to play Elephant, a song about a friend dying from cancer. The mood lightened somewhat with the full band blasting out the Truckers song, Codeine. While Vaden and Isbell struck time honored guitar god poses, deBorja stepped out from behind his keyboard and joined in the rock 'n' roll revelry with a piano accordian. Despite Isbell helping him out with some stage byplay, deBorja proved that it is extremely difficult to look convincing while 'rocking out' with a piano accordian.
The show at the Croxton Park Hotel three nights later was a more boisterous and rollicking affair, befitting its less formal environs. The setlist was largely similar, although they sequenced the songs differently, opening with 24 Frames to get the crowd immediately involved and replacing Elephant and Relatively Easy with the punchier Flying Over Water and Hudson Commodore.
Both shows were excellent and it was worth seeing performances in two such distinct settings. I suspect Isbell and band felt more at home with the lively and animated crowd at the Croc, and perhaps it's a sign of my dotage, but I really enjoyed the Recital Centre show where the acoustics were crystal clear and I could watch the band without having to strain to look around the heads of those in front of me.
It was certainly something more than free – about $80 each night in fact, even more when you factor in the cost of The Decemberists tickets we didn't use – but it was also something more than enjoyable.
Setlist (Recital Centre)
Stockholm
Palmetto Rose
Something More Than Free
Decoration Day
Alabama Pines
Travelling Alone
The Life You Chose
Different Days
Never Gonna Change
Cover Me Up
Relatively Easy
If It Takes a Lifetime
Speed Trap Town
24 Frames
Children of Children
– – – – – – – – –
Elephant
Codeine
Setlist (Croxton Park Hotel)
24 Frames
Flying Over Water
Something More Than Free
Decoration Day
Different Days
Hudson Commodore
The Life You Chose
Travelling Alone
Alabama Pines
Codeine
Palmetto Rose
Never Gonna Change
Cover Me Up
If It Takes a Lifetime
Stockholm
– – – – – – – – –
Speed Trap Town
Children of Children