The Darling Downs
The Darling Downs
Luke Sinclair
Grandview Hotel, Fairfield
Saturday 2 April 2016
$14
INTHE FOOD BOWL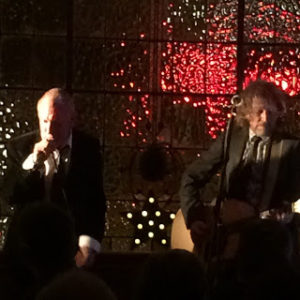 The Darling Downs is a stretch of rich pastoral and agricultural land in southern Queensland that forms part of Australia's so called food bowl. It was perhaps appropriate therefore that Ron S Peno and Kim Salmon's musical outfit of the same name should be playing in a bistro. Particularly as their names evoke seafood with a glass of light red.
The bistro at the Grandview Hotel in Fairfield may seem an unlikely place to see a performance from the legendary lead singer of Died Pretty, together with the man generally acknowledged to have invented grunge with The Scientists, but not only did it make for a homely atmosphere, it was quite convenient to get to. As I walked in, probably 50 or so people, including families, couples and large groups of friends, were seated at tables tucking into their dinner and chatting convivially over a glass of wine. Seated at the end of one table chewing away were the stars of the night, Ron S Peno and Kim Salmon.
I couldn't make it to Died Pretty's recent shows in Melbourne, and nor am I able to attend Peno's forthcoming show back at the Grandview with the Superstitions, so this rare live performance by The Darling Downs took on greater signifiance. Besides, I'd never previously seen them play.
The Darling Downs is Peno and Salmon's acoustic folk and roots side project. They convene irregularly every few years or so for a show or an album – there's been three albums in 10 years – so this was not be missed.
Luke Sinclair
Luke Sinclair from Raised By Eagles opened the night playing a solo set. I'm not familiar with his band's material, but their most recent album, Diamonds in the Bloodstream, was well regarded and has won several awards in various alt-country categories.
He played Waiting For Ghosts from that album, but despite his reasonably full song introductions, I'm not sure if the other material he played was drawn from that band's catalogue or his own secret stash. I was half listening to Luke and half checking progress footy scores between songs. One song, he said, was about his hometown of Beechworth, another had been commissioned by Darebin Council. I don't know if it was about bin night or hard rubbish collections, but without knowing the origin of his band's name, I was just relieved he wasn't playing any songs by The Eagles.
His songs were well crafted, but they all seemed to be played at more or less the same tempo. This may have been because he was accompanying himself on acoustic guitar. Perhaps realising this, he asked his wife, Tracy McNeil, to join him on vocals and add some colour to a few songs. In any case, most of the patrons were still finishing their meals so they didn't want to be subjected to a sonic assault before dessert.
The Darling Downs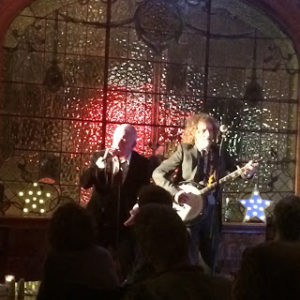 If Luke Sinclair's gentle guitar backing lent all of his songs a similar pace and tone, then Kim Salmon dispelled that mood with the aggressive strumming he brought to the very first song of The Darling Downs' set, In That Jar.
Peno further accentuated the change with his distinctive and expressive vocals that filled the room, and perhaps several adjoining rooms as well. I suspect even the people in the gaming room looked up from their machines for a second or two wondering what the interruption was.
Salmon and Peno are an interesting duo. With Peno's diminutive stature and Salmon's curly hair, they sort of look like a post-punk Simon and Garfunkle, although the front room at the Grandview is not exactly Central Park. Salmon grinned away at the audience under his mop of curly hair while he bashed out a tune from his acoustic guitar, while Peno looked at the ground, out the window, even internally, anywhere it seemed but at the audience, while his body twitched, jerked and jolted in involuntary spasms as he sang.
The first few songs were drawn from the first Darling Downs album, How Can I Forget This Heart of Mine, including Why Did She Leave, All Fall Down and Let it Breathe, a folky rootsy number that ended with an almighty yelp from Peno. They played a few songs from their second album, From One To Another, that Salmon spruiked, saying he had the last five known copies on vinyl available for sale at the merch desk. Circa '65 from that album is a dark, brooding masterpiece that was the centrepoint of the first set. A couple of false starts to the gentle Every Time We Say Goodbyehelped lighten the mood. They rounded out the first set with the beautiful and impassioned Loverslain.
During the interval I wandered over to pick up a copy of From One To Another. Kim Salmon told me that Ron doesn't particularly like the album because he thinks it is a bit dark and too much in the minor key. I thought that was a bit odd – after all, it's not like Died Pretty are the chirpiest band you'll ever hear. Salmon added that perhaps it was just because he'd written more of the songs than Peno for that album. Peno revealed on stage that he didn't own a copy and petitioned someone to buy it for him. I didn't, instead I purchased Kim Salmon's new album My Script and asked him to sign it for me. I was way too intimidated to ask Ron Peno to sign anything. He'd repaired to the bar for the interval, obviously leaving the grubby commercial side of the operation entirely to Salmon.
Kim Salmon picked up his banjo for the beginning of the second set, and they played There Were Tears, the first of a series of songs from their third album, In The Days When The World Was Wide.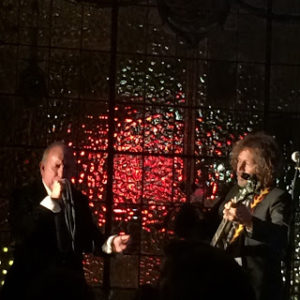 In fact the second set consisted of the entire album with the addition of Somewhere There's a Place Where I'll Be Fineand a cover of E.T.I.(Extra Terrestrial Intelligence) by Blue Oyster Cult – not a band you hear covered very often, well ever actually. Ron said he could sing Blue Oyster Cult all night, but they reverted to their own material, playing the beautiful, Your Face and Higher When They Fall.
The stage at the Grandview Hotel is in the corner and backs onto the intersection of Heidelberg Road and Station Street. If you walked in the corner entrance you'd find yourself on stage. One bare light shone on the stage, settling harshly on the top of Peno's head. The lighting effects, however, were produced by the moving car beams and changing traffic lights reflected through the leadlight windows of the pub. It actually created quite a rich and varied light show.
The Darling Downs have an intriguing approach. Salmon's forthright approach to playing mixed with Peno's rich baritone and idiosynchratic stage presence made for a magnetic performance. Essentially it was just acoustic guitar and voice, and yet it seemd so much more than that.
Two full sets plus a support act made for a long night however, with the show not finishing until after midnight. That's a long time for people to get comfy and drink in the music and whatever else they might wish to imbibe. This point was driven home by one patron whose quick movements managed to place a wine bucket under the chin of his heaving companion, just in time to catch her stream of her vomit.
Vomiting into a champagne bucket is an act rich in symbolism, a conjunction of the sort of high life and low life that Ron Peno and Kim Salmon might exploit in song. Which is all well and good, but you shouldn't have to clean up symbolism.
Setlist
First set
In That Jar
Why Did She Leave
Still Falls The Rain
All Fall Down
Let It Breathe
Circa '65
Every Time We Say Goodbye
Something Special
Waste My Time
Deep Deep Blue
Loverslain
Second set
There Were Tears
I Don't Care
Like Desire
Somewhere There's a Place Where I'll Be Fine
Saved
Down To the River
Wish You Were Her
E.T.I. (Extra Terrestrial Intelligence) – Blue Oyster Cult cover
Your Face
Higher When They Fall
Light of the World
Between the Forest and the Trees
Forever Night