Jen Cloher
Jen Cloher
The Thin White Ukes
(supporting Robert Forster)
Thornbury Theatre
Friday 27 November 2015
$35
Go Betweens
I was with my friend John for a sold out Robert Forster gig at The Thornbury Theatre. We'd arrived in time for the support act, Jen Cloher whose most recent album, In Blood Memory, is startlingly good. I say 'startlingly' because it represents a stark change in direction for her.
Her previous albums; 'Dead Wood Falls' and 'Hidden Hands', tended to the folky singer-songwriter school, whereas In Blood Memory has a tougher, minimalist rock sound that suits her laconic delivery and emboldens the material. I had seen her perform live only once, just a month or so previous, as part of the Melbourne Festival's tribute to Patti Smith's Horses album, so I was keen to hear her playing her own material, especially given I was going to be there anyway.
The Thin White Ukes
As we entered the Thin White Ukes were playing. They came more or less as advertised – a woman and two men playing David Bowie songs on ukuleles. The only question mark might be the relative thinness of one of the men, but relative to Bowie, no one is thin, so to criticise them on this basis would just be quibbling. They worked through a selection of Bowie classics – The Man Who Sold The World, Starman, Golden Years and Ashes to Ashes with surprising conviction, even élan. The minimal accompaniment highlighted the inherent musicality of the songs.
They even embarked on Station to Station, the song that contains the eponymous reference to 'the return of the thin white duke', but rather than giving us the full 10 minute feedback drenched sonic extravaganzas, complete with steam train noises, they morphed it into the somewhat more sing-a-longable Let's Dance. John was wanting to shout out for Art Decade or Warszawa, a couple of Bowie and Eno's brooding electronic instrumental experiments from Low, but was only prevented from doing do out of concern they might actually attempt them.
It was refreshing to hear Bowie played with such a sense of fun. These were among the most refreshing Bowie covers I'd heard since Seu Jorge popped up in The Life Aquatic singing Rebel Rebelin Portugese.
Jen Cloher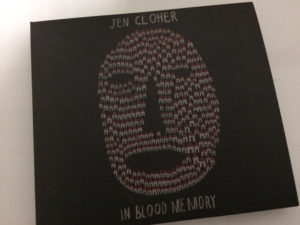 I was a little bit disappointed that Jen Cloher played a solo acoustic guitar set without her band, but I suppose she was the support act for this gig, so you can understand why the stage crew only wanted to set up one set of amps and one drum kit. Besides the bulk of her band were probably in Sydney with Courtney Barnett at the ARIAs.
Nevertheless she gave an exuberant performance. She opened with one of her early songs, Rain, and then played Mount Beauty, the opening track from In Blood Memory, which she said was about a stalker – having one or being one I'm not sure.
Cloher was a warm and generous performer, giving credit to those who have inspired her, including Robert Forster, and she played a Gillian Welch song to celebrate the forthcoming tour by Welch and Dave Rawlings. She didn't mention it as such, but her jet black hair style was also a sort of tribute to either Joan Jet or Noel Fielding.
She introduced songs with just enough context, telling us that Mother's Desk is about the feeling of emptiness she felt upon the death of her mother.
The rest of the set featured songs from In Blood Memory, including Kamikaze Origami and David Bowie Eyes, just to continue the theme established by the Ukes. She invited The Thin White Ukes to join her on stage to perform Needle in the Hay, that she introduced as a split 7-inch single with "a young up and coming performer called Courtney Barnett who you might hear of one day." Given that Barnett, Cloher's partner, had swept the previous night's ARIA awards, her comment received the requisite titter from the audience.
The set concluded with a great version of Name In Lights, and even though it was Robert Forster's name in lights on this occasion, Cloher's name glowed faintly alongside it. Between sets we went and said hello at the merch stand and John bought a copy of In Blood Memory.
Set list
Rain
Mount Beauty
Gillian Welch cover
Mother's desk
David Bowie Eyes
Kamikaze Origami
Needle in the Hay
Name in Lights