Tame Impala
Tame Impala
Mini Mansions
Sidney Myer Music Bowl
Saturday 7 November 2015
$115 (original ticket price $70)
CAUGHT IN THE CURRENTS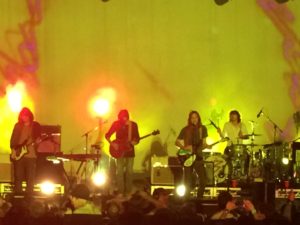 Buddy, Elvis, Prince, Iggy, Mick, Kurt and Kanye. These are names that immediately evoke the image of a strutting, swashbuckling frontman. If you happen to be just such a swashbuckling frontman but were not blessed with a suitably baroque moniker, you can just invent one: Bono, Elton, Sting, Axl, Moby and Eminem are testament to that. These are the sorts of names synonymous with rock gods who bestride the stage like a Colossus.
So what to make of someone with a name as prosaic as Kevin Parker? Surely that's the name of the guy in Accounts or the old bloke who works in the storeroom, not the name of an internationally renowned psychedelic sonic genius and songsmith. Then again, perhaps it is the name's very commonplace qualities or everyman sound that make him stand out from his exotically named peers: Sia, Ariana Grande, Lady Gaga, Montaigne, Olympia, Skylar Grey and their ilk.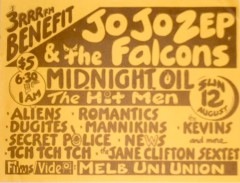 Kevin Parker might indeed be the most notable 'Kevin' in rock music. The only other 'Kevins' I can think of are Carmody and Borich – no slouches in their respective fields, but hardly with the global reach of Parker's band, Tame Impala. There was a Melbourne alternative band in the late 1970s called The Kevins. This poster shows them listed just below Midnight Oil on the bill for a 3RRR Benefit concert at Melbourne University. I actually went to that gig. I remember the Oils were awesome, but I don't recall whether I saw the Kevins. In fact the only thing I can remember about them is their name, so perhaps that is telling in itself – perhaps it is a name invested with special qualities after all.
Let It Happen
It was a coolish night in Melbourne, but at least it wasn't raining. Not that it would have bothered me too much because I had a seat under the canopy for this gig at the Sidney Myer Music Bowl.
I had secured it under what I consider pretty dodgy circumstances. By the time I got around to searching for a ticket, the show had supposedly sold out, which I thought quite remarkable for a venue with a 12,000 or so capacity, even allowing for Tame impala being the psychedelic band du jour. There were no tickets available through Ticketmaster. Yet lo and behold, Ticketmaster's resale site had tickets available.
This is a site where people with unwanted tickets can on-sell them, just in case they've accidentally bought 10 extras. Which, based on the number of tickets available, quite a few people had. The re-sale price, as the site made pains to point out, is set by the vendor. I scrolled through and found tickets at a varying range of inflated prices above the original $70. I booked one of a set of five seats in the stalls for $115. More than the cost of the original ticket, sure, but I thought it was worth paying a premium to secure a seat near the front at a Music Bowl gig rather than be squashed on the grassy knoll up the back.
I did wonder, however, in what way was this reselling service not just licensed scalping? If I bought the same ticket at the same price from the same vendor behind a tree in the Botanical Gardens on the night of the event, wouldn't he or she or me be arrested for scalping?
I'm not saying anyone is acting illegally, but surely consumer advocacy groups would be interested in monitoring a practice whereby the agency responsible for releasing and selling the tickets at a set price in the first instance is also the agency that operates the resale service in which the same tickets can be on-sold for a higher price? Am I the only one who sees a potential conflict of interest here? Or more precisely, the potential for racketeering?
For the moment I was happy to quell my concerns, so long of course as it all worked out. Despite my doubts, I did eventually receive my ticket and gained access to the seated area, where I had a seat half way back dead centre. Okay, so let it happen.
Mini Mansions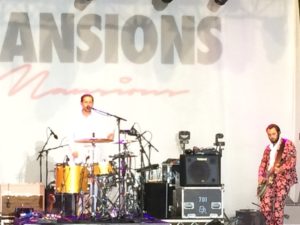 I'm familiar with the accelerated thump of House music and I wondered if a band called Mini Mansions would play a variety of this dance music with a heavy beats per minute ratio. I thought that perhaps naming yourself after a dwelling might commit you to the genre. Not that The Apartments have felt any such compulsion, but then they formed before House music existed.
As I discovered once they started, support act Mini Mansions eschewed the syncopated breakneck beats associated with House music for something a little less psychotropic. They are a three-piece band from Los Angeles comprising keyboards, stand-up drums and a guitarist/bass player. It was still daylight when they took the stage so without recourse to a light show, the guitarist compensated by wearing a snazzy floral patterned suit. Their sound was reminiscent of a mid-1980s fuzzy synth band (but one of the good ones), with sunny, even euphoric Beatles-esque melodies – hence their suitability to a Tame Impala show.
They played a short set of catchy, powerful songs and had an impressively full sound, especially considering there were only three of them and they were playing to a vast amphitheatre. I checked them out on Spotify post gig and their album The Great Pretenders is pretty good.
Tame Impala
Between bands the crew swarmed across the stage to clear the Mini Mansions gear and set up for Tame Impala. Perhaps the first sign that we were in for a special show was that instead of the usual uniform of black tour t-shirt and black denim jeans with an inch or so of arse crack, the stage crew were all wearing white lab coats. These people were not just roadies, but technicians. Unless the lab coats signified that they'd been out the back in a lab during Mini Mansions set concocting synthetic hallucinogenic drugs for the band members.
Night had fallen and expectations risen by the time Tame Impala strolled onto the stage parading the sort of tall, thin, long-legged, hirsute rock god insouciance that shows they are the band of the zeitgeist.
Plugging in, the band members hunched over their instruments and opened with a short feedback drenched jam before turning to face the audience to launch into the exuberant disco grooves of Let It Happen – the lead song from recent album, Currents, and surely one of the best singles of the year. The stalls immediately emptied as everyone rushed the stage to indeed, let it happen.
The essential ingredients of any half-decent psychedelic rock show were immediately apparent: long-haired band members, colourful, kaleidoscopic
light show and the pervasive smell of dope lacing the night air.
The light show really was amazing – possibly the best I've ever seen. More than just a backdrop, the band members seemed immersed in the morphing blobs of yellow, blue, green, red and purples that shifted, contorted, dripped and distended, making the entire stage appear like a giant lava lamp. I felt my consciousness expanding just by watching them. Of course that might have been the weed seeping into my pores.
Solitude Is Bliss
Tame Impala exist as a band only in a live context. The records are made by Kevin Parker, who writes all of the material, plays all the instruments and even produces the album himself, just like those other multi-tasking boffins, Prince and Beck. This approach has the potential to be both limiting and liberating I suppose, but at least the band can't break up over musical differences. In any case, Parker eschews the one man band, bass drum strapped to his back approach to live performance, enlisting help from Dominic Simper on guitar, Cam Avery on bass, Jay Watson on keyboards, and Julien Barbagallo on drums to recreate his sound.
If there is any suggestion that Parker's approach is indicative of a megalomaniac, then it is disputed by the unfailing courtesy and politeness he displays in interviews and appearances. He seems like the nicest guy in rock. If he shaved, cut his hair and wore a coloured skivvy he could be a Wiggle.
There is a track on Innerspeaker called Solitude Is Bliss that might elucidate the reason behind Parker's working methods, but on this night he seemed impressed by the size of the crowd, commenting on how far back we went. Admittedly at the Bowl the audience does give the impression of looming over the stage. A 'fun fact' he revealed was that this was the biggest ever Tame Impala show – which of course he probably tells every audience, it's just that in Melbourne we like to believe such stuff.
Yes, He's Changing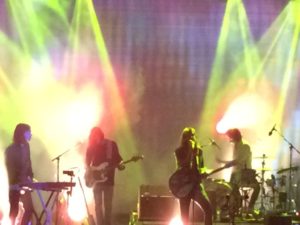 The show, meanwhile, rolled through a mix of material from across their career. From the hypnotic, laid back psychedelia of songs like Why Won't They Talk to Me? and It Is Not Meant To Be, to the glam stomp of Elephant, the beginning of which elicited the biggest roar of recognition from the crowd.
As you'd expect, new album Currents was mined for material. Yes, I'm Changing had its live debut, with its smooth synth underlay illustrating the title and heralding the new mellow sounds prevalent on Currents.  The funk of The Less I Know The Better was followed by Eventually which developed into a communal falsetto karaoke moment from the mosh pit all the way to the back of the hill.
The hallucinatory visuals mixed with the spaced out soundscape in a trippy cocktail, but that is not to say the gig was lacking in power or energy, for the band played with oomph, verve and precision. The sound was expansive and the mix was crisp. The whole show was such a euphoric sensory experience that I didn't need any of the artificial stimulants that were being passed around on the grassy knoll behind me.
Fittingly perhaps, given its title, the band closed their main set with Apocalypse Dreams. Not that it sounded any less exuberant and lush than their other songs. In fact it was positively jaunty in parts, which made it a suitable enough place for the show to finish, if indeed it had to end.
The stage lights remained dimmed, dry ice continued to bellow out in fluffy plumes and the road crew busied themselves with cables, cords (as opposed to chords), and gaffa tape, all of which hinted that the band would be returning. I left the wolf whistles and the chanting for 'more' to others, but given that they hadn't yet played their most well-known song, Feels Like We Only Go Backward, I strongly suspected they'd be back.
Sure enough, they soon strolled back on. No sooner had Kevin Parker asked if we wanted to sing along than the distinctive keyboard motif that opens that song rang out and the audience bellowed out the opening line. Parker was sans guitar for this one and strolled about the front of the stage accepting hands and gifts from those at the front, and even posed for the occasional selfie.
"We've got just one more song to play" he announced and they went into an extended jam that became Nothing That Has Happened So Far Has Been Anything We Could Control. Just going by song title, if they opened the show by letting it happen, they closed it by abdicating responsibility for whatever had transpired, but if it was all an accident, it was certainly a happy one.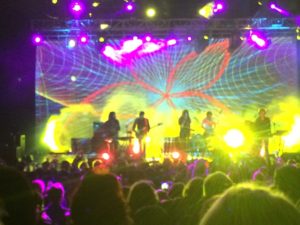 The song ended with an eruption of white strobe lights that resembled a cluster bomb attack, followed by the incessant flashing of fluorescent colours that brought to mind Lennon's famous line about 'tangerine trees and marmalade skies.' If Parker's music channels The Beatles' more psychedelic moments, then Tame Impala's light show brings that world to life in glorious technicolour. If you want to experience an LSD flashback without the dangers associated with actually ingesting LSD, then I couldn't recommend anything better than a Tame Impala show. Here I am a few days after the show still experiencing Tame Impala flashbacks. What a show!
Until now my favourite gig of the year has been Adalita at The Northcote Social Club. This Tame Impala show, while admittedly on a far grander scale, was certainly its equal. I've got tickets to see several acts in December, but it is difficult to imagine any of them matching this one for sheer spectacle.
Setlist
Let It Happen
Mind Mischief
Sestri Levante
Why Won't They Talk To Me
It Is Not Meant To Be
The Moment
Elephant
Yes, I'm Changing
The Less I Know The Better
Eventually
Alter Ego
Oscilly
Cause I'm a Man
Why Won't You Make Up Your Mind?
Apocalypse Dreams
– – – – – – – –
Feels Like We Only Go Backward
Nothing That Has Happened So Far Has Been Anything We Could Control