Jess Cornelius
Jess Cornelius
Sarah Mary Chadwick
The Old Bar, Fitzroy
Sunday 11 November 2018
KIWI CROONERS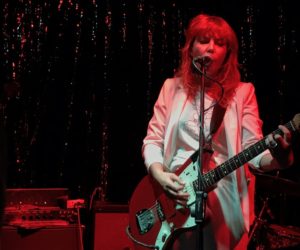 Jess Cornelius has appeared in these pages more than any other artist, both in her capacity as frontwoman for Teeth & Tongue and as a solo performer. There is a valid argument that this blog has reached peak Cornelius, but now that she lives in LA, her local appearances are relatively infrequent, so I've got to catch her while I can.
Cornelius was visiting Melbourne to play a show at the Darebin Music Feast as well as this headline show at the Old Bar. On this night I was also interested in seeing support act, fellow New Zealander Sarah Mary Chadwick, who released one of 2018's more intriguing albums, Sugar Still Melts in the Rain.
Chadwick was already performing when I entered, playing Bauble on a Chain on the keyboard. There was no room in the band room thanks to floor-sitters, so I grabbed a beer and watched through the doorway from the front bar section.
Her songs are harrowing tales of melancholia and misery with sparse instrumentation and emotive, lugubrious vocals. And if that doesn't do it for you, there's always the explicit pornographic artwork on the back cover and inner sleeve of the album.
I find her music utterly compelling and I was transfixed as she performed, despite the absence of accompanying porn. I recognised a few songs from the Sugar album, but she also played quite a few new songs. Her performance was intense, but that is just her living the song; she is certainly not depressing or downcast and she was chirpy enough, if a little shy, between songs.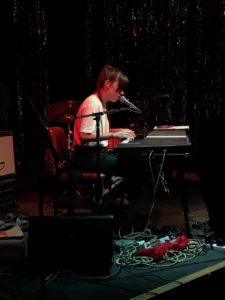 Even though I have detailed my infatuation with Jess Cornelius in these pages, it is something I tend to keep to myself. So I was somewhat surprised when a friend of mine Bruce wandered over to say 'hello.' He was with his friend Mark. They weren't there by accident either; turns out they are equally, if not more familiar with Teeth & Tongue and Jess Cornelius' solo E.P. and also share my slight obsession with her. I didn't know whether to inform the police or form a self-help group.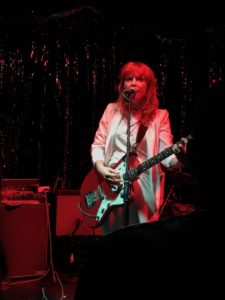 While it's good to know I'm not alone, I'm concerned what Jess Cornelius will think when she discovers that a sizeable proportion of her demographic is comprised of creepy, 50+ year old married men. The good news, I suppose, is that at least we fuel our obsession by buying concert tickets and records.
This set was similar to the one she played at the Darebin Music Feast a couple of weeks previous. She opened with two songs that she played by herself, the first of which was called Born Again, before her bandmates on drums and bass joined her on stage. Most of the set consisted of new songs that she has written during her year in LA. She also played one or two songs from her Nothing is Lost E.P. – What Do I Look Like, Stupid (Banging My Head) and Love and Low Self-Esteem, which closed the set.
The new songs continue in the baroque, slightly melodramatic vein of her best material, and even Get in Your Car, which she described as the silliest song she's written, had a rollicking energy. And perhaps it was only the three 50-year olds up the front who saw it as a companion piece to the Ted Mulry Gang's Jump in my Car from the 1970s.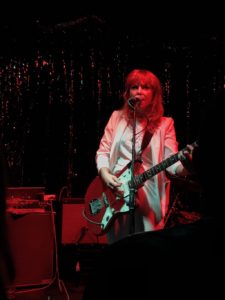 Cornelius' voice was rich and resonant and she wrung every drop of emotion out of her songs. For the encore she played a reworked solo rendition of Teeth & Tongue's Turn Turn Turn that was slowed down to moody introspection and raw guitar ambience, rather than the synth gleam of the original. Perhaps in a sign that she's moved on from her former band, she required lyrical prompting from an audience member to get the second verse underway.
She then finished with Eyes on the Prize, perhaps the highlight of her EP and also of this gig.
It seems that Jess Cornelius' growth as a songwriter and performer is matched only by her growing posse of late middle-aged male groupies.
Setlist