Julia Holter
Julia Holter
Siu Zhen
Wintercoats
Howler, Brunswick
Friday 11 December 2015
$44
IN FROM THE WILDERNESS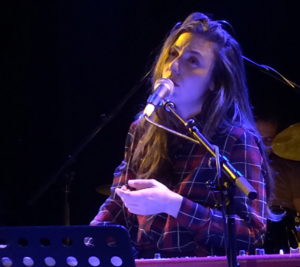 After a week that had involved the tandem guitars of Mono, the ear-splitting solo guitar of Angus Young and the loud, duelling guitars of Thurston Moore and James Sedwards, Julia Holter's fret free set up was something of a relief. Sure there was an electric upright bass, but it was fretless. As was the viola.  Other than that, there was drums and of course Julia herself on keyboard.
Julia Holter, the young American singer songwriter was performing her avant-pop at Howler ahead of her Meredith slot. I'd bought two tickets a while back after hearing her intriguing album, Have You In My Wilderness and thought it might be the sort of thing my wife would like. It would be a rare night out together.
Eschewing conventional pop structures, Holter's songs float along and gently veer off in unexpected directions, yet never lose their flow. Like a river turning around a rock formation or fallen tree, linking up with a tiny tributary or pulling some debris into its current – the songs flow where natural forces take them and are not straitjacketed by any verse, chorus, bridge, repeat chorus, strictures. It's very refreshing, like she's never really heard songs before so doesn't know what other people normally do with them – shhhh, no one tell her.
When asked by someone ahead of the show to describe her music, I could only come up with, 'sort of like Kate Bush without the histrionics. Or the chiffon'. But of course that doesn't convey it either.  Besides, describing artists by likening them to other artists is always fraught and usually inaccurate (unless you're talking about Interpol and Joy Division), but in the case of true originals like Holter, it is also meaningless.
The album has been receiving strong reviews and figuring in most end of year 'best of' lists, but in the weeks leading up to this show, it was anointed as album of the year by both Mojo and Uncut magazines – two organs that usually focus their attention on artists whose careers were effectively over before Holter was even born, so she must be doing something right.
Whether it warrants the 'album of the year mantel' is a moot point, but it is very good and the songs were even stronger when she performed them live.
Audience Anthropology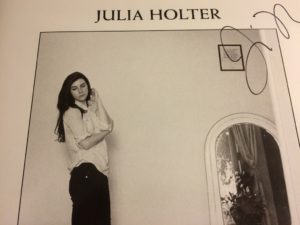 My friend John once came up with an idea for a segment for rock music trivia shows whereby the host would show a photo of the front rows of the audience and contestants would have to guess which performer or band were playing. A gaggle of young girls might denote a One Direction concert, clumps of balding, portly men could be any 1980s punk band on a reunion tour, and mums with 6 year old daughters could be at either Katy Perry or The Wiggles. Playing the game on this night, however, would have presented something of a challenge. There were a few oldish people like me, young women in couples, mixed gender groups of twenty-somethings, one bloke wearing a t-shirt depicting Arnold Schwarzenegger smoking a cigar, and another wearing a Jesus & Mary Chain t-shirt.  It was a very mixed crowd and would have tested the anthropological skills of even the most ardent music buff.
We arrived late missing Wintercoats entirely and only saw two or three songs by Siu Zhen. She and another young woman stood playing keyboards facing each other, in profile to the audience, while a guitarist stood to the side. The music was as bright and colourful as their respective canary yellow and blue dresses, little pop nuggets burnished by synth washes, electric beats and bubblegum vocals. Not my thing as such, but the audience who had been there for longer than us responded positively. Quite a few of them sidled up the merch desk during the interval to meet her and purchase her cd.
I had got in before the crowd gathered and had picked up a signed copy of Julia Holter's album on vinyl.
Betsy On the Roof, Julia On The Stage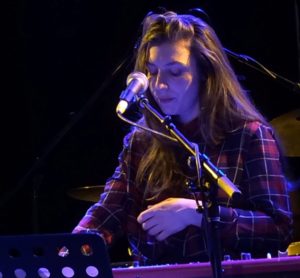 Julia Holter spent a good few minutes arranging her music on a stand, but eventually she signalled readiness and played the first harpsichord sounding notes of Feel You with viola player Dina Maccabee joining in on the vocal sighs.
Silhouette and Horns Surrounding Me build the momentum of the show and lead into the melodramatic cabaret stylings of How Long? with Holter taking her voice as low as she can. On record Lucette Stranded On The Island is a soft and dreamy meander, but live the music is dynamic with drummer Corey Fogel adding layers of cymbal wash and gradually increasing the snare in concert with bassist Devin Hoff's resonant thrumming, while Maccabee intensifies a stirring viola solo that swells the sound to a crescendo.
This early highlight of the set serves to highlight the impressive ensemble playing and the clear, pristine sound in the venue. Dina Maccabee's viola playing is sublime, while Devin Hoff's upright bass has a satisfyingly deep resonance. He feels each note, pursing and unpursing his lips with little grimaces of glee as he plays and executes a close-dancing pas de deux with his instrument. Drummer Corey Fogel is a big bearded man who looks like he could wrestle a bear, but sits up the back looking stoned. His drumming is deft and subtle, delivering a variety of little rhythmic flickers, using sticks, brushes, mallets, the works. He also sings and joined Julia on the whistling refrain in Sea Calls Me Home.
Holter's between song banter is shy and tentative, or perhaps that is just her Californian drawl. She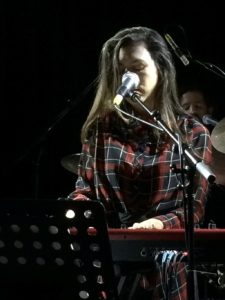 refers on more than one occasion to this being the end of a long tour, so perhaps she is just exhausted. Which is probably the case, I follow her Instagram and she does seem to have been getting about a bit – Europe, Japan, China and Australia all in a very concentrated time span. If she is exhausted, it doesn't show in her playing or singing which is both energetic and nuanced. She also mentioned the heat in the room, which despite growing up in Los Angeles, she said she doesn't much like – particularly as she dressed like a goth – "a preppy goth" she qualified, without clarifying whether that was better or worse. Tonight the 'preppy goth' look takes the form of an ankle length tartan dress over black leggings.
They play all but one song from the new album, skipping only Night Song, and supplement the set with songs from its predecessor, Loud City Song. The set concludes with the new album's beautiful title track, Have You In My Wilderness and Vasquez – a song that, on record is moody and esoteric, but live is transformed live into a dynamic, expressive show-stopper.
The call for an encore was genuine and enthusiastic. Julia returned to the stage by herself for a solo version of He's Running Through My Eyes, before the band rejoined her for Betsy On The Roof, an evocative cabaret tinged number.
There may not have been arty feedback squall as per Thurston Moore, or a smartarse Q&A like Father John Misty, or even cannon fire and explosions as per AC-DC, but with Holter pounding out increasingly discordant notes on the keyboard and the band building the intensity behind her, it was as powerful a conclusion as any of those other gigs.
Set list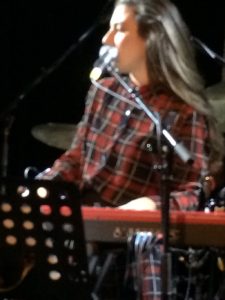 Feel You
Silhouette
Horns Surrounding Me
How Long?
Lucette Stranded on the Island
Sea Calls Me Home
In The Green Wild
This is a True Heart
Everytime Boots
Have You in my Wilderness
Vasquez
– – – –
He's Running through My Eyes
Betsy On the Roof