The Flaming Lips
The Flaming Lips
Palais Theatre, St Kilda
Friday 8 January 2016
$85
FUCK YEAH FLAMING LIPS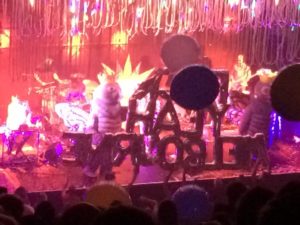 There are few experiences quite like a Flaming Lips show, at least not without first swallowing a vial of psychedelic hallucinagenes or having your erogenous zones tickled with peacock feathers. Wayne Coyne and co don't simply play concerts, they stage mini Carnival extravaganzas with such a riot of lights, colours, costumes and sounds that your mind reels from the sensory orgy.  It's like a kids party for adults.
The band was squeezing in a Melbourne show on their way to Hobart for the MONA FOMA festival. The Flaming Lips at MONA is perhaps the most perfect marriage of band and venue since Barry Manilow played the Copacabana Club or Guns 'n' Roses played Calder Raceway (a chance missed to wipe out Victoria's entire bogan population in one fell swoop). The notion of Wayne Coyne at MONA is intriguing in itself – it would be an experience just to follow him around the galleries. And who can imagine what ideas he might come away with once he's seen Cloaca Professional – the mechanical human poo making machine, checks out the wall of plaster cast vulvas, or visits the bugged bathroom that films events from inside the toilet bowl and screens them on the wall so that you can watch yourself go to the toilet via live feed.
The common theme of genitalia or biological mechanics in the exhibits I've mentioned is not entirely gratuitous either, for on the previous occasions I've seen The Flaming Lips, the band members have emerged onto the stage through giant labia.
Not so this time. In fact it was a reasonably anti-climactic beginning with the band members simply walking on and picking up their instruments – just like any other band really. A fringe of ropes dangling from the stage ceiling and what looked like a belt of illuminated baubles dangling from Wayne Coyne's waist were about the only indication that there might be more in store.
Nothing Exceeds Like Excess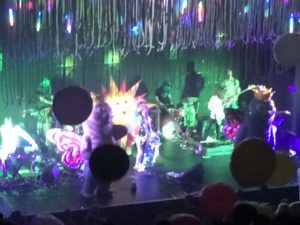 John and I were seated upstairs in the balcony, so no doubt we missed some of the detail, but overall the view was okay. The band began in a reasonably subdued manner opening with The Abandoned Hospital Ship from Clouds Taste Metallic that begins with a light acoustic guitar strum, light keyboard motif and gentle slide guitar. It meandered along like this for a couple of minutes until the electric guitar wound up a notch and Steve Drozd suddenly kicked in with the drums, at which exact point the place erupted as confetti guns blasted their payload, a pandemonium of lights flashed and strobed, and dozens of giant colourful balloons fell from above and bounced about on the heads and hands of the people in the stalls. This all happened in the same instant. It was one of the most dramatic and dynamic moments I've witnessed at a gig and there was a genuine buzz of excitement rippling through the theatre.
Only a few stray balloons made it up as far as the balcony, most of them getting trapped in the royal boxes along the way, but there were still plenty left to bounce around the stalls as the band launched into a trio of some of their best known sing-a-long numbers: Fight Test, She Don't Use Jelly and Yoshimi Battles the Pink Robots Pt 1.
Throughout these songs a parade of oversized animals and characters wandered onto the stage to dance around or just provide colourful backdrop. There were aliens, snowmen, butterflies, a giant sun, even Santa. Amid all this Coyne hoisted into the crowd a giant silver inflated balloon that read 'FUCK YEAH MELBOURNE'.
At some stage a giant Chewbacca type creature was centre stage, with Coyne perched on its shoulders as he sang and waved about a bushel of tinsel. The whole spectacle was truly insane and while it would have been energising and thrilling to be in amongst it in the stalls, we had a great overview of it all from the balcony.
Happiness Makes You Cry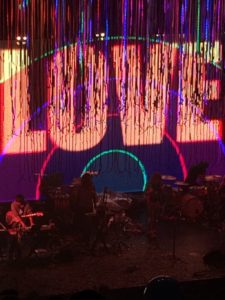 Coyne kept up the enthusiasm, continually urging the audience to get up, get involved and sing-a-long, constantly spurring us to "c'mon, c'mon" between lines. There was an expression of love for Miley Cyrus which came complete with a cover of her song, Evil is But a Shadow from their recent collaboration. This was nestled in amongst a cluster of tracks from At War With The Mystics: The Gold in the Mountain of Our Madness, Vein of Stars and The W.A.N.D.
Coyne delivered a long-winded, trippy lecture on how love will conquer evil and concluded with A Spoonful Weighs a Ton. The word LOVE flashed repeatedly against a rainbow projection and Coyne promised that if we chanted the word loud and long enough, they would return for an encore.
We duly took up the challenge and were rewarded with probably their greatest song, Do You Realize?  It was a rousing version, but then how could it not be? It is arguably one of the greatest songs of this century, at once life-affirming and sad, naïve and profound, and more importantly, catchy. In it Coyne poses the conundrum, 'Do you realize that happiness makes you cry,' which by then of course I was. Tears of happiness that is. What a joyous show.
Setlist
The Abandoned Hospital Ship
Fight Test
She Don't Use Jelly
Yoshimi Battles the Pink Robots Pt 1
Psychiatric Explorations of the fetus wth Needles
The Gold in the Mountain of our Madness
Evil is But a Shadow
Vein of Stars
Bad Days
The W.A.N.D.
Feeling Yourself Disintegrate
A Spoonful Weighs a Ton
– – – –
Do You Realize?
Encore: Given the tragic death of David Bowie just a week or so later, it was fortuitous that they had cut from their set Is David Bowie Dying? They did go on to play a cover of Bowie's Heroes in their MONA FOMA set in Hobart.