Julia Jacklin
Julia Jacklin
Corner Hotel
Wednesday 24 May 2017
$28.56
COMING OF AGE (Don't Let the Kids In)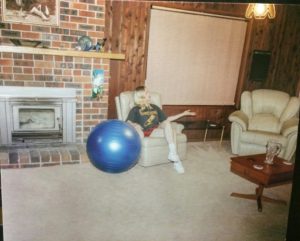 Look, I know what you're thinking; sad old guy likes beautiful young blonde female singer songwriter who has a penchant for wearing tartan mini skirts. So far, so predictable; so far, so pathetic.
But listen, it was not the outfit that first led me to Julia Jacklin's music, it was the album cover photo showing a large 70s style lounge room with exposed brown brick wall, timber panelling, beige carpet and the large blue yoga ball in the middle of the room. It reminded me of hundreds of suburban lounge rooms I visited throughout my youth, give or take the yoga ball. Sure, then I noted the girl in the tartan mini-skirt reclining in a chair, just by way of being observant, but if that was all I based my music taste on I'd be listening to Miley Cyrus and K-Pop (not that there is anything wrong with either).
I was at the Corner Hotel for a second consecutive Wednesday, after seeing Methyl Ethel last week. This time I was there to see the equally 'hot right now' Julia Jacklin perform in support of her debut album, Don't Let the Kids Win. Given it was an 18+ show, of course, it was more a case of 'Don't Let the kids in.'
Jaala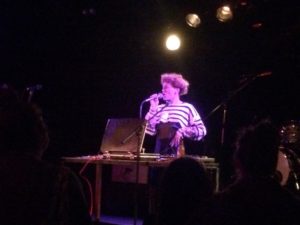 As I walked in, a low pitched industrial drone was percolating through the PA. It took me a moment to realise the apocalyptic rumble was emanating not from a faulty generator, but from Jaala who was on stage fiddling with a mixing console.
It sounded great, if you like that sort of thing. Fortunately I do, so I moved closer to the front to get a closer look.
To call Jaala 'quirky' or even 'kooky' would be an understatement, even by the standards of pop music's manufactured affectations. She is genuinely odd, but in a good way.
She stood at a desk twiddling knobs that generated ominous rumblings, clanging and clattering and occasional beats. The songs were very much Melbourne based. One of them consisted of her shouting "the footy!" intermittently while another bemoaned the fact that no one crossed the Yarra, and another seemed to be about Coles/Myers gift cards – whether giving or receiving I couldn't tell.
At one stage she apologised for not having any merch available despite there being a big box of it in her hallway. "How about for $5 I'll pash your dad, or you" she offered. "Or give me two ciggies and a sip of your beer and I'll sign your bum with a Sharpie."
She also apologised for poisoning the audience's 'folk ears' with her racket. After aborting one song because she'd pressed the wrong button, she sought permission from the sound engineer in the wings to simply finish, and having received it, seemed relieved to cut the noise and head to the dressing room.
Having listened Jaala on Spotify prior to the gig, I'd been expecting smooth soul music with jazz leanings. To my relief, these preconceived notions were quite shattered. I hadn't seen anything quite so experimental, eccentric and delightfully shambolic since the 'make it up as you go along' days of the early 1980s. I'll definitely try to see her again.
Julia Jacklin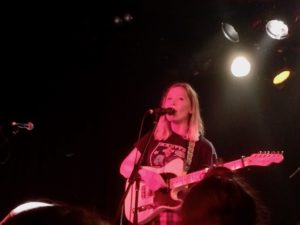 Despite my earlier protestations, when Julia Jacklin and her band emerged I was happy to see that she was wearing the tartan mini skirt with white socks and runners. It's evidently her signature outfit, at least for this album and tour, and even if I don't know what it signifies, I always like an artist with a dress code.
The band opened with Hay Plain, an epic road trip of a track that begins as a quiet folk strum, before lugubrious guitars kick in and carry the song to an intense but melodic conclusion. It's the longest song on the album and a dramatic way to begin the show.
Leadlight's soft country waltz was greeted with a cheer of recognition from the audience, while Motherland had everyone swaying gently. Over the course of the next hour or so, Jacklin and her band worked their way through all but one song from her album. Plus, they did a couple of new ones.
The first of the new songs was 'sort of' inspired by her sister's new baby (a boy), while another she wrote, she said, after watching Dancing With The Stars, 'which made me sad.'
The band departed the stage while Jacklin played the haunting duo L.A. Dream and Elizabeth solo.
In addition to Jacklin, there were three musicians on stage, on guitar, bass and drums. "We're all from the Blue Mountains" offered Jacklin.  I don't know if that explained anything, unless they were descended from Blaxland, Lawson and Wentworth.
Coming of Age ("I didn't see it coming, my coming of age") gave the band a chance to flex their rock muscle, but it was back to gentle alt-country stylings for Pool Party.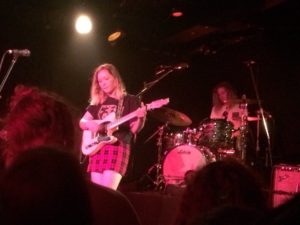 Here the band departed the stage again leaving Jacklin alone at the mic. Before she had a chance to play anything, a voice from the dark shouted out for 'Same Airport, Different Man.' It was a rather insistent request, almost a threat, and Jacklin paused just long enough for the voice to chime in again with "Pleeeease," before someone else shouted out, "Such a great song." Whether flattered or frightened, Jacklin assented, but begged our forgiveness should she forgot the words. She did, but only a couple of lines and it didn't detract from a beautiful song. It also led nicely into the final song, the title track from her album.
Don't Let the Kids Win is a moving and touching song about family bonds and I defy anyone, no matter how hard hearted or cynical, to not tear up just a little when they hear it. It doesn't turn you into a blubbering mess as such, but it does invite melancholy reflection.
Just one day after a terrorist attack at an Ariana Grande concert in Manchester left 22 young music fans dead and more than 50 seriously injured, this song carried additional emotional resonance and acted as a fitting, even if inadvertent, tribute to those young lives lost.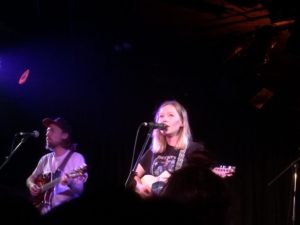 Jacklin's performance of the song on this occasion was accomplished and poignant. She exerted perfect control over her voice as she had throughout the performance and it was a fitting way to wrap up the set.
In the pantheon of Australian music, there are certain ballads that stand unarguably as emotive classics, songs that when you hear them played live, you reach for your cigarette lighter, or these days, your iPhone torch, to wave aloft as you sway from side to side. I'm not referring to What About Me, even the Shannon Noll version. No, I mean songs like Throw Your Arms Around Me, Four Seasons in One Day, Flame Trees, Cattle and Cane, Into My Arms, Under the Milky Way and From Little Things Big Things Grow.
If I was putting together a mix of such songs, and it's the sort of sad thing I'm actually quite likely to do, I'd add Don't Let the Kids Win right at the top of the playlist. I'd also include My Friend by Cash Savage and The Last Drinks – another seriously good song by a young singer who is playing on Saturday.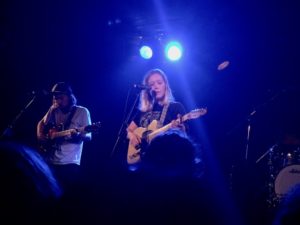 The audience had been on side all night with calls of "we love you Julia," so the shouts for an encore were reasonably insistent. The band joined her and performed a version of The Strokes' Someday which was difficult to pick at first because they excavated the attitude of the original and found the song's inner melody. I guess it was lurking there all along.
Julia Jacklin carried an air of quiet modesty throughout the night, but musically she has already come of age, and she's only one album in.
Setlist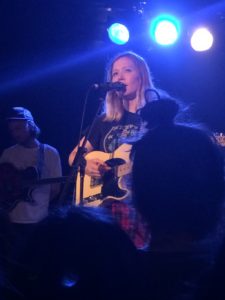 Hay Plain
Leadlight
Motherland
? (new song)
L.A. Dream
Elizabeth
? (new song)
Small Talk
Coming of Age
Pool Party
Same Airport, Different Man
Don't Let the Kids Win
——–
Someday