Methyl Ethel
Methyl Ethel
Corner Hotel, Richmond
Wednesday 17 May 2017
$22.50
METH LAB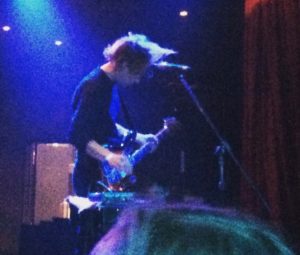 In Melbourne we like to imagine we live in the music capital of Australia. And perhaps we do, but there is increasing evidence that Perth is also a vibrant hotbed of musical creativity.
Jake Webb from Methyl Ethel is just the latest in a long line of maverick individualists from that city who potter about in their bedroom concocting original new sounds to send out into the world. 
Some do it alone, others as part of a group, but the distinguishing feature of Perth acts seems to be a singular sound that is not necessarily aligned to prevailing musical trends.
There is Kevin Parker from Tame Impala, Nick Allbrook from Pond, Gareth Liddiard (The Drones), John Butler, Kevin Mitchell (Jebediah) aka Bob Evans, Luke Steele (The Sleepy Jackson & Empire of the Sun), Katy Steele (Little Birdy – yes she's related), David McComb (The Triffids), Kim Salmon (The Scientists & The Surrealists), Grace Knight (Eurogliders), Suzi DeMarchi (Baby Animals), Rob Snarski (Chad's Tree and The Blackeyed Susans), The Panics, The Stems, Eskimo Joe, Dave Warner's From the Suburbs (not to be confused with Dave Warner from Australia's top order), and perhaps the most famous of all, Rolf Harris, but perhaps the less said about him the better. I'm not certain we want to enquire too deeply into what he was getting up to in his bedroom.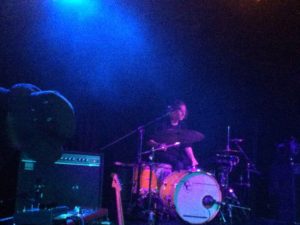 There was a good vibe when I walked in the band room at the Corner. It was a largely young crowd, most of the people pressed against the stage were girls who were probably asked to show their ID at the door. 
Reef Prince was on stage when I arrived, a long haired, bearded guy wearing a t-shirt and jeans, he was spitting out Drake-like rhymes to pre-recorded accompaniment of beats. He seemed animated enough and most of the audience was responding positively towards him. I can't say whether he was good, bad or other as I couldn't really make out most of the words.  
Lest We Forget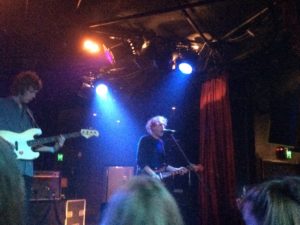 Methyl Ethel's second album, Everything is Forgotten, is an early contender for album of the year. A collection of great songs that each weave sophisticated melodies through complex, evolving musical arrangements, the album nevertheless has a cohesive and expansive sound. Despite the claim of its title, it's as close to unforgettable as an album is likely to get.
Jake Webb is credited on the album as the main perpetrator who pretty much did everything, however, as with Kevin Parker he enlists a band to play live. When the curtains opened for this, the first of three sold out nights, there were four people on stage. 
Webb began the night in full nutty professor mode, kneeling down at a small computer console with his hair in wild disarray and his trousers rolled up to his shins as if he was about to go wading through a quagmire – he's obviously been to The Corner before. I thought he was a roadie or technician at first. It was only when he stood and started singing that I worked out that he was our main man.
They opened with Summer Moon, perhaps the densest, most brooding track on the album before launching into the light, breezy grooves of No. 28, which got the kids down the front bopping along.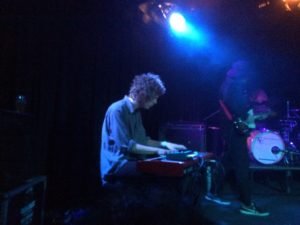 The band remained impassive throughout; drummer Chris Wright pattered away up the back, bass player Thom Stewart stood centre stage wearing an implacable expression while guitarist Hamish Rahn, who was wearing what looked like a maroon track suit and bucket hat, jerked his head in time with the beat. The latter two took turns playing keyboards 
Webb's vocals were a bit lost in the mix at times, but the band played with verve and energy, mixing songs from their two albums. There was little in the way of stage banter, Webb appearing unexpectedly reticent, even bashful.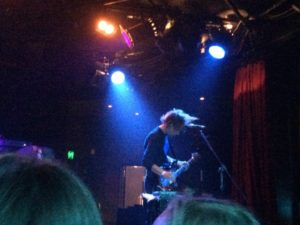 But he played and sang without any inhibitions. Rogues and Idee Fixe from first album Oh Inhuman Spectacle were early highlights and Twilight Driving, also from that record received a loud roar of recognition. The crowd was exuberant without going over the top.
They followed with some of their best material including my favourite, L'Heure des Sorcieres that is built on a crackling low-fi static buzz at one end of the sound spectrum and Webb's melodic falsetto at the other. The stuttering beat and gentle oscillating synths of Drink Wine was next, perfect prelude to the exuberant Prince-like funk of hit song Ubu, with its pulsing beats and shimmering guitar licks. The ebullient refrain of "Why d'ya have go and cut ya hair, why d'ya cut your hair?" was picked up by the audience and sung with joyful gusto.
There was no encore, but really, we didn't need any more – after Ubu we'd all had our meth fix and anything else would have been anti-climactic.
Setlist
Summer Moon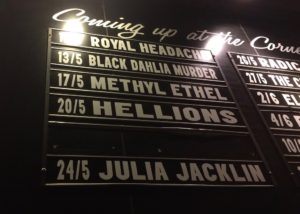 No. 28
Rogues
Idee Fixe
Architecture Lecture
Weeds Through the Rind
Shadowboxing
Twilight Driving
L'Heure des Sorcieres
Drink Wine
Ubu