Ryan Adams
Ryan Adams
Margaret Court Arena
Friday 26 May 2017
$108
GIMME SOMETHING GOOD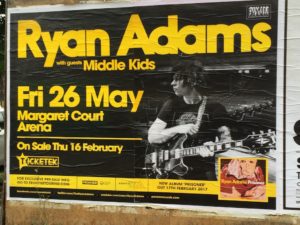 Music venues develop their own mythology, either over time or through momentous one-off occasions. Think Woodstock, The Cavern, Altamont, Knebworth, Max's Kansas City or The Royal Albert Hall, which is famous as the venue where an audience member shouted 'Judas' at Dylan, even though it actually took place at the Free Trade Hall in Manchester. Then there's the Hammersmith Palais in London – the last band to perform there before it closed down was The Fall, who of course just treated it as a normal gig. At one point a man jumped onto the stage to berate the band for not paying due homage to the occasion, but really, any Fall fan should know better than to expect sentiment from Mark E Smith.
In Australia we have own sacred sites and iconic venues. The steps of the Sydney Opera House will always belong to Crowded House, while in Melbourne we have the Seaview Ballroom aka Crystal Ballroom, Bombay Rock, Festival Hall (a rite of passage for all Melbourne born music fans, plus it's where The Beatles played), the Sidney Myer Music Bowl (The Seekers, ABBA & AC/DC), Calder Raceway (Guns n Roses), VFL Park Waverley (Bowie, Kiss and Angry Anderson in the Batmobile at the 1991 AFL Grand Final), and of course the MCG, which has also hosted Bowie as well as David Cassidy, Madonna and U2, but which is best known, musically, as the venue for Meatloaf's dire performance at the 2011 AFL Grand Final.
In some instances, the venue is as important or can even overshadow the performer. That was nearly the case on Friday night when Ryan Adams was due to play Margaret Court Arena. What was once thought of simply as the second court for the Australian Open – if anyone thought of it at all – suddenly became a political flashpoint on the day of Ryan Adams' show after namesake Margaret Court reiterated her opposition to same sex marriage and declared that she would boycott Qantas because of its public support for the cause.
Quite why she thought she needed to announce this publicly is one thing. However, what you might have thought would barely raise an eyebrow among people with lives to be getting on with erupted into a vitriolic protest campaign. Not only did people rush to condemn the former tennis champion, but they demanded the name of the stadium be changed.
Now you might think that Margaret Court's views on same sex marriage, or any other topic for that matter, are no more relevant to the name of the venue than Rod Laver's views on climate change are to the name of Rod Laver Arena. But I suppose the point is that we don't know Rod Laver's views on climate change because he has the good sense not to wade into topics on which he is not qualified to speak publicly.
I'm all for them changing the name of Margaret Court Arena, but they just need to be careful what they change it to. After all, if they wish to name it after the great Australian doubles combination Mark Woodforde and Todd Woodbridge – they just need to be aware of how a name like 'The Supper Woodies Arena' is likely to play out.
The other thing to consider before they change the name is the precedent they are setting. Are we going to change the name of every structure named after any personage who ever held an unpopular opinion? After all, the Bolte Bridge is named after a man who supported capital punishment and who presided over the last person to hang in Victoria. La Trobe Street, university and everything else La Trobe are named after a bloke who married his deceased wife's sister, legally classified as incest at the time, and even now is a little bit inappropriate, while the entire suburb of Lalor is named after Peter Lalor, the hero of the Eureka Stockade and the supposed father of Australian democracy, who, when in Parliament, voted against giving women the vote.
One presumes that Hamer Hall is safe, as it was Dick Hamer's government who decriminalised homosexuality in Victoria.
Middle Kids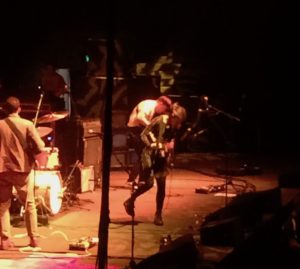 There were extra security measures in place at Margaret Court Arena on the night, but it was unclear whether this was in response to the terrorist attack at the Ariana Grande concert in Manchester just a few days previous, or because of the virulence of the Margaret Court protest movement.
Either way it took considerably longer to get into the venue, which meant that support act The Middle Kids played to a more sparsely populated arena than might otherwise have been the case. Which was a shame because they were pretty good. Smart songs, catchy hooks and clever guitar interplay. Lead singer Hannah Joy said they were chuffed to be playing because the gig combined three of their great shared passions: playing music, Ryan Adams and tennis.
I didn't stay for their entire set as I had a prior arrangement involving beers and friends in the foyer, but what I heard was enough to prompt a Spotify search when I got home.
Easy Tiger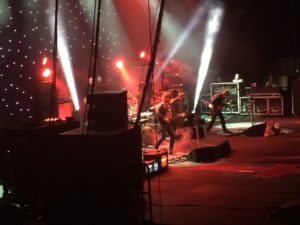 I was looking forward to seeing Ryan as I had missed his previous Melbourne show a couple of years earlier. I did have a ticket but my son was badly injured playing football on the morning of the concert, so as Ryan took the stage I was bedside at The Royal Children's Hospital, a point I may have made to him while he was lying there in agony. I think we can agree I was the real victim.
My seat for this show was on the side of the stage, but I could see the gigantic amps, nests of old school televisions and stuffed tigers that comprised the set design. And I had a pretty clear view across the front portion of the stage where three microphone stands were set up.
While the technicians were getting the stage ready I was monitoring the footy scores from Sydney where Hawthorn was playing the Swans. We'd got out to a flying start, but our lead was steadily diminishing as the match progressed. Inevitably there was going to be a song or two when my attention was fixed elsewhere.
I've seen Ryan quite a few times on his previous visits to Melbourne – solo, with bands, at pubs, in concert halls. Very few of his concerts run smoothly – he's known to stop mid song and berate an audience member for some breach of etiquette, such as requesting Summer of 69, or waffle on about Dr Who villains. This is his first arena tour and I'm hoping he respects the fact that we've paid proper money to be here and doesn't storm off stage early after some perceived slight.
As it turned out, they began 15 minutes late because it took so long for people to get through the security that the show was delayed.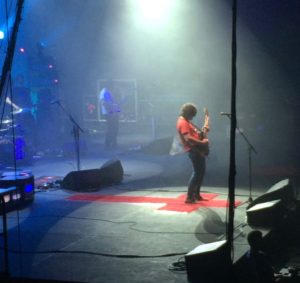 The band set up several metres back from the front of the stage, creating a gulf of several metres between foldback and crowd barrier. Ryan was in my sight lines, but the drummer was only just in view and the keyboard player was hidden behind a bank of amps.
Ryan was rocking his usual double denim look as he and the band cranked out the power chords of Do You Still Love Me? the lead song from his latest album, Prisoner. It was a big sound that filled the slightly cavernous space and Adams' vocals were clear and loud in the mix.
The first five songs each came from separate albums: To Be Young (Is to be Sad, is to be High) from Heartbreaker was reimagined as a honky tonk number, followed by the power chord blast of Gimme Something Good. Another mood shift brought the gentler Two from Easy Tiger and Dirty Rain from Ashes and Fire, both of which had more grit and oomph than the recorded versions. So far, so fan friendly.
A series of songs from Prisoner saw Ryan move to the front of the stage to begin the title track solo on acoustic guitar, before he retreated to the back of the stage.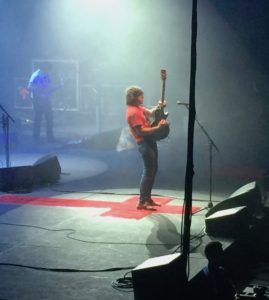 Magnolia Mountain was characterised by some magnificent guitar interplay between Ryan and his six-string partner. Fix It maintained the heavy edge and seemed appropriate, at least as it related to the bar service of the venue, because I took the opportunity to nick out quickly, only to find that there was only one bar open and there was a long queue.
I decided not to bother and was back in time to hear Adams play a beautiful and haunting solo rendition of Wonderwall, a song I'm not sure I've heard him perform before. He really was in fan friendly mode.
I was following the football scores on my phone throughout the show and couldn't help but notice the symbolism of Hawthorn falling behind as Doomsday rung out. I resigned myself to the inevitable loss, but took comfort from spellbinding readings of When the Stars Go Blue and My Winding Wheel. As he finished the latter he congratulated the audience for being so quiet. At least I think he was congratulating us.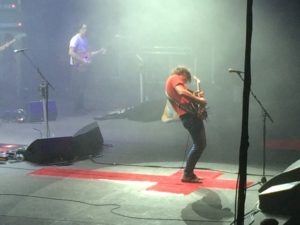 The guitar tech was shaping as the star of the night. He was certainly working as hard as anyone in the band. After almost every second song he was selecting a new instrument from his armoury of guitars and rushing it out to Ryan.
As Adams coaxed the laid back licks of Let it Ride from his guitar, I was in furious texting mode with my friend Chan-Tha, who was keeping me abreast of events transpiring at the SCG. Hawthorn had drawn level. Then a few seconds later she messaged that we'd won with a goal to Jarryd Roughead in the last minute. I punched the air, a gesture both of rock 'n roll exhilaration and football triumphalism.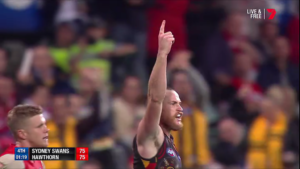 Then as piercing twin guitars picked out the introduction to Cold Roses, a smoke machine began billowing out a thick cloud of smoke that resembled a quick moving weather front as it engulfed the stage and completely obscured the band from sight.
Overall he played four songs from Cold Roses, with Mockingbird rounding out the quartet. Adams maintained a relentless pace, moving quickly from one song to the next without anything in the way of banter or even song introductions. On the whole this was perhaps a good thing, for once he starts he can be very hard to stop, and his conversational gambits are not always enlightening or enchanting. Sometimes they can be simply irritating, and even though I admired his discipline and newfound professionalism, the show lacked the intimacy and connection he usually establishes with his audience. This was perhaps as much to do with the bigger venue as anything else.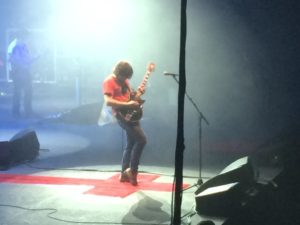 Fans of Adams' guitar playing would have been impressed to hear Peaceful Valley, particularly the extended version he played, with an elongated guitar solo that saw him move to the front of the stage and strike a suitably grandiose rock god guitar pose, bending so far backwards as he played that he looked like he was becoming his own winding wheel.
It looked more choreographed than cathartic release, but it was a fitting climax to the show. Or it would have been except that he announced that they were just going to keep playing through until the curfew, so there would be no encore as such.
He took the opportunity to go on a little rant about it being up to us to have our say and to take back the power from the bigots and the stupid people. As with the extra security, it was unclear whether he was referring to Margaret Court's comments or the terrorist blast in Manchester. Perhaps by not specifying it worked for both.
While he lamented that the curfew prevented him from playing a three-hour show, those of us catching public transport home were happy enough for him to wind things up after two hours.
The band hadn't finished though, and they rushed through New York, New York and a delightfully raucous rendition of Shakedown on 9th Street. Any question of calling for more, however, was settled by the house lights coming up before the reverb had even wound down or the band had exited the stage.
This was a good show with a set list that covered the spectrum of his solo career. My preference would have been for a few more solo, acoustic numbers, as it was very guitar heavy, but perhaps these troubled times call for a full-on rock 'n roll assault. If so, we got it.
Setlist
Do You Still Love Me?
To Be Young (Is to be Sad, Is to be High)
Gimme Something Good
Two
Dirty Rain
Outbound Train
Stay With Me
Prisoner
Magnolia Mountain
Fix It
Wonderwall
Doomsday
When the Stars Go Blue
My Winding Wheel
Invisible Riverside
Let it Ride
Cold Roses
Kim
To Be Without You
Everybody Knows
Mockingbird
Peaceful Valley
New York, New York
Shakedown on 9th Street