The Church
The Church
Palais Theatre, St Kilda
Saturday 1 December 2018
$150 (VIP Package)
FULL MASS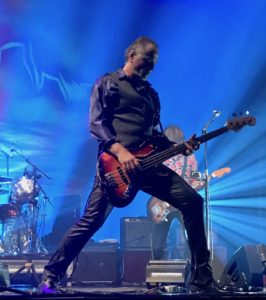 It was the first day of summer and the weather, perhaps somewhat surprisingly on cue for Melbourne, was sunny and balmy. Driving down St Kilda Esplanade on my way to The Palais I saw hordes of young people outside the recently refurbished and re-opened Esplanade Hotel (The Espy) enjoying a bevvy in the sunshine and basking in the mythology of this legendary St Kilda watering hole. How long, I wondered, before the sticky grot and grime of yesteryear reclaimed the new sleek timber and tile interiors?
I was on my way to The Church's Starfish 30th anniversary tour. One of the telltale signs that The Church are a consistently inventive and enduring band is that no two Church afficianados can agree on which is their best album. For some it's the dreamy, esoteric yearning of The Blurred Crusade (1982), others prefer the jangly psychedelic strains of Heyday (1985), or the full-frontal reverb rock of Forget Yourself (2003). My favourite is the hallucinatory Priest = Aura (1992).
For most music lovers however, Starfish (1988), remains the band's piece de resistance, largely because it's the one with Under the Milky Way on it. And fair enough too. There aren't many better Australian anthems than Under the Milky Way, and that includes C'mon Aussie C'mon. Reason enough then to celebrate the 30th anniversary of their breakthrough commercial album.
I've seen The Church plenty of times over the years at various venues, most recently at ACMI in 2015 playing a live score to Jean Cocteau's surrealist film, The Blood of a Poet. They've played Melbourne since then of course, most recently a couple of nights at outer suburban beer barns, but I always seem to have some existing commitment on my calendar when they play here. The Palais, however, is a suitably grandiose venue for The Church's music, so this time I bought a ticket well in advance to block out the date.
I opted for a VIP package for this gig, which meant for an extra $60 I had a guaranteed seat in the first 12 rows, a remastered pressing of Starfish, a lithograph of the lyrics to Under the Milky Way signed by Steve Kilbey, a VIP lanyard and a Starfish tote bag. Notwithstanding the fact that the vinyl wasn't available on the night and will have to posted out, I thought this was pretty good value. I mean a lanyard! For a further $60 you could attend a meet and greet with the band, but as much as I like their music, I'm not certain I could summon the requisite small talk to make such an encounter anything other than awkward.
My seat, as it turned out, was just two rows from the front, which is about as close as you can get without having to introduce yourself. I went by myself, but as I suspected, I ran into several people I knew, including old friends Amanda and Frank, who I had seen the previous night at the Underground Lovers' Rushall Station gig. With them was an old friend John, who was probably the biggest Church fan I knew of in the 80s. Not only that, but sitting across the aisle from them was Glen Bennie from the Underground Lovers, who Amanda informed me has recorded two albums with Steve Kilbey. That fact alone highlighted the gulf in knowledge and commitment between us – I'm a big enough Church fan to have a favourite album but Amanda and Frank can differentiate between the myriad solo projects and other collaborations of the various band members.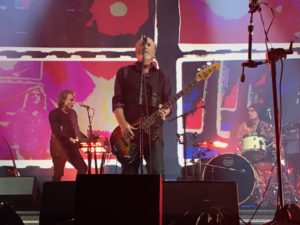 Something Shimmering
The Church were playing two sets; the first was to be Starfish in its entirety followed by a set of material from across their career.
This was big production. As the band sauntered on stage and eased into Destination, the opening song from Starfish, a video screen with four squares reminiscent of the album cover captured each of the band members as they played. There were actually five musicians on stage, with touring band member Jeffrey Cain providing considerable assistance on guitar, bass, keyboards, percussion and anything else that was required. And he did it all with genuine rock and roll swagger and pout. Easily the most animated on stage, his movements didn't require video amplification.
Playing the album in order meant that Under the Milky Way was the second song of the night, so there were no latecomers. The video backdrop transformed into the requisite celestial pattern and the band delivered their classic with finesse and aplomb. Steve Kilbey seems to have reconciled himself to the fact that most people love this song and he no longer introduces it with begrudging resentment.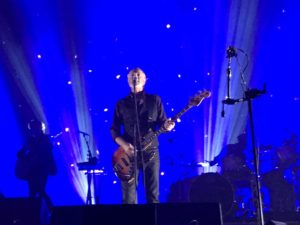 Indeed, Kilbey was determined to give us a good show, venturing to the lip of the stage to kick up a heel and give us an occasional rock god stance. He was even smiling at various stages.  And really, if the sight of a packed Palais Theatre doesn't inspire you as a performer, then very little will.
The sound was strong and resonant, and the band were tight and accomplished. Peter Koppes was his usual assured self on guitar while former Powderfinger guitarist Ian Haug took Marty Wilson-Piper's role on lead guitar. He clearly took his place in the band seriously, for he had the closest to a paisley shirt on stage. Tim Powles was animated and busy on drums.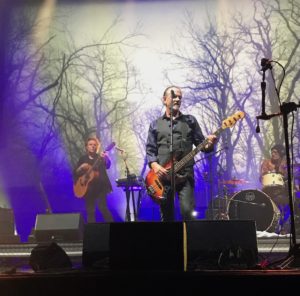 Starfish is a classic album with 10 superb songs, intricate arrangements and an epic widescreen sound. It came out in a landmark year for Australian music: The Triffids released Calenture, The Go Betweens 16 Lovers Lane, Died Pretty Lost, The Saints released Prodigal Son and Nick Cave & the Bad Seeds put out Tender Prey, which may not have been their most consistent record, but did contain modern masterpieces, The Mercy Seat and Deanna. Even in this company, however, Starfish held its own and has aged as well, if not better, than its contemporaries.
Some people argue there is a predictability to these album shows, given the set sequencing of songs. On the other hand, the band are compelled to play songs they would not normally include in their setlist, and that can bring its own freshness to the set.
That certainly seemed to be the case with this gig, with Kilbey singing with animated energy and introducing songs with good humour. Even though this tour has been going for a few months, there was nothing rushed or resigned about the performance. And any show in which The Church to play Reptile – one of my favourite songs – is automatically a good gig.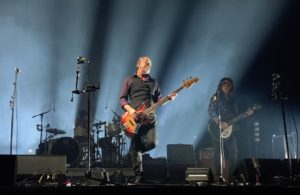 Tantalised
The second set was as energetic and epic as the first, with the band plucking songs from across their entire career, moving seamlessly between 'hits' and songs to please dedicated superfans. Opening with Anaesthesia, they followed with Metropolis and their most recent single Another Century, which is as good a song as any they played in the first half.
The final triumvirate of songs in this set was probably the highlight for me, as Almost With You bled into the shimmering Ripple and erupted into the dizzying psychedelic guitar thrash of Tantalise.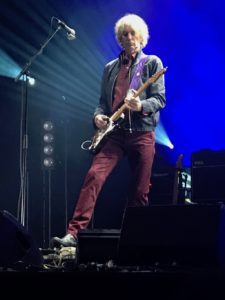 Being the Palais, the audience was repressed and restrained from expressing itself through interpretive dance, and I was as complicit as any in the sit-down nature of the show. Being front and centre it was partly up to me to stand up and see if others followed, but I am far too self-conscious to risk being the ringleader and suffer howls of "sit down in front ya fat bastard" even if I was itching to get to my feet.
Despite this, people filled the aisles for the opening song of the encore, The Unguarded Moment with its joyous jangling guitars and its infectious singalong chorus. It was as close as the night got to a sort of Pentecostal happy, clappy type church congregation; for the most part we were restrained and respectful. Something about the ornate trappings of the Palais gave the impression of a full mass and we behaved with due reverence. Guarded, if you will.
As John pointed out after the show, it was typically perverse of the band to follow this obvious crowd pleaser with a drawn-out rendition of the lesser known Miami to close the show. But hey, you don't go a gig by The Church and expect a straight forward hit parade. Even so, this show was about as close as we're likely to come to such a show, and it was an utter pleasure from beginning to end.
A cold sea breeze had sprung up by the time I left the theatre, and as I sat in a traffic jam outside The Espy, hordes of young people spilled out onto the streets in various stages of drunken debauchery and debasement. As I suspected, it hadn't taken long for St Kilda to find its true state.
Setlist
Destination
Under the Milky Way
Blood Money
Lost
North, South, East and West
Spark
Antenna
Reptile
A New Season
Hotel Womb
————-
Anaesthesia
Metropolis
Another Century
Sealine
Constant in Opal
Day 5
Almost With You
Ripple
Tantalise
———–
The Unguarded Moment
Miami
The Church play The Blood of a Poet – Friday 21 November 2014