King Krule
King Krule
The Croxton Park Hotel
Thursday 8 March 2018
$58.70
KRULE TO BE KIND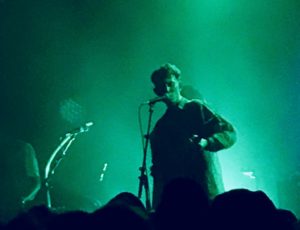 It's rare that I stand out in a crowd. However, I was as conspicuously out of place among the young people in the queue outside the Croxton Park on Thursday night as I would be if I lined up on the blocks for the 100 metres final at the Olympics. So much so that I wouldn't be surprised to learn someone in a control room somewhere had a camera trained on me. I kept my hands where they could be seen.
The upside, if any, was that I was the only person not asked to show ID at the door. I was comfortably the oldest person in the room by 30 years. Not only was I the only one there who could remember the 1970s, I suspect I was the only who could remember 9/11.
Inside, large signs behind the bar announced that stubbies would be served in plastic cups – apparently people under 25 can't be trusted with glass. So I took my plastic cup of James Boag's to a discreet position up the back.
People of my age generally find much to despair about the musical taste of the young. The Chainsmokers, Rita Ora and Drake might well provide some justification for this viewpoint, but each generation has musical skeletons in their closet – my own can claim the New Romantics, so we're in no position to point fingers, even if they are artfully decorated with black nail polish.
One thing we don't seem as ready to acknowledge, however, are the many signs which suggest the 18-25 age group are as adventurous in their taste as any generation before them. Kendrick Lamar and King Krule are prime examples of unique artists whose originality has found a willing audience.
King Krule was playing the first of two sold out nights at The Croxton ahead of his Golden Plains appearance. I heard his album The OOZ and was impressed by its seamless mix of trip hop, dub, punk, jazz, lounge, spoken word, industrial and abstract ambience – sometimes all in the one song. Most of the tracks are slow in tempo, few of them have a big chorus or hook of any sort and Krule's vocals are ragged and unrefined, yet these shows sold out in quick time.
I don't know how I managed to get a ticket. The venue website said it was sold out, as did the Oztix site. Nor was there anything available on the resale sites. Yet when I followed links on King Krule's page on Spotify, I was able to buy a ticket. I wondered if I had accidentally stumbled upon some secret young person's portal, until I noted they were also selling a few tickets at the door. Either way, it was lucky I ignored the official ticket sites.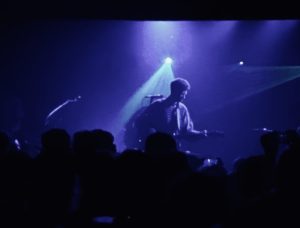 King Krule Conquers the Croxton
When the band emerged, I was surprised by their conventional set up. Two guitars, bass, drums, keyboards and sax. I'm not sure what I was expecting, but given the jazz noodlings and stir-fry of musical styles on the album, I didn't think the band would present in such a meat and potatoes rock and roll guise. It just shows that in music, as in cooking, it's not so much the ingredients that matter, it's what you do with them.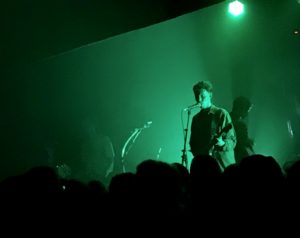 King Krule himself was on guitar and he got things going with What's This Hit from the first Krule album – he also records under this own name, Archy Marshall. It's a slowburn of a song, the music dribbles out at first and builds slowly as Krule bemoans, well everything. He has just the right voice for it too. It has a similar rough around the edges rock quality as Joe Strummer. Indeed, if I had to pick a precedent for King Krule's sound, I'd go for record three from Sandinista, though parts of The OOZ are even too abstract for that.
Live, the band produce a tough and robust sound underpinned by good, thrumming bass. I couldn't make out individuals on stage, but it sounded like the sax player had his own arsenal of instruments, from tenor through to baritone sax, while the other guitarist doubled up on keyboards.
The set was largely taken from the two King Krule albums. Dum Surfer and A Lizard State got the mosh pit going early on. But the band weren't afraid to mess with momentum – moving easily between looser, more contemplative compositions such as Cadet Limbo to more muscular tracks like Emergency Blimp.
He threw in a new song late in the set. Songs like Baby Blue and Easy Easy elicited the most enthusiastic response from the crowd. Not surprising given they are among his most popular songs, but it was a little anachronistic to see jostling, crowd surfing and plastic cups being hurled about during Baby Blue, given it's a slow torch song defined mainly by quiet jazz guitar stylings.
Easy Easy was more like the stuff of raucous jostling, with its driving bass line and something approximating a chorus, but even that tapered off in a haze of low fi mumbling.
The band returned for an encore of Out Getting Ribs, but not before Krule chastised someone at the front for throwing glasses. Lucky they were plastic and full marks to the Croxton crew for knowing their clientle.
Setlist (best guess)
Has this Hit?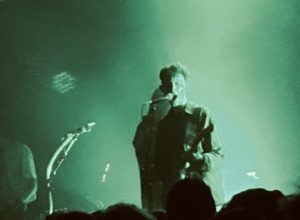 Ceiling
Dum Surfer
A Lizard State
The OOZ
The Locomotive
Midnight 01 (Deep Sea Diver)
Cadet Limbo
Rock Bottom
Little Wild
Emergency Blimp
(A Slide in) New Drugs
Badoom
? New Song
Half Man Half Shark
Baby Blue
Easy Easy
————-
Out Getting Ribs