Perfume Genius
Perfume Genius
Totally Mild
Elisabeth Murdoch Hall – Melbourne Recital Centre
Friday 9 March 2018
$60
POP POUR HOMME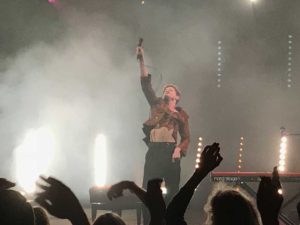 In today's celebrity world it is not enough to simply have talent or a good singing voice, you must also have a signature scent on the market. Every Avril and Ariana, Rita and Rihanna, Britney, Bieber and Beyonce, Mariah and Minaj, Gaga and Aguilera, Kim, Kylie, Katy and Taylor have their own fragrances behind a glass cabinet in every pharmacy. Even AC/DC have a fragrance, though I'm not sure I'd want to catch a whiff of it – I imagine it would smell of old age, stale tobacco and damp denim.
Mike Hadreas is not a household name like the pop luminaries listed above, so rather than wait to be approached by Estee Lauder or L'Oreal to have a fragrance named after him, he simply named himself after a perfume – Perfume Genius.
I can't vouch for what aromas he may give off, but his music and performance are certainly approaching genius.
Three years ago I saw Perfume Genius play the Corner Hotel with Aldous Harding in support. It was a pivotal show, mainly because it featured two artists who I suspected were going to be worth following. It was one of those rare instances when my instinct was right, for in the ensuing period both artists have taken an exponential leap with their music. Between them they released two of the best albums of 2017, No Shape and Party respectively, and they have now both visited Melbourne to play shows that have verged on the transcendental.
I saw Car Seat Headrest at The Croxton Park on 28 February and, somewhat presumptuously, pronounced it gig of the year. It was always intended as a provocative statement, given we were only two months into the year, but even so, I thought they would maintain their mantel for longer than nine days.
Perfume Genius' show at the Recital Centre, however, was so sublime that it has caused me to immediately reappraise my ranking and taught me not to make such premature predictions. Having said that, it is unlikely I'll see anything to match Hadreas' consummate performance. There, I've done it again.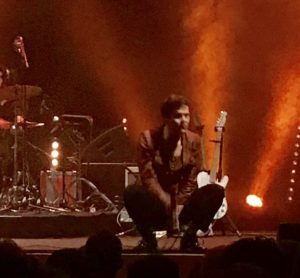 Totally Mild
One of Melbourne's best bands. Totally Mild provided support on this occasion. They have just released their second album, Her, that continues the luminous baroque pop that characterised their debut.
I was at the gig with Angela, Sue and Kate, and by the time we'd finished our bubbles and beer, Totally Mild were already on stage. I could hear them playing Sky, the opening track from that album as we waited to be allowed in to the auditorium.
They used the occasion to play through the entire album, which was a treat. Elizabeth Mitchell's crystalline voice resonated with pitch-perfect purity in the acoustics of the Recital Centre and the band, with a new drummer replacing Ashley Bundang, added subtle and thoughtful backing.
Shapeshifter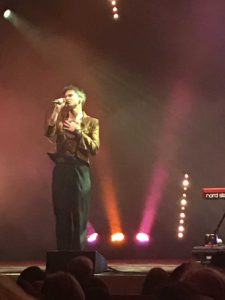 The audience crossed all demographics of age and gender, and included several men in dresses. Not feathered Priscilla like gaudiness, but plain, shin length frocks with a belt around their waists.
The wild string intro to Choir burst from the PA as a light cloud of dry ice wafted into the hall. Living up to Hadraes' nom de plume, it carried with it a slight olfactory tang as the band; drummer, bass/guitar and keyboard player, emerged from the wings.
Hadreas delayed his entry and joined them on stage a moment later wearing a jacket and vest with balloon pants and patent leather pumps.
The recorded music gave way to the soft piano intro of Otherside, the opening song from No Shape. Hadreas' ethereal voice blended softly with the soft piano motif. So far, so elegiac. Then in the bridge the music erupted in an orgy of sound, the backlights exploded in blinding effulgence and Hadreas stood in silhouette with his arms out as if conducting the sensory overload. It was an awe-inspiring moment that fuelled the rest of the show with its energy and power.
As he sang, he slunk across the stage with stylised Bowie-esque moves, arching his elastic back as he strutted and sashayed across the stage. He was utterly mesmerising.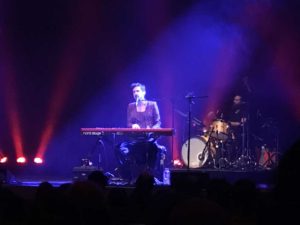 The slick, funk groove of Fool gave way to a series of songs from No Shape. Wreath was the first song to entice a couple to their feet to dance in the stalls.
It wasn't an invitation taken up by the rest of us, but you could see people writhing in their seats, eager for an excuse to get up. They remained seated, restrained perhaps by their self-conscious reserve and Melbourne politeness.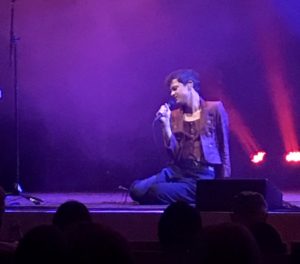 Just Like Love shimmered with its lush arrangement and Hadreas' provocative declaration, "They'll talk, give them every reason."
The music was tight and immaculate. Hadreas' voice was as ethereal as his body was lithe and elegant. He crouched, lolled and reclined, and at one stage used the keyboard seat as a prop for his sensual dancing.
They played a mix of songs from across his career. Some of the highlights for me were Grid and My Body from the Too Bright album, and Run Me Through from No Shape, which he introduced as his theme song.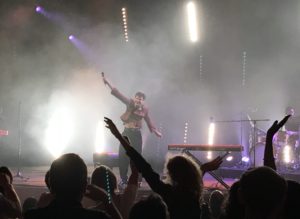 As the first notes of Slip Away filtered out a few people near the front leapt up to dance, enticing everyone to their feet for some freeform swaying and interpretive movement. This signalled the end of the set and the audience, already standing, erupted in a show of appreciation.
After the excitement of Slip Away, they brought down the mood for the encore with a series of slow numbers, including a few oldies from his early albums.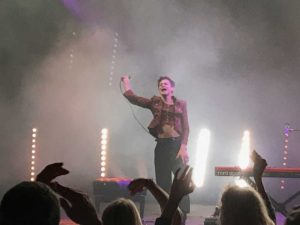 His anthem Queen, however changed the vibe entirely with the entire audience erupting in a  carnival of arm waving, jiving freeform movement that ranks as just about the most exhilarating and exciting as I've witnessed at any gig. Genius indeed!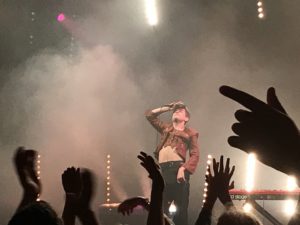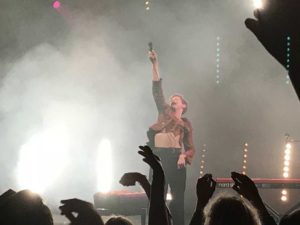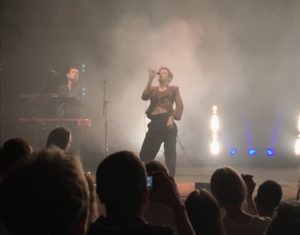 Setlist
Otherside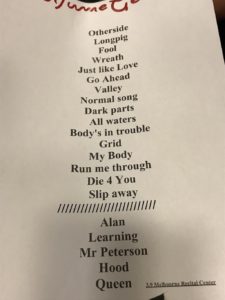 Longpig
Fool
Wreath
Just Like Love
Go Ahead
Valley
Normal Song
Dark Parts
All Waters
Body's in Trouble
Grid
My Body
Run Me Through
Die 4 You
Slip Away
————
Alan
Learning
Mr Peterson
Hood
Queen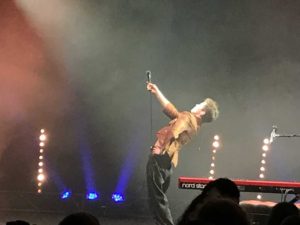 Perfume Genius at the Corner Hotel – 15 February 2015
Aldous Harding at The Croxton Park Hotel – 7 February 2018