Sarah Blasko
Sarah Blasko
Elisabeth Murdoch Hall, Melbourne Recital Centre
Thursday 15 June 2017
$52
NEW LACE SLEEVES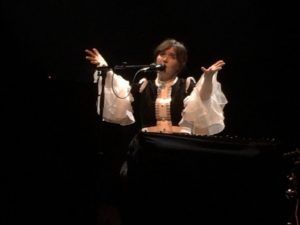 The acoustics in the Elisabeth Murdoch Hall at the Melbourne Recital Centre are so good that even with the lights out, we could hear Sarah Blasko's soft footfall as she made her away across the darkened stage. When the lights came up she was positioned at a microphone stand, stage left, where she began to sing Down on Love unaccompanied. Her voice was so clear it was almost translucent and its pristine intonation created a pin-drop atmosphere in the auditorium.
This is where the real value of a venue such as the recital centre comes in; the opportunity to hear the layered resonance and rich tones of Blasko's voice completely unadulterated and unadorned – save for amplification. The purity and simplicity of this a capella reading and the minimalist stage setting was only offset by the extravagant profusion of multi-layered, ruffled, white lace sleeves that bloomed like a bouquet of lilies around her wrists. I'm sure I wasn't the only one wondering how on earth she was going to play the piano properly without tangling her fingers in all that lace flounce, although I've read that Elton John is a fan so perhaps he passed on some tips.
Aside from the sleeves, the rest of her outfit was a black dress with white trim and opaque tights, which rather gave her the look of an Elizabethan French maid or an extra in a Spandau ballet film clip.
I was there with my friend Rebecca. We had great seats in the centre just a few rows from the front. Neither of us had seen Sarah Blasko play live but here we had the best possible view and the sound was impeccable, so there was no better time. I've been a fan since a work colleague lent me her first album – in those dark days pre-streaming when you had to burn CDs – but every time she has toured I've been unable to attend. Last time I even had tickets but had to forego her gig to attend the Hilltop Hoods with my youngest son (I'd promised).
Blasko told us that despite being a 'solo' artist, this was her first actual solo tour. If this is the case, she certainly jumped in head first because you can't get much more solo than singing a capella. It was a bold but brilliant stroke and set the scene for a stunning performance that radiated grace and class.
She took a seat at a grand piano in the centre of the stage where she also had a small electronic keyboard and began a series of songs. The first was I Awake, the recorded version of which features tribal drumming and punchy blasts of brass. Here, however, it was reimagined into an exquisite solo piano piece. Plucking songs from across her oeuvre, she also played a few new ones, the first of which was called Read My Mind.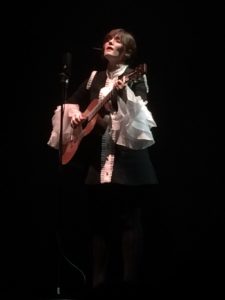 When she moved to a microphone on stage right and picked up a guitar she joked that the reason she was setting up in different zones of the stage was to create the illusion that there was more than one person on stage. But she didn't need anyone with her, and I was glad to be seeing her in this solo incarnation. She performed Woman by the Well and Is My Baby Yours? – both originally recorded as guitar ballads – followed by Bury This on ukulele.
Another new song, Making It Up (although I could be making that up) was sung to a pre-recorded synth loop, before she returned to the piano to play Luxurious and We Won't Run.
The lighting, which had hitherto alternated between simple arcs of fixed spotlights, suddenly drenched the stage in red and Blasko closed the set with another new song, or at least one I didn't know. It was probably the fullest soundscape of the night with Blasko playing piano to accompany a programmed loop and beat. My best guess at a title would be My Phantom Beating Heart.
She returned to the stage quickly for an encore and announced that she had a strict three song rule for encores. She played All I Want, followed by a cover of Cold Chisel's Flame Trees. And say what you like about her, but she sure as hell sounded a lot better than Barnsey ever has. She closed the show with a song from her first album, Perfect Now – a sentiment which said it all.
Blasko's playing was restrained and minimalist throughout which served to highlight the virtuosity of her voice and the strength of the material. She exhibited a warm personality and easy rapport with a compliant audience.
It was interesting to have seen Sarah Blasko play just one week after Beth Orton. I couldn't help but reflect on the parallels in their respective careers. They are almost exact contemporaries with a similar recorded output, they both defy easy categorisation, shifting from folky guitar to stark electronica and most things in between. Both are accomplished songwriters who determine their own musical direction and they each have highly distinctive tonality to their voices. However, where Orton is awkward and hesitant on stage, Blasko seems much more at home. She must have had something up her sleeves after all. She thoroughly deserved the standing ovation that greeted her final bow.
Setlist
Down on Love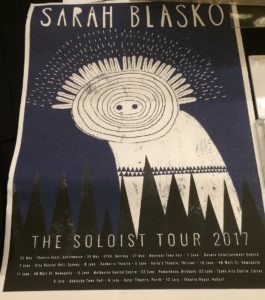 I Awake
I Wanna Be Your Man
An Arrow
Beyond
Read My Mind
Woman by the Well
Is My Baby Yours?
Bury This
Making it up (? New song)
Luxurious
We Won't Run
My Phantom Heart Beat (?)
– – – – – – – –
All I Want
Flame Trees
Perfect Now