LCD Soundsystem
LCD Soundsystem
Margaret Court Arena
Wednesday 26 July 2017
$108
LCD IS PLAYING AT OUR HOUSE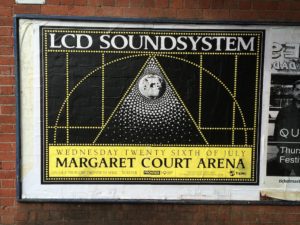 It was hard to get a read on the demographic taking the short trek from tram stop to turnstile at Margaret Court Arena for Wednesday night's performance by New York dance maestros LCD Soundsystem.
Patrons generally fell into the 25-35 age bracket and were unremarkably attired in casual black jeans, trainers and heavy coats to protect against the icy mid-winter chill that seeped over from the adjacent Yarra. I don't know if I was expecting more glitz and glam, but not much effort had been put into dressing up. I suppose that fits in with the LCD Soundsystem aesthetic, but also highlights that the audience had perhaps edged past their clubbing heyday, even if they were not quite ready to renounce their youth entirely.
For every 10 people that fitted this demographic, however, there were a few outliers – a younger woman in bright red lipstick and faux fur, a guy in an orange tracksuit top and low hanging denim pants, a man with manicured hipster beard and glasses, and most surprisingly perhaps, quite a few gangs of four or five young males who looked like under 19 football teammates. I don't know where they fitted into the LCD cohort – perhaps the band was big with junior football teams in the early twenty-teens, or perhaps the punky song Drunk Girls served as a calling card and the boys got hooked and stayed. There were also a smattering of over 45s, such as John and I.
One thing we had in common, however, was our almost uniformly white Anglo-Saxon pedigree and moneyed privilege – after all tickets were $108.00. I say 'almost uniformly white' because there were also quite a few young Asian women in attendance, perhaps as a result of Nancy Whang's presence in the band. Come to think of it, she may also have been the reason behind the groups of young men in attendance.
Despite the relative lack of audience diversity, I have a sneaking suspicion that I was the only person in attendance wearing a v-neck knit. I had come straight from work wearing a suit, trilby, v-neck jumper and satchel and looked decidedly un-rock and roll, and even less like I was on my way to clubland. I wondered momentarily about buying an LCD Soundsystem tour tee to wear over the top, but thought that would look even sadder.
Get Innocuous!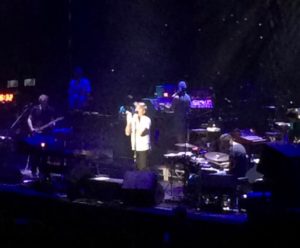 There was no support act (I know, the one time I arrive in time). Instead a DJ wearing a ten-gallon hat (they all have to have their zany prop) stood to the side of the stage and spun discs designed to get people dancing, although very few did. Just the guy in the orange tracksuit top really – that's how I noticed him; well that and his top. The music was largely variations on 70s disco beats with percussion and Prince-like guitar riffs – not too dissimilar to LCD's sound in other words.
John and I had seats to the side several rows back. Not great, but it beat standing for hours in the mosh and straining our necks to see.
The stage was crowded with gear, so much so that I wondered how the band members would fit and how many of them would be required to operate it all. I've seen orchestras with less equipment. There were three drum kits of varying sizes, innumerable keyboards and computer consoles, and large mixing desk things with cables looping between hundreds of sockets. It looked like the NASA control room. In fact some of the computer consoles looked straight out of the 1960s.
The band finally filed on about 15 minutes late and took up positions in and around the various bits of gear. There were at least eight people on stage – possibly more – it was hard to tell with large speaker banks obscuring some of them from view. Nor was it entirely clear who was a musician and who was a roadie or technician.
Our City's a Sucker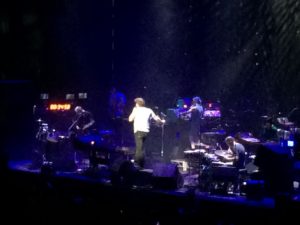 Yr City's a Sucker was a surprisingly low key song with which to open. At first I wondered if they were commenting on their time in Melbourne, however, I noted online that it has been the opening number for most of their recent shows.
But any thoughts that they were easing us in were banished when they followed this with career defining songs, Daft Punk is Playing at My House, which cranked things up considerably, and I Can Change.  These songs saw the entire audience on their feet bopping and the giant mirror ball hanging above the stage glowing brightly and deflecting sparks of light around the arena.
Then Get Innocuous! kicked in with its crisp, cool beats. This is one of my faves, as much for the exclamation mark in the title as the music itself, and was distinguished here by a prolonged, deafening siren noise and bright lights that flashed and sparked in time with the percussive beats.
James Murphy was up front and as John commented, it looked like he'd enjoyed his brief retirement – he certainly hadn't been working out at the gym to 45:33. With his beer gut and man boobs easy to make out beneath his loose t-shirt, he is a source of inspiration to paunchy blokes like me everywhere; not only can you be chubby and still be a rock star, if you're good enough you can even be a cool one.
Importantly, his voice was strong and he delivered his sometimes acerbic lines with casual elan and an occasional well-timed falsetto yelp. When he wasn't singing he picked up a drum stick to tap on a cowbell or a snare. At one stage he even rearranged the drum kit.
Murphy congratulated the audience on the fact that he couldn't see any phones up, but with everyone in the venue on their feet dancing, no one had steady enough hands to film or take photos.
He also expressed his concern about the people seated to the side, whose view was obscured by massive speaker banks on either side of the stage. He gave them a special wave and encouraged them to find a friend with a better view. He had a point – I sat adjacent to one of these at Ryan Adams in the same venue and it blocked off most of the stage. If these speakers must be placed on the side of the stage, then perhaps they shouldn't sell the seats behind them.
The light show was spectacular with strategic but effective use of strobes and the gigantic mirror ball hanging from the ceiling. Overall the sound was pretty good; a bit too much high end if I'm being picky, but it was certainly loud enough.
Dance Ourselves Clean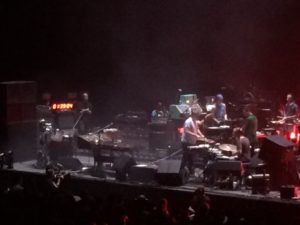 They played a few new songs as a teaser for their forthcoming album. American Dream and Call the Police carry the trademark LCD sound, which suggests that not much changed during their brief hiatus.
I took a bathroom break as Murphy gave the now obligatory rant about the arena's namesake and her views on same sex marriage.
"I'm not one to get in old people's faces for being ignorant," he said, "but when you come after my family, my friends, you can go fuck yourself," adding that they'd like to come back and play a "bunch of nights" when the place has been renamed.
As I returned there seemed to be a mass exodus of people streaming out – so much so that I thought there'd been some sort of emergency. But no, the band was playing a new song, Tonite. Based on the flood of people heading for the exits, it was either terrible or they were just taking advantage of the unfamiliar to go for a piss and a cigarette before the run home.
Home was greeted more warmly and brought on a joyous singalong. It ended with guitarist David Scott Stone teasing out the riff to Men At Work's Downunder, or was it  Kookaburra Sits in the Old Gum Tree?
They ended with New York I Love You, But You're Bringing Me Down, during which Murphy was surprised to notice that the spotlight was actually being operated by a person. He proceeded to test the spot operator's aim and his own dexterity by hiding behind various pieces of equipment as he sang.
He promised to return for two more songs, emphasising that it was more of a toilet break than an encore, "we're old," thus sparing us the charade of getting up a coordinated clap. I was hoping for North American Scum and Drunk Girls, but they played neither. They did however, play the next best thing, Dance Yrself Clean, the glorious opening track from This Is Happening with its long, teasing build up ahead of the big bass drop – well, it's more of a farting keyboard drop – but either way it got everyone dancing, clean or otherwise.
Nancy Whang's racing keyboards then ushered in All My Friends and the buoyant mood of the audience lifted further as we joined in the yearning refrain, "Where are my friends tonight?" The rousing response reinforced that the band were indeed among friends.
Murphy may not agree with Margaret Court's views on same sex marriage, but I guess she had last laugh because had she a mind to, she was able to sing, "LCD is playing at my house, at my house…"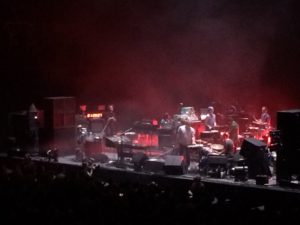 Setlist
Yr City's a Sucker
Daft Punk is Playing at My House
I Can Change
Get Innocuous!
American Dream
You Wanted a Hit
Tribulations
Movement
Call the Police
Someone Great
Tonite
Home
New York I Love You But You're Bringing Me Down
———————
Dance Yrself Clean
All my Friends
For Dr G Yunupingu – in the words of James Murphy, "When someone great is gone" R.I.P.