Marby
Marby, Plaza-TRG, Jungle Cuffs
Collarts, Brunswick Street Campus, Fitzroy
Monday 17 July 2017
Free
SONIC YOUTHS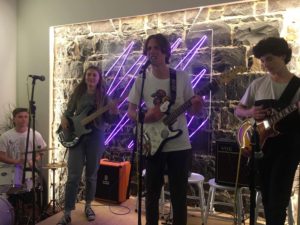 Bowie famously described Lorde as 'the future of music.' Rolling Stone once referred to the The White Stripes as 'the saviours of rock and roll,' and no one can remember who said it originally, but Marlon Williams is routinely described as 'the impossible love child of Elvis, Roy Orbison and Townes Van Zandt.'
Amid such hyperbolic excess, my claim that Marby are 'the sonic maestros of the northern suburbs' seems, by comparison, quite measured. Yet after experiencing their five song set as part of the New Slang Pop Up gig for the Leaps and Bounds Festival, I believe the only limit to their potential will be the usual pitfalls of rock bands, i.e. sex, drugs, musical differences and Yoko.
I often find myself at gigs where I'm old enough to be the father of one of the band members. Depending on your perspective, this is either a sign of my willingness to embrace the new or of my own pathetic delusions of youth. On this occasion, however, I actually was the father of one of the band members, the drummer Oscar, a point I highlight in the spirit of full disclosure as well as being a proud parent.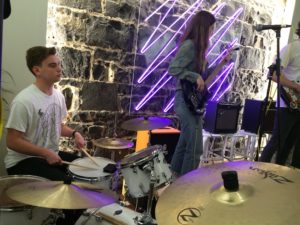 That said, and quite irrespective of how much of my DNA is in the mix, Marby completely rocked. They were tight, dynamic and played with a maturity beyond the band's lifespan. For you see, the band members are just 16 to 17 years of age and this was their debut gig. They are the Silverchair of the south. Formed at high school by year 10 and 11 students, Seamus McCorry and Thomas Spargo they have only been together as a group for a few months.
They played four originals plus a cover of Arctic Monkeys' I Bet You Look Good on the Dancefloor – a song that more or less reflects the genre in which they operate.
The originals are written by Seamus McCorry who plays guitar and sings. He delivers his vocals with similar full enunciation and Australian accent to Georgia Mac from Camp Cope. The signature element of the songs is the intricate composition of the guitar parts, with Spargo on lead guitar playing with the all the panache and nonchalance of Joey Santiago from Pixies. Just check out the guitar break in Ultracrepidarian.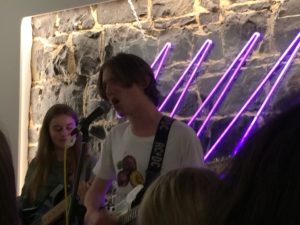 This is not to underplay the rhythm section of Oscar on drums and Olivia Bolmat on bass, as they maintained a tight and disciplined musical core. Oscar played with precision and admirable economy – even when he dropped a stick he maintained the beat. His younger brother Declan was impressed that this was the moment he caught on film. Olivia is a very accomplished musician and in addition to her bass, she also contributed harmonies to add a bit of light and shade to the vocals.
The makeshift stage at Collarts – which is essentially a shop front – was not large enough to accommodate a drum kit, so Oscar was hidden away in a culvert to the side of the stage, while the three guitarists took centre stage. This may be disappointing from the perspective of a proud parent trying to take photos, but as a drummer, Oscar may as well get used to his place in the band hierarchy.
I had heard two of their songs previously, including the opener, Ultracrepidarian. The spirit of invention is not restricted to the obscure word that gives the song its title (it means 'giving opinions beyond one's area of expertise' – much like this blog really), but also its elongated guitar intro with shades of The Doors' L.A. Woman, and a spoken word, off-beat vocal. It has a driving rhythm and immediate danceability that was picked up by the strong contingent of the band's school friends who crowded near the front of the stage.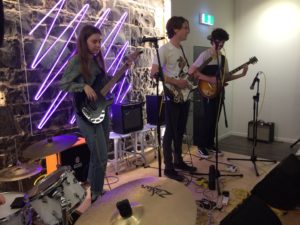 The set was well paced. Another original, Mary-Jane, was next, which Oscar assures me is not about marijuana use. Of course I believe him because teenagers would never lie to their parents about such things. This was followed by the Arctic Monkeys cover that they played with all the swing and swagger of the original. You could tell they were getting a buzz from playing live because Seamus introduced the band twice.
They changed pace with a slower song that is as yet unnamed, but which I'll call The End of Me and You, before closing with Tearing Paint off the Wall. This song has a breezy guitar riff and an ultra-catchy vocal. The band have made it available on Facebook so most of their friends in the audience were familiar with it and sang along loudly to the chorus, creating a buzz of excitement in the room.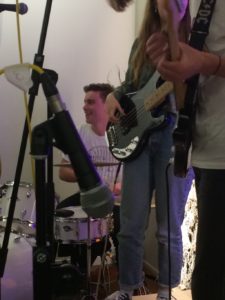 This is where the power of McCorry's songwriting comes in. The two songs I know, Ultracrepidarian and Tearing Paint off the Wall, both have genuine earworm qualities and are often caught on a loop in my head. Only people with genuine talent can achieve this and it makes me confident that Marby will go somewhere. In years to come those of us at Collarts for this show will be able to boast that we were at their first gig.
Marby setlist
Ultracrepidarian
Mary Jane
I Bet You Look Good on the Dancefloor
Unnamed (The End of Me and You)
Tearing Paint off the Wall
Jungle Cuffs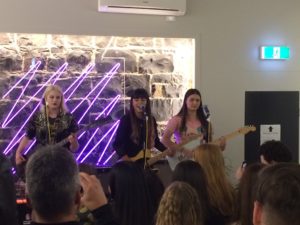 Marby was the second of three young bands on the bill. The first band, Jungle Cuffs, was an all-girl group who opened with the Bikini Kill song, Rebel Girl, which should give you an idea of their aural aesthetic.
They also played three originals with the various band members sharing vocal duties. These songs were respectively dedicated to someone, usually a guy, who had let them down at some point in their short lives. Which might explain the raucous 'fuck you' energy in these compositions.
It was their first gig and while their playing was a bit frayed and ragged at times, it was energetic and suited the material. Besides, you could tell from their big grins and feisty attitude that they were having an absolute blast. Watch out for them, but whatever you do, don't let them down or you might find yourself the subject of a vitriolic verse or two.
Plaza-TRG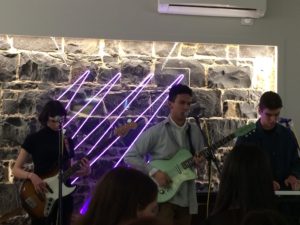 The headline act, Plaza-TRG played a kind of adventurous funk music that was reminiscent of Talking Heads Speaking in Tongues era with a touch of Vampire Weekend and perhaps even a sprinkling of Kid Creole and the Coconuts. Yes, there was a lot going on.
If the band didn't quite pull it off, it is perhaps because at this stage their ambition outweighs their ability. But you had to applaud their aspirations. Not many young bands attempt such a complex musical palette replete with changing time signatures, sudden shifts in tempo and sharp musical tangents. You never knew which direction a song might go.
Whatever their musical qualities, they were eminently watchable, mainly for the rhythm section. The girl on bass wore her hair in a bob and had a severe fringe that accentuated her still posture and deadpan expression. Her aura of introspection gave her real stage presence.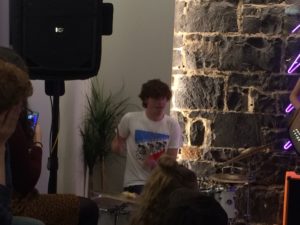 The drummer, meanwhile, was a study in contrast. Wearing a Kraftwerk Tour de France T-shirt, which was topical given that the race was entering the third week, he squirmed and bounced about in his seat like a bundle of restless energy, usually with his tongue hanging out. The reason he moved about so much was so he could get to every single hittable thing on his kit as often as possible. For him, every bar of music opened up like an empty panorama to be filled with percussion, every bridge, every verse presented as a drum solo opportunity. There was a manic Keith Moon quality to his playing as he tried to do the work of three percussionists. Mark E Smith has been known to fine his drummers if they hit their toms, and I couldn't help but think that this kid would be destitute by the second song if he ever played with The Fall. Still, he was a dynamic presence on stage.
The singer/guitarist played some breezy riffs and sang in a laconic croon, while the keyboard player was also playing some cool stuff, all of which added to an interesting mosaic of music. It will be interesting to hear them as they continue refine their sound.
Giving new bands exposure and a place to play is one of the great aspects of the Leaps and Bounds Festival. It was refreshing to watch three quite different groups of young musicians have such fun playing to their friends and families, and even better that it was all wrapped up by 8pm.