Sigur Ros
Sigur Ros
Margaret Court Arena
Thursday 27 July 2017
$89
SOUND AND VISION (and same sex marriage)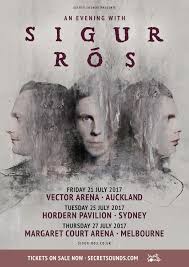 The major talking point in the media after Sigur Ros' show at Margaret Court Arena was the marriage equality slide that was projected behind the band as they took their final bow. The projection showed a map of Australia in rainbow colours with the word EQUALITY in bold white font. It received a massive ovation and dominated all the media reports and online posts about the show. Not that I saw it. John and I had already fled the building by then so that we could get the tram back to the city.
We had seen the show though, sort of (more on that to follow), but when reading the various reviews, I began to wonder if perhaps I had been at a different concert, as all the commentary centred on Sigur Ros' protest over Margaret Court's comments on same sex marriage. In addition to the projection, there was also a special tour t-shirt with all proceeds going to Marriage Equality Australia. And even though singer Jonsi Birgisson at one point muttered something in Icelandic into the microphone, he could have been telling Margaret Court to go fuck herself, as James Murphy had said the previous night, or he may have simply been saying, 'thanks for coming' or 'What's so good about Bjork?'
Clearly I missed the memo because all I saw was a blistering two-hour performance of ambient racket (as opposed to racquet). Really, the marriage equality slide was probably the least interesting of the various visual effects that illuminated the stage at this show (again, more on that to follow). Ever since Margaret Court expressed her opposition to same sex marriage, however, every event held in this arena, whether it be tennis, pre-teen pop, punk or Icelandic post-rock, will be viewed through the prism of marriage equality. Until the venue is renamed, the law is changed, or one of our tennis brats says or does something even more scandalous. Given that Mark Philopoussis' dad, Nick, was charged that day on child sex offences in the US, then perhaps it is safer to steer clear of tennis names altogether.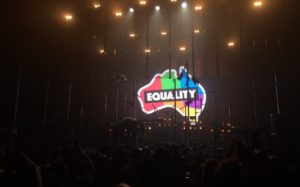 Vision Impaired
If I say that the concert wasn't as good as I expected, you'd think I was offering a criticism. But that's not necessarily the case. It's just that in the immediate build up to the show I'd been led to believe that I was in not only for an audio and visual feast, but also an emotional epiphany, something akin to a religious experience.
The tram from Russell Street was filled with concert goers who were busy recounting previous Sigur Ros live experiences, most of which ended up with the storyteller confessing to weeping by the end of the concert. Then in the foyer before the show we ran into an old friend of mine, David, who is also an avid fan, and he told a similar tale of being moved to tears by seeing Sigur Ros play live. I was beginning to wish I'd brought tissues and worn my sunglasses. I wondered if not being able to understand the lyrics contributed to their emotional impact. For all I know their songs are full of sexist slurs, racist epithets and calls to violence. John was hoping they were going to teach us the Icelandic clap that their football fans made famous at the last World Cup.
If the show ultimately delivered less than that, perhaps our seats were part of the problem. We were on the side, way up the top. This meant that we missed out on much of the visual display, which was designed for those looking front on. We could see the two layered screens behind the band and the images being projected onto each, but for us they didn't display in tandem as intended. From the side the band members were not immersed within the light show, but separated from it. We missed out on the three-dimensional aspect of the show and the interaction of the lighting effects with the music and the musicians. It was only later when I watched back footage of the show on YouTube that I realised what we'd missed out on. It looked quite spectacular. I wish I'd seen it.
Sure, we saw the series of fluorescent vertical and horizontal poles that illuminated in various patterns and colours, but the effect was somewhat lost from the side. And yes, we could see footage of the universe forming and expanding, but it was quite divorced from the music and didn't provide the sensory immersion that was presumably the point.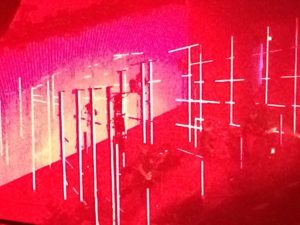 Sound Storm
But we certainly heard the music which was extremely loud and all-engrossing. It shifted from serene to stirring, hypnotic to hair-raising and calm to cataclysmic – all in the space of a single piece.
A typical piece began with a slow keyboard motif or the occasional thrum of a bass note from Georg Holm, before drummer, Orri Pall Dyrason, tapped out an ominous rumble on one of his toms and Jonsi coaxed a sustained note on his guitar and commenced a keening vocal in his distinctive falsetto. This soundscape gradually built and swelled with painstaking intensity, before Holm thrummed his bass with increased urgency, Dyrason escalated the beat and tempo of his percussion and Jonsi picked up his bow and started sawing away at his guitar strings with increasing vigour until the whole thing surged and exploded in a reverberating maelstrom of noise, only to slowly die down and grow still once more.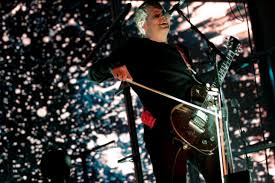 I was unfamiliar with much of the material they played, not just because of the Icelandic titles. But from what I can tell, there were a couple of tracks from each album and a few new pieces. E-Bow was piercingly loud, Fljótavík was greeted with a cheer of recognition by some and new piece Varoa ended the first half on a beautiful elegiac note.
The second half began with the stage in darkness and the band members playing from behind a screen – not that we knew that until they emerged from behind it at the end of the piece. I asked John if they were on stage and he couldn't tell either. Ny Batteri began with a squall of feedback and they concluded with Festival – one of the few pieces I knew –  Kveikur and Popplagio.
They were good, but I feel we only experienced half of the show, which might explain why we weren't in floods of tears at the end. So, after one curtain call we left and therefore missed the marriage equality slide. Oh well, it wasn't the only visual we missed.
Setlist
Á
Ekki Múkk
Glósóli
E-Bow
Dauðalagið
Fljótavík
Niður
Varða
——-
Óveður
Sæglópur
Ný Batterí
Vaka
Festival
Kveikur
Popplagio