Nilufer Yanya
Nilufer Yanya
Northcote Social Club
Wednesday 4 December 2019
$45
MISS UNIVERSE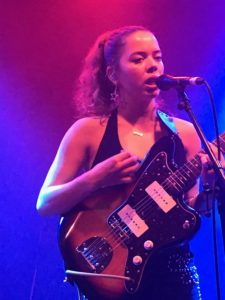 I came to this gig knowing very little about Nilufer Yanya. I'd read a review of her album Miss Universe in The Guardian earlier in the year and was intrigued enough to check it out. Then I found myself returning to it again and again. In particular the singles In Your Head and Heavyweight Champion of the Year. This was enough for me to pick up the vinyl and it has remained on pretty regular rotation at home ever since.
So I was happy when I saw her name appear on a summer festival guide, knowing that she wouldn't come all this way without doing a side show. I was even happier when Batts was announced as the support act, for her album The Grand Tour is one of my favourites of the year.
Typically, the change of season was lagging somewhat in Melbourne. It was decidedly cool and overcast and didn't feel at all like summer when I ventured out to the Northcote Social Club.
The room was quite empty when Batts commenced her set, so I wandered up near the front. People gradually filed in as she got underway, playing a good 30 minute set of songs lifted from her album and EP, along with a new song and a cover of Gillian Welch's Everything is Free. As is her way, Batts won over the audience firstly with her rich, wonderful voice, but then with her witty and charming banter. She's actually impossible to not like.
Batts Setlist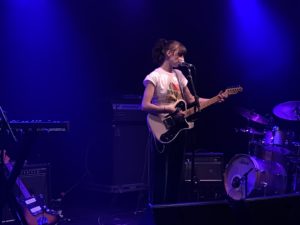 Change
Little White Lies
New song
Folding Chairs
Everything is Free
Shame
Gun
For Now
Nilufer Yanya
Nilufer Yanya's audience demographic, it turned out, was considerably younger than me. I stuck out somewhat, so much so that the guy behind me who was loudly pigeon-holing people in a bitchy camp manner to his friends pegged me as a reviewer – which I suppose is kind of accurate if this blog has any merit, but I was still offended. I was there first and foremost as a fan.
And as ironic as it would have been to buy a pink or canary yellow t-shirt with 'Miss Universe' embroidered across the chest, I left it.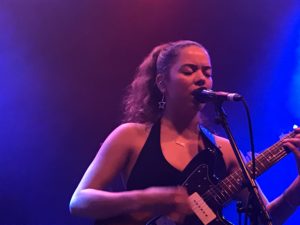 Nilufer Yanya opened the show in solo mode, performing Monsters Under the Bed on guitar, before the band joined her on stage. The band consisted of two men on bass and drums and a woman on saxophone, keyboards and vocals, with Yanya staying on guitar. She has an interesting playing style, her fingers don't so much strum or pluck the guitar as waft over the strings – as if it's a harp. Either way, it generated an easy, flowing groove.
Like Prince, Yanya is short of stature and also like Prince she doesn't mind crossing genre lines. Of course with only one album and a couple of EPs, and perhaps a smidge less stagecraft and genius, I'm loathe to compare her to the purple one, but nonetheless it is her mixing of styles that gives the album and this show such variety.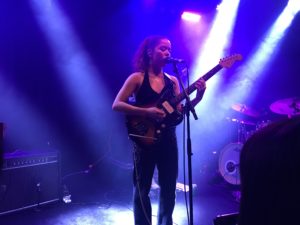 Yanya and band drew from both Miss Universe and her earlier EPs and played with passion and precision. Highlights came near the end of the set with The Unordained,
Angels and In Your Head rounding out the show before they returned to play Heavyweight Champion of the Year.
She was tired, she said, because they had only arrived that morning after not being allowed to board the plane, although she didn't say why. "It's colder than I thought it would be" she added. Clearly no one had told her about Melbourne, but hopefully she enjoyed it sufficiently to book a return trip one day.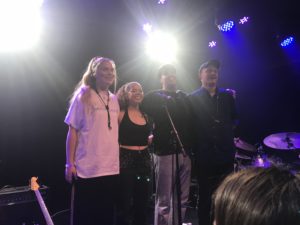 Nilufer Yanya Setlist
Monsters Under the Bed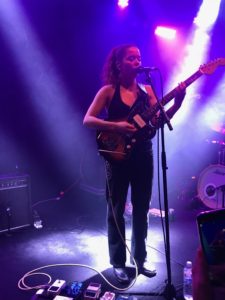 Paradise
Golden Cage
The Florist
Baby Luv
Thanks 4 Nothing
Safety Net
Baby Blu
The Unordained
Angels
In Your Head
————–
Heavyweight Champion of the Year