Lorde
Lorde
Sidney Myer Music Bowl
Sunday 26 November 2017
$99.90
PRAISE THE LORDE
There are not many occasions in life when a 50 year old man can shout out "I love you!" to a 21 year old woman he's never met. At least not without the police becoming involved, and especially in a post-Weinstein world. However, such is the liberating atmosphere of a pop concert. In particular a Lorde concert, where her appearance on stage was greeted with squealing hysteria and a sea of bobbing smart phones.
I'm not normally a religious man, but I was among the acolytes at the Music Bowl on Sunday night to see Lorde. I was there with Angela, our 15 year old son Declan and his pal Seb. Looking around as we took our seats in the stalls, I noticed the broad age range of the audience – there were people aged from five to 50. There were family groups like us, but also groups of teenagers, 20 somethings and thirty somethings. Lorde's appeal is as broad as it is fervent.
After a month during which I'd seen The Aints, Pretenders, Midnight Oil and Harem Scarem, I was just happy to be seeing a performer under 60 years of age.
Students of crowd choreography would have enjoyed the work of the security team. When we arrived there was a thick knot of people waiting patiently between the barrier and the front row of seats so they could be as close as possible to the stage. That is until security shooed them back to their seats. Then they slowly gathered in the aisles waiting for the go ahead to again get to the front. Only for security to again shoo them back to their seats. Five minutes later they began to gather again. And again they were sent back.
This little dance went on for a good half hour while we waited for Lorde. Finally security allowed people through and there was mad rush to the barrier that quickly became a crush. In a triumph of crowd control, the security team had managed to turn a perfectly safe situation into an unpredictable and dangerous one. Have they not heard of Hillsborough?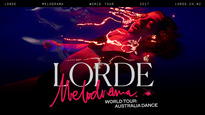 The Lorde Giveth
Kate Bush's Running Up that Hill blasted from the PA and something about hearing a fellow prodigy gave us the sense that Lorde's appearance was close.
At last the lights darkened, the old style television on the side of the stage spluttered into life with a mash up of random rapid fire television snippets from the 80s and an oversized sculpture outline of a spaceman on stage lit up in blue neon. The crowd squealed as Lorde emerged and launched into Homemade Dynamite. She was wearing a blue, strapless sequinned top and a transparent ankle length black dress with shorts underneath. Just the first of three outfits she would don for the night.
Lorde's is a dynamic performer with a unique dance style that is manic and unfettered; one arm flails right as the other is outflung left, and exaggerated steps take her wheeling across the stage as she dips, jerks and twists. It's like anti-choreography, but utterly compelling.
Her voice was rich and magnificent as she stuttered through the "D-D-Dynamites" of the song, although I was a little disappointed that the backing vocals were pre-recorded. Maybe it's a small thing and perhaps I'm just showing my age, but regardless of whatever sounds the the computer programmers up the back were simulating, I think the vocals should be live.
I forgave her on the basis that presumably it would be prohibitively expensive to lug half a dozen backing singers around the world. Besides, it wasn't detracting from her own performance. And there wasn't time to think about it too much because she was exhorting us all to dance as she burst into Magnets, the song she'd recorded with Disclosure.
The Lorde Taketh
Having just forgiven her for the absence of backing singers, I watched with a degree of disquiet as half a dozen dancers wandered onto the stage in that stylised, half-walk, half-prance manner they have and began swaying back and forth with interpretive posturing. WTF?
Here's where I do show my age; because I've been going to gigs for 35 years and I've never seen one yet that has been improved by dancers – and that includes Bowie and Kylie. Don't get me wrong; I like contemporary dance, even when it's called interpretive movement, just not when it's added to a rock or pop gig.
The main problem with these dancers is not so much that they were there, but that the choreography wasn't particularly interesting; in fact it was downright naff at times. There were even a couple of Tony Bartuccio moments.
The most interesting thing about their presence was the juxtaposition of their fluid, lithe movements compared to Lorde's spasmodic jerks and twitches. But even then it was Lorde's movements that were interesting to watch, largely because they weren't cliched. Throughout the night the dancers kept to the perimeter of the stage, presumably because Lorde's movements were so unpredictable that coming any closer to the centre would risk collision.
Now Lorde, please don't let me be misunderstood, but if you can afford to have six dancers, you can afford to have six backing singers. I can't help thinking that the concert would have been immeasurably better had the banked, choral backing vocals been live voices. Just sayin'.
Broadcast the Boom Boom Boom Boom…
Lorde disappeared for a minute or so and returned wearing a baggy white jumpsuit or dress – I couldn't tell, that's how baggy it was. Meanwhile, the neon spaceman was replaced by a neon floral arbour as Lorde performed The Louvre, with its marvellous refrain "they'll hang us in the Louvre, down the back, but who cares, it's still The Louvre."
She introduced Ribs saying she wrote it when she was 16 about her fear of growing up. "Five years later and I think I'm going to be okay" she added. Yeah okay, no need to rub it in. No one likes an overachiever, although in Lorde's case perhaps we'll make an exception.
Taking a seat she introduced Liability with a long monologue about the times you feel vulnerable and sad, and thanked the audience for being there "for this little weirdo." Liability is a beautiful song and she performed with a light touch, the audience joining in on the "E-e-e-na-na-na-everyone" refrain and lighting the hill with iPhone torches.
One of the musicians joined her at the front of the stage on guitar for a gentle rendition of Springsteen's I'm on Fire, with a snippet of her own 400 Lux thrown in at the end.
Another break, another costume change – this time to a flowing lemon dress. The third section of the show saw Lorde pump out a series of ever bigger and ever more euphoric anthems – not bad for someone with only two albums to pick from.
You know someone has something up their short sleeves when they can bring out a song like Royals well before the end of their set. Unsurprisingly it generated maximum hysteria. Likewise Team had us swaying and singing along, and of course, defying her lyric by raising our arms as she sang, "I'm kind of over getting told to throw my hands up in the air."
She closed with her rapturous dance anthem Green Light that exploded in an ecstasy of lights, sound and confetti. As my friend Kerrie posted online, it was a joyous ending to a great show.
A short encore saw Lorde alone on stage with keyboard performing Loveless, a song that appears on Melodrama as a brief snippet at the end of Hard Feelings.  Despite being part of the L-O-V-E-L-E-S-S generation, there was no shortage of love and adoration for her as she waved and walked off for what she told us was the final show of her world tour.
Bowie once said that Lorde is the future of music, and he might be right. But he is also reported as once saying, "When you think about it, Adolf Hitler was the first pop star," so perhaps we should be careful about ascribing too much value to his pronouncements – and just take in Lorde's music instead.
Setlist
Homemade Dynamite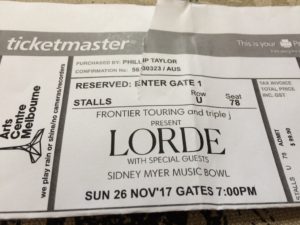 Magnets
Tennis Court
Hard Feelings
Buzzcut Season
Sober
———
The Louvre
Ribs
Liability
I'm on Fire/400 Lux
Sober II (Melodrama)
A World Alone
——–
Supercut
Royals
Perfect Places
Team
Green Light
———-
Loveless