The Aints
The Aints
Harry Howard & the NDE
Corner Hotel, Richmond
Saturday 18 November 2017
$30
ETERNALLY YOURS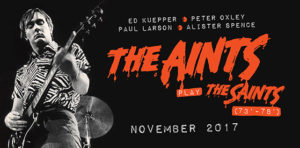 Just over 12 months ago I saw Chris Bailey's latest incarnation of The Saints play the Gasometer Hotel in Collingwood. Now Ed Kuepper's version of the band, The Aints, are playing at the Corner Hotel in Richmond. You could argue that it was fortuitous when they broke up in 1979, because far from decreasing the opportunities to hear them, we now get double the chance, with both Bailey and Kuepper putting together bands to tour the songs they wrote together in the mid to late 1970s.
In fact the three albums recorded by the original lineup of The Saints were named as if with such reunion tours in mind: (I'm) Stranded suggests being stuck in time, Prehistoric Sounds succinctly sums up any record made 40 years ago, while Eternally Yours nods to the band's enduring legacy.
In a week during which I've seen Harem Scarem, Midnight Oil and Pretenders, going to a gig by The Aints confirms that I'm indeed stranded in some late 70s, early 80s time warp.It was only the bald heads and grey hair of both audience and band members alike that suggested time had moved on.
The Aints is a band Ed Kuepper assembles every so often to play songs from the first three Saints albums. Originally conceived to piss off Chris Bailey, The Aints is essentially Ed Kuepper's tribute band to himself. The new lineup features Ed on guitar and vocal, Peter Oxley on bass, Paul Larson on drums, Alister Spence on keyboards plus a horn section.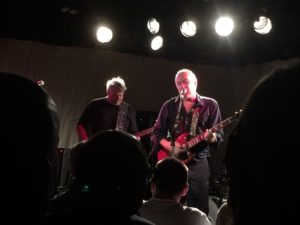 Harry Does Hee Haw
Support for the show was Harry Howard & the NDE, a band I quite like. However, children commitments and the paucity of parking in Richmond meant that I arrived a few songs into their set.
They played a few songs off their excellent album, Sleepless Girls, but in what I considered a real treat, they also played The Red Clock, one of Rowland S Howard's songs from the Boys Next Door's Hee Haw EP. This ranks as a defining record in my personal history and in my view, a landmark recording of Australian new wave. It is 20 minutes of the most beserk and brilliant music I've heard. Still. With Rowland's brother on guitar and vocals, plus Dave Graney on bass and Clare Moore on percussion, two musos who were on the scene at the time, the version had a degree of authenticity.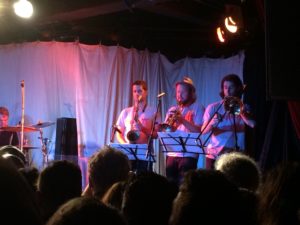 Don't Mess With The Kid
Between bands, the audience edged forward and crowded together. I was reasonably close to the front, so would at least be able to see.
When the curtains parted and The Aints took up their instruments, Ed greeted us warmly and announced that, "We are all here to pay homage to one of my favourite bands of the seventies" and then let rip with the riff from Erotic Neurotic and we were away.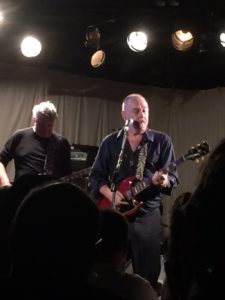 The night was a throwback not just for the music, but for the lone psychopath who pushed his way into the midst of the throng during This Perfect Day and began throwing his body about recklessly. Bolstered by any signs of exuberance from anyone in his vicinity, he would reach across or push through to ruffle their hair, shake their shoulders or bump chests in a show of solidarity. At the end of one song he skolled his beer, crunched the can and threw it onto the stage. Those of us near him breathed a sigh of relief when he disappeared, but he'd only gone to get another beer and was back soon enough.
Despite his unpredictable behaviour, I had to admire his aim and timing, for he crunched and tossed the can in the gap between songs and managed to miss both band and audience members. If Ed and co noticed these occasional missiles, they didn't say anything. Unsurprisingly he created a bit of space around him. No one wanted to mess with this kid.
The Chameleon
My favourite of the three early Saints albums is Prehistoric Sounds – also the only one of the three that survived in my record collection – and the band played quite a few from it. Ed even got a singalong going to for, "Everything's Fine…carry on." He also took an audience request for Brisbane (Security City). Such was his cheerful disposition that the guy behind me was moved to yell out "Where's grumpy Ed! What have you done with him?" Hadn't he already answered that when he sang "I am the Chameleon."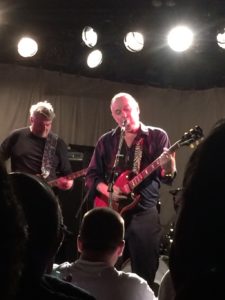 It was a joyous and exuberant run through the classics. He got (I'm) Stranded out of the way early and then set out to play a set of songs that were recorded at the time, but never made it onto any of the records.
"You may wonder why if the songs weren't good enough for the records, they are good enough to play for you tonight, but I can't answer that." I see it as either a mark of Ed's generosity that he wants to give us more than just the old favourites, but of course it might equally be a mark of his obstinacy that he can't simply let us enjoy a night of the old favourites.
The set ended with three of the best, Messin' With the Kid, Know Your Product and Nights in Venice. There is an argument to be made that Know Your Product is the best Australian rock song ever, not necessarily because its sneering broadside against advertising is as relevant today as ever, but because of the kick-arse horn section.
When they returned they played Prehistoric Sound's opener, Swing For the Crime and concluded with River Deep, Mountain High, ending the night on a suitably boisterous and raucous note.
This year I've seen two iterations of Ed Kuepper's request show, plus now his Saints tribute show. It would be easy to accuse him (and me) of living in the past, but when your past is as glorious as Ed's, there are worse places to be stranded.
Setlist
Erotic Neurotic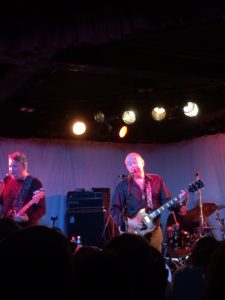 This Perfect Day
The Prisoner
Everything's Fine
The Chameleon
(I'm) Stranded
Brisbane (Security City)
S.O.S. 75
Demolition Girls part 2
The Church of Simultaneous Existence
Red Aces
Messin' With the Kid
Know Your Product
Nights in Venice
———–
Swing For the Crime
River Deep, Mountain High