New War
New War
Rites Wild
Grace Darling Hotel, Collingwood
Saturday 15 July 2017
$12
NEW WAR – OLD TIMES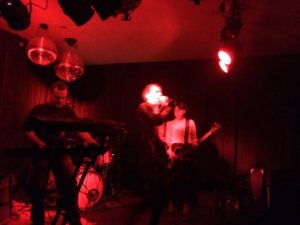 A few songs into New War's set the other night Ralph said to me that it was like 1981 again. He certainly wasn't referring to my girth or hair, so I can only assume he meant the band's emphasis on bass and drums, buzzing and spitting synth sounds, and vocals ominous with reverb. And possibly the lead singer's snazzy leather suit jacket.
This was the second time in a couple of weeks that we felt like we'd been transported back to that time. The first was when we saw Mere Women play at The Curtin Hotel. Their echoey guitar sound, complex rhythms and Siouxsie Sioux vocals were reminiscent of bands from that era, but New War tapped into the bass heavy sound that defined the Melbourne scene back then. The most well-known exponents of that sound were of course The Birthday Party, but there were numerous bands like Dorian Gray, Scrap Museum (later Blue Ruin), Dead Can Dance (pre-ethereal), The Moodists, Dresden War Crimes, The Ears, Plays With Marionettes and even early Hunters & Collectors, who all wallowed in music's lower registers.
Of course it might also have been that Ralph and I were just feeling nostalgic.
We were at the Grace Darling Hotel, an old bluestone pub in Collingwood. We met downstairs in a cavernous, hardly lit front bar that bristled with Saturday night rowdiness as young people in various stages of inebriation shouted to be heard over the DJ's backing music. It was a typical inner city pub with a small range of obscure craft beers that you couldn't quite make out in the fridge plus an ironic Melbourne Bitter. I selected the latter, not because it is a favourite, but because at $9 a pop you can't afford to make a mistake and find yourself lumbered with some dark syrupy ale that takes all night to drink.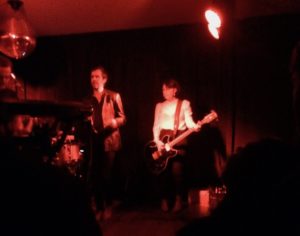 Tiring of the human hubbub we risked a visit to the band room. To get there we ascended a narrow staircase and passed through a blackened door so narrow that it was more aperture than entry. This is where it got weird, because far from the grungy, closed-in band room you might expect, we stepped into an oasis of sophistication. A smallish entertainment space led into a lounge bar with plush carpet, art-deco wallpaper and leather couches or candlelit tables. Soft music piped around us and people spoke in hushed tones over glasses of red.
The weirdness didn't end there, because support act Rites Wild began their set. Rather than blaring, unsophisticated guitar throb and squealing vocals I was for some reason expecting, it turned out to be one person on keyboards producing soft, gentle ambient waves of sound. It was all rather pleasant really. So much so that I didn't even bother to rise get up from my comfortable recline on the leather couch to get a closer look. Ralph did the scouting as he procured us more drinks – a rather nice can of Mornington Lager this time – and reported back.
Under a Blood Red Light Filter
The thing about a name like New War is that you'll always be relevant. Whether you're talking about an actual armed conflict in Syria, a theoretical war on terror or drugs, (sorry, that name's taken), or even an esoteric war on free speech or an open internet (yes, there is such a battle), there is always one entity declaring war on another. So a band bearing such a generic, all-purpose name will always appear to be on trend, at least identity-wise.
I first heard New War a few years ago and have their self-titled debut album on a now defunct iTunes account.  I saw them perform at an All Tomorrow's Parties event some years back, alongside Swans, My Bloody Valentine, HTRK and other bands where their brand of early 80s new wave wasn't at all out of place. I have no idea what they've been doing since, so I was interested to see them included in the lineup for the Leaps and Bounds festival.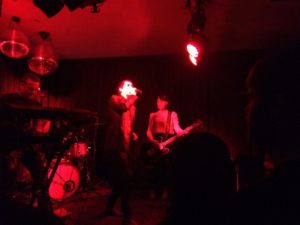 They have at least been writing new material, for the vast bulk of the set was unfamiliar to me. That said, they haven't exactly reinvented their sound – it remains a bold and muscular brand of new wave that is driven by deep throbbing bass riffs and rumbling drums.
The stage was largely dark, illuminated solely by blood red lights that concealed individual band members in murky hellish shadow.
Lead singer Chris Pugmire is pretty much the only moving part of the band. He stalks a short path between the bass drum and the edge of the stage – three steps forward, three steps back – for the entirety of the gig. So much so that he may have worn a groove into the floor of the stage. His voice is deep and heavily treated by reverb, to the point that his occasional utterance to the audience is lost in echo.
The Rhythm Method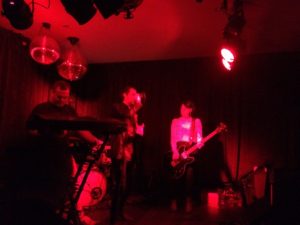 They are an unassuming looking lot – while Pugmire sports the black jeans, leather jacket and aloof expression synonymous with generations of rock and roll lead singers, Melissa Lock on bass however, looks less like a swaggering bass player and more like Debbie from HR on casual Friday with sensible high-waisted denim jeans, a loose blouse and large loopy ear rings. Her playing , however, is key to the band's sound, for there is no guitarist and she along with drummer Steve Masterson propel the songs along with rolling rhythms.
Without guitar, it was up to Jesse Sheperd who stood behind a double bank of keyboards generating science fiction sound effects, air raid sirens and fizzing synthesiser pulses to add colour and variation to the low-end rumble coming from the rhythm section. The whole adds up to dark industrial  tones
The set was largely made up of new numbers, which bodes well for the prospect of a new album. I recognised only one song, Ghostwalking, from their first album – an elongated dub-like trance of a song that lasted long enough for Ralph to wander downstairs for more Mornington Lager and still be back in time for the final few minutes. It isn't listed on the on the setlist I salvaged from the stage at the end of the gig, but it was one of the highlights of the show.
The music was intense and gave off a vibe of dark portent, but the rhythms kept our feet tapping, got several people dancing, and took Ralph and I back to our youthful teenage years. New War, old times.
Setlist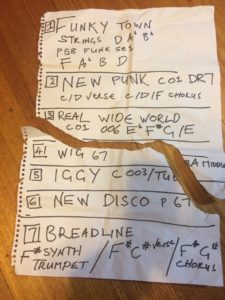 Funky Town
New Punk
Real Wide World
Wig
Ghostwalking
Iggy
New Disco
Breadline