Mark Lanegan
Mark Lanegan
The Croxton
Saturday 15 September 2018
$63.50
BUBBLEGUM POP
With Hawthorn being knocked out of the Finals on Friday night, there was no better place to be on Saturday night than The Croxton for a Mark Lanegan concert.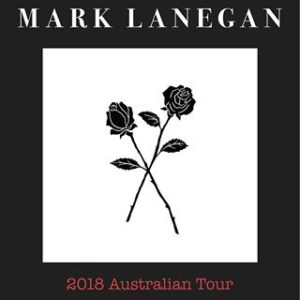 It was no salve for a disappointing, inglorious end to the football season, but a night of dark, gloomy songs sung in Lanegan's deep, sonorous baritone was at least going to match my mood.
The weather had also got my mood memo for after a balmy, sunny Friday, Saturday was fittingly overcast and freezing. In other words, conditions could not have been more perfect for a night of Lanegan's mournful, post-punk blues.
He appeared on stage with his two member band; a male guitarist and a woman on keyboards, beats and other electronic ephemera. I'm not so familiar enough with Lanegan's life and times that I know their identities, but they created a formidable soundscape to accompany Lanegan's raspy baritone.
They opened with When You're Number Isn't Up, an understated mellow song from the early 2000s and Low from even earlier. But with 30 years of material to draw from, the set was always going to span decades and venture down career nooks I've never visited, to albums with which I'm not familiar.
Lanegan is a sort of international version of Tex Perkins – they both sport a husky baritone and longish hair and have followed unconventional career paths through several bands, numerous collaborations and countless guest appearances. As with Tex, I don't follow Lanegan's recorded output with train-spotting obsessiveness, but rather dip in and out every few albums or so. I particularly liked 2017's Gargoyle, but as with most topics, there is much more I don't know than I do.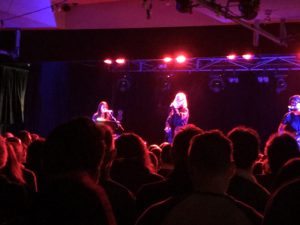 From the moment he emerged, Lanegan stood centre stage, his shoulder length hair a fuzzy halo under a dim reddish light, his features a shaded blur. He was hard to make out actually and although I'd had a couple of beers, I don't think I'd drunk that much.
Sure, I was standing a fair way back, but it was more that the lighting was of the contemporary design that obscures more than it illuminates. All very fitting for the mood of course, but it didn't make for a particularly dazzling stage show. One accusation you can't level at Lanegan is that he's a gregarious showman, a la Freddie Mercury.  During each song he stood more or less motionless with one hand holding the base of the microphone, the other holding the mic stand half way down.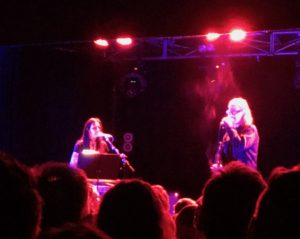 His own restraint was mirrored by the minimalism of the music. He took time to gesture in admiration to his guitarist after a particularly eloquent bluesy solo, and he kissed his keyboard player after her duet on Come To Me. But otherwise he barely moved other than to rehydrate with a bottle of water. Nor did he address the audience, other than a lone 'Thank you' half way through the set.
Nocturne from last year's Gargoyle introduced the industrial beats that accompanied some of the heavier soundscapes, but those inclined to move didn't get much beyond a hypnotic sway.
He also played Sister and Beehive from the Gargoyle album, but perhaps surprisingly, nothing from With Animals, his collaboration with Duke Garwood that had come out just that week. They weren't even selling it at the merch desk.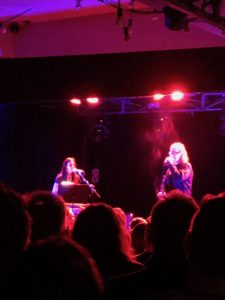 The set spanned his entire career with 2004's Bubblegum being best represented. Little cheers went up as fans recognised a well-known song or a personal favourite and also included a cover of Nancy Sinatra's You Only Live Twice. I'm not so au fait with his discography that I could pick more than half the songs, but it was a strong, intense performance.
'What do you have to do round here to get a little applause?" he said as he re-appeared for an encore. This provoked the intended response of raucous cheering, but it did occur to me that engaging with his audience, or even acknowledging them at some point might have generated a stronger and more organic reaction than the lazy applause from a smattering of people who were expecting an encore anyway.
This is not to say that Lanegan was in any way dismissive of his fans, for the guitarist announced that Mark would be at the merch desk to shake hands, sign posters and have a chat after the show. Indeed, as I edged towards the exit a long, impatient line was already forming. I'd have joined it had there been some vinyl to get signed, but instead I made my way out into High Street to find a cab.
Setlist
When Your Number Isn't Up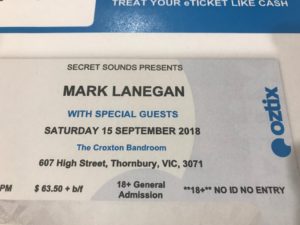 Low
Hit the City
Nocturne
Sister
The Gravedigger's Song
Deepest Shade
One Hundred Days
Come to Me
Strange Religion
Beehive
You Only Live Twice
Morning Glory Wine
One Way Street
Mirrored
Sad Lover
Halcyon Daze
Phantasmagoria Blues
I Am the Wolf
On Jesus' Program
————–
Torn Red Heart
Bombed
Wild Flowers
Halo of Ashes