Ron S. Peno & The Superstitions
Ron S. Peno & the Superstitions
The Stu Thomas Paradox
Memo Music Hall, St Kilda
Saturday 22 September 2018
$40
PENO NOIR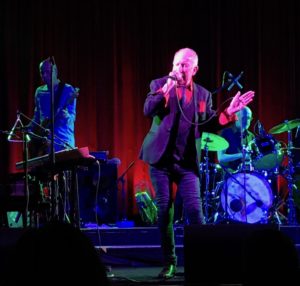 In wine, a pinot noir denotes a red wine that is lighter in body and flavour than a Cab Sav or Shiraz, but heavier than a lolly water Rose or crisp white. It has a complex, lingering flavour and is suited to cold climates.
In music, the Superstitions fulfil a similar place in the pantheon of Ron Peno's various bands; not as dark and heavy as Died Pretty, but not as light and cheeky as Darling Downs. And it was suitably chilly in St Kilda on this Saturday night; perfect conditions then for some Peno noir.
St Kilda used to be centre of Melbourne's music scene, but this was a rare trip south of the Yarra for me. Most of the action these days is in the northern suburbs, around Northcote, Thornbury and Fitzroy. In fact, the last time I saw the Ron and Superstitions was at a free gig in the front bar of Labour in Vain in Fitzroy around the time they released their second album. When I say 'saw' I mean 'heard' because there was no stage and Ron's actual stature is no match for his metaphorical stature in Australia's music scene, and I couldn't see him at all in the crowded bar. They sounded good though.
We had a table for this gig at Memo Music Hall; I was there with Fiona, Mark and Ralph. I missed the first act, Harry Howard & Edwina Preston, but enjoyed The Stu Thomas Paradox who followed with an energetic set of sly psychedelic jams. Stu Thomas I know from Dave Graney and the Mistly, but I'd never before seen him take on the role of frontman. His guitar playing was a feature and the songs were entertaining. The audience, though sparse and seated, were nevertheless enthusiastic in their applause.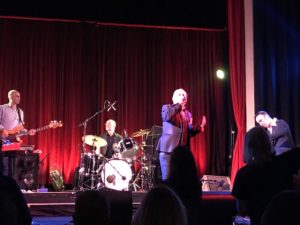 When Ron and the Superstitions appeared they got the groove going immediately with Just Like Diamonds, the opening track from their most recent album, Guiding Light. It is a typically slick and rollicking number and served as a great opener for the gig.
There followed an hour or so of groovy, might one say, noir-ish rock with Ron out front yelping and crooning, his body twisting in spasmodic jerks, while the Superstitions laid down their smooth licks.
It was no surprise a few songs in when a couple of gents calmly walked up to the front, placed their drinks on the lip of the stage and started shuffling their feet and swaying their hips. This was picked up by a few others and before long there were a dozen or so fifty plus types in mild cavort near the stage. I stayed seated, not because the music wasn't worthy of a sly shuffle, particularly The Other Side and Say it Isn't So, but because the dancers were all too conspicuous and I just didn't want to draw that sort of attention to my uncoordinated moves. Besides, Peno is a compelling frontman and I enjoyed watching him.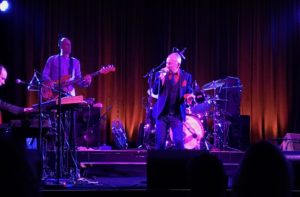 The bulk of the set was taken from their two most recent albums, as well as a new song, BTFC, with only Fall From Above from their debut album – and even then it was part of the encore.
This was a great gig, not fully subscribed unfortunately, which is not indicative of the quality of the music, but the demographic of the audience who, let's face it, mainly prefer a nice quiet night in these days, perhaps with a cheeky pinot.
Setlist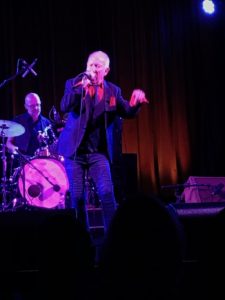 Just Like Diamonds
Hurt 'n' Run
The Other Side
Over Again
Not for Me
BTFC
Dear Love
Oh Life
Say it Isn't So
Dreams of Leaving
Kid Gloves
Call Your Name
—————-
Myself in Thee
Fall From Above