Courtney Barnett
Courtney Barnett
Festival Hall
Saturday 1 September 2018
$60
OUR COURTNEY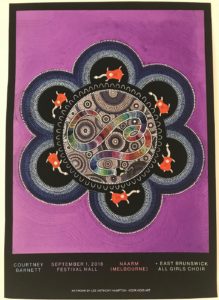 The first Saturday in September is synonymous with that most quintessential Melbourne activity – the first weekend of footy finals. But with this new fandangled pre-finals bye-round there was no AFL action, so I did the next best thing and went to see Courtney Barnett play Festival Hall – you can't get more Melbourne than that.
This was the triumphant homecoming gig by our all-conquering Courtney – or just 'our Courtney' as we know her in Melbourne now that she's made it big overseas.
It was the final show of her Tell Me How You Really Feel tour, so it was fitting that it took place in her home town of Melbourne. We feel we have a special bond with Courtney – we know the route of the 96 tram she refers to in Elevator Operator, we've been to Open for Inspections in Preston (or Thornbury) like the protagonists in Depreston, we get the reference to football teams roaming in packs at the casino in History Eraser and we've had hot chips at Philip Island, just like the lead in Kim's Caravan. Not only that, but on reflection most of us can distinctly remember her serving us a beer at the Northcote Social Club.
Not since the first Skyhooks album with Greg McCainish's songs about Toorak Cowboys, doing the Lygon St Limbo and hearing Balwyn Calling has a songwriter brought of the minutiae Melbourne so vividly to life.
I saw Courtney play Festival Hall last year when she supported Patti Smith in the gig of the year, but this time it's her crowd. On the whole it's a younger crowd, obviously, but like Patti, her audience spans the generations. There are fewer people here overall than for Patti Smith – the upper section of seats are curtained off – but then Patti has had 40 more years to build a following.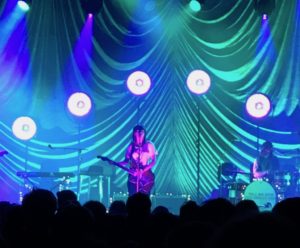 The other main difference to Patti Smith's gig is that the floor section is unlicensed. Here they don't want to encourage the young to drink, whereas at Patti Smith they were thankful that if it was only alcohol people were consuming.
Fiona and I took up a spot at the back of the floor section near the mixing desk. We'd missed support act East Brunswick All Girls Choir. Having seen them before, I knew they were neither all girls, nor a choir – and I had a sneaking suspicion they weren't necessarily all form East Brunswick either. Not that we deliberately missed them – they're pretty good – but aware of the licensing arrangements in place at Festival Hall, we stayed in the pub for one more.
By the time the lights darkened, we'd been hemmed in a bit against the fence protecting the mixing desk. Our view was not too bad, but the woman who pushed in front of me was wearing one of those mini backpacks that jutted into my stomach for much of the gig. Admittedly my stomach also protrudes but at least I didn't strap it on to annoy people.
'Put Me on a Pedestal'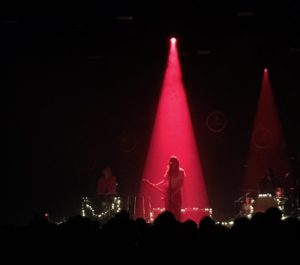 A beam of red light picked out Barnett's silhouette as she ground out the slow, dirge-like riff of Hopefulness – the opener to Tell Me How You Really Feel. Starting as a solo piece by Courtney, the song gradually built as the band joined in, and slowly spiralled into a wild squall of noise.
It was a great opening and set the mood for a great night of slacker rock and guitar shredding. Splashes of power pop with catchy hooks were also plentiful. City Looks Pretty, the second track of the night, is a case in point.
"Does anyone live in Thornbury?" she asked, to which an unlikely number of voices roared in the affirmative. "This song is set in Johnson Street behind the Croxton. It's for anyone who suffers from asthma and anxiety" – those old tropes of rock. It was Avant Gardener of course, a song that is as good its title.
The band were in good form. Bones Sloane on bass, Katie Harkin on keyboards and guitar and Dave Mundie on drums easily filled the cavernous interior of Festival Hall, although it was Barnett's guitar playing that was the main feature.
Fiona commented on how many men were in the audience. And it's true, there were as many men as women packed into the moshpit, but then grungy guitar is a universal non-gendered sound. Sure, there is a feminist edge to many of Barnett's songs, but if you're playing a Fender, it doesn't matter your gender.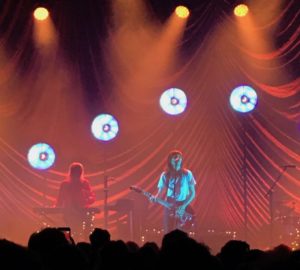 Need a Little Time is my favourite track from the new album and it came next. Overall, most of the new album was aired, as indeed was the bulk of her first album, Sometimes I Sit and Think and Sometimes I Just Sit.
Impressive as her axe wielding was in tracks like Nameless, Faceless and I'm not Your Mother, I'm Not Your Bitch, the moments Fiona and I both liked most were the slower, drawn out moodier pieces like Hopefulness, Kim's Caravan and Anonymous Club.
There were a couple of cover versions: Houses by Elyse Weinberg – not that I've previously heard of the song or artist, but Barnett has just released it as a 7" with Charity. The other cover, which opened the encore, was Gillian Welch's Everything is Free. Again, not a song I'm familiar with, but I do know that you're not allowed to rent or buy property in Northcote unless you own at least one Gillian Welch record.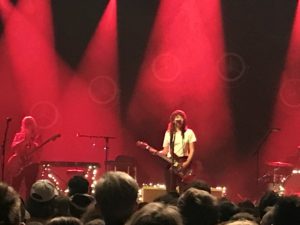 Before we got to the encore, she closed her main set with Nobody Really Cares if You Don't Go to the Party and History Eraser. The former's refrain of "I wanna ago out but I wanna stay in" neatly captures my mood on those nights when I have a ticket for a gig. But I'm glad I went to this one. Courtney plays a mean guitar and her songs have that rare quality of offering up something new each time you her them.
"Put me on a pedestal and I'll only disappoint you" she bellowed on her raucous closer, Pedestrian at Best. But she hasn't yet.
Setlist
Hopefulness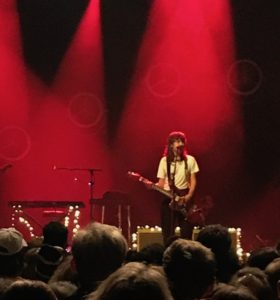 City Looks Pretty
Avant Gardener
Need a Little Time
Small Poppies
Crippling Self Doubt and a General Lack of Confidence
Nameless, Faceless
I'm Not Your Mother, I'm Not Your Bitch
An Illustration of Loneliness (Sleepless in New York)
Sunday Roast
Depreston
Houses
Elevator Operator
Lance Jnr
Kim's Caravan
Charity
Nobody Really Cares if You Don't Go to the Party
History Eraser
——————–
Everything is Free
Anonymous Club
Pedestrian at Best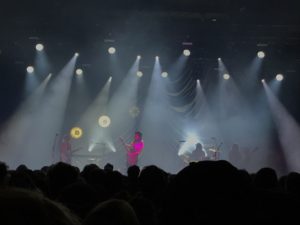 Patti Smith and Courtney Barnett Festival Hall 2017