Marlon Williams
Marlon Williams
The Forum
Saturday 12 May 2018
$52.40
MAKE WAY FOR MARLON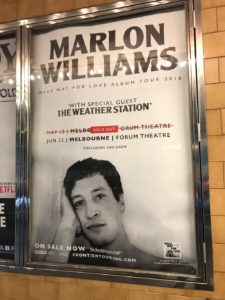 Four songs into his show at the Forum on Saturday night, Marlon Williams sang Everyone's Got Something To Say, one of the highlights from his 2015 debut album. It's a good song, but it was particularly fitting on this occasion, because just as his velvet voice crooned the first refrain of the title, the almost constant chatting of the three women next to me escalated to outright yakking.
This had been going from the moment Marlon walked on stage with his acoustic guitar and school blazer to open with a solo rendition of Down in the Garden. When the band joined Marlon to add some colour and lush instrumentation to the sound, the women simply talked louder, until it reached a pitch and point that tested the normal civility and tolerance of a polite Melbourne concert crowd. The looks turned to stares, the stares to 'shooshes' and eventually the 'shooshes' turned to a 'will you shut the fuck up!" from the guy behind me.
Everyone's got something to say sure, but these three seemingly had more to get off their chest than most. Not only that, but for some reason they had chosen a spot close to the stage at a performance of quiet, baroque pop to hold their confab.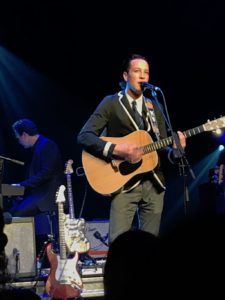 Another woman pushed through to give them a lecture about the 'good money' some of us had paid (the rest having presumably paid 'bad money'). Of course this just sent the women into juvenile exaggerated 'shooshing' and calls of 'stop enjoying yourselves' when the audience applauded at the end of the song.
I hadn't said anything to them myself, largely because I didn't want to add to the hubbub, but also, because I suspected they'd go away soon enough, either to the bar to get another drink, or the toilet to vomit up the last one.
What I didn't expect was that one of them would be overcome by the audience pressure and burst into tears, therefore requiring emotional support from her friends. 'Not long now before they disappear' I thought, which might sound unsympathetic, but they really were annoying.
The most surprising thing was that this trio were not young twenty-somethings after one too many espresso martinis, but women in their mid to late thirties, who you might have thought would have learnt some concert etiquette by this stage of their lives.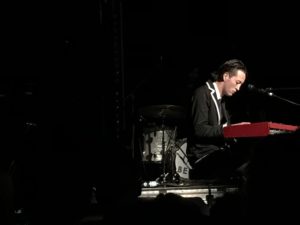 Marlon and the Yarra Benders continued to strum and plonk away, oblivious to the mini drama playing out at their feet. But only just, because one of the three women had vowed to 'take off my bra and throw it on stage.' Happily, or otherwise depending on how you feel about lingerie, two of the three departed for some 'fresh air' before she got the chance.
I don't know whether catcalls and shouted marriage vows count as #metoo moments, but Marlon was subjected to quite a few of them. Let's face it, he's a handsome young man with talent and a velvet voice and, if his songs are anything to go by, something of a sensitive side.
Having said that, "let me wear you like a beautiful dress" is a lyric that I'm not sure I want to unpack. Is it a simple ode to cross-dressing or do I detect an air of Charles envying Camilla's tampon? Williams wasn't saying either way, for when he sat down at the keyboard to play it, he introduced it by saying, "I'm not sure what I was thinking when I wrote this."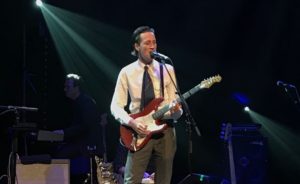 The band demonstrated a nice touch; quiet and intimate when the song called for it, such as I Didn't Make a Plan and The Fire of Love, and flexing the frets with some hip-shaking jauntiness on songs like What's Chasing You and Party Boy.
Most of the set was drawn from the new album, Make Way For Love – by the end of the night they had worked through the entire album – plus a couple from his debut album, with Dark Child receiving the loudest cheer of the night, a d a few covers.
The Yarra Benders are the quintessential Melbourne band. Not because their name recalls the murky river that runs through the city, but because the only native Melburnian in the current line-up is Dan Luscombe. Either there are two Dan Luscombes or he is in at least five bands, but almost all good Melbourne bands contain at least one Luscombe.
After working through a Barry Gibb cover – Carried Away – they finished with their set with a great triptych: the stand alone single Vampire Again, his duet with Aldous Harding, former flame and the subject of most of the lovelorn songs they were playing, Nobody Gets What They Want with Marlon doing both parts, and the album closer Make Way for Love.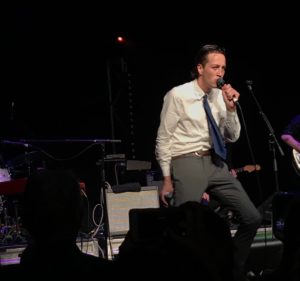 Marlon reappeared by himself to begin the tender Love is a Terrible Thing before the band gradually rejoined him, and they closed with a dramatic reading of Screamin' Jay Hawkins' Portrait of a Man.
Having seen Marlon play a solo set at Basement Discs (with Aldous Harding joining him on vocals) when he launched his first album, and the band play a brief set at The Age Music Awards in the same year, this was the first full gig I had seen. And it was a good one – not swashbuckling rock and roll – but nicely paced with subtle songs expertly played, and all the better when their playing was all I could hear.
Setlist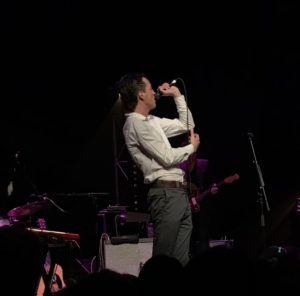 Down in the Garden
Come to Me
I Know a Jeweller
Everyone's Got Something to Say
Beautiful Dress
I Didn't Make a Plan
The Fire of Love
Is Anything Wrong
Can I Call You
Dark Child
Lost Without You
Nobody Sees Me Like You do
What's Chasing You
Party Boy
Carried Away
Vampire Again
Nobody Gets What They Want
Make Way for Love
—–
Love is a Terrible Thing
Portrait of a Man