Ryan Downey
Ryan Downey
Northcote Social Club
Thursday 17 May 2018
$15
WHAT I TALK ABOUT WHEN I TALK ABOUT RUNNING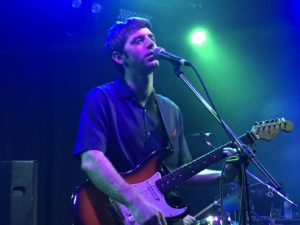 One Sunday morning several weeks ago, my son Oscar wandered into the room in which I was sitting quietly, turned on the TV to Rage, and in that way of teenagers, promptly left the room without watching. Content, it seemed, to have disturbed my peace.
Just as I reached for the remote to turn it off a song started with an image of a man sitting on a plinth playing an acoustic guitar. He picked out a minimalist motif and sang a simple song in a slow, crooning baritone about running. It was magnificent. So magnificent I searched him up straight away on Spotify and checked out his discography – if that's what it's called when it's streamed.
There wasn't much, but what there was was good. Turns out he is a local so a few weeks later I popped into Rock Steady Records on release day to pick up a signed copy of the album and bought tickets to his album launch at Northcote Social Club.
I've been talking up the album ever since. When author Haruki Murakami talks about running, he is interweaving metaphors about physical exercise and mental stimuli – I'm just talking about Ryan Downey's album.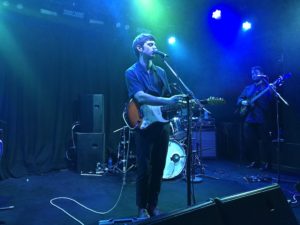 Shaggy Dog Stories
When the show hit I was there with my band buddies John and Fiona. We arrived just as the first support act El Tee was finishing up. Hollie Joyce and her band were next and they played a rollicking sort of psycho-billy that was lively and energetic. Joyce's voice, disarmingly naive when speaking, in song became a thing of power and passion.
It was good hip-shaking stuff and she even got an audience sing-a-long going to her song, "I'm a dog, I'm a dog, I'm a dirty filthy dog."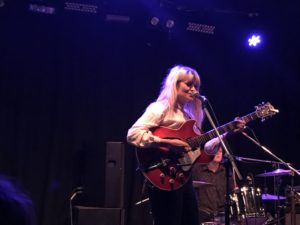 Croon-off
Having seen Marlon Williams perform just five days earlier, this Ryan Downey show shaped as something of a croon-off between the two. Both of them velvet voiced baritones drawling out slow, sensitive torch songs. It was like seeing Burl Ives and Perry Como in the same week. Any staunch monarchists might also have found it touching to have two handsome matinee idol types in town to coo romantic love songs in the lead up to the royal wedding between Harry and Meghan.
Ryan was joined on stage by three band mates: bass, drums and keyboards. The three musicians played subtle, understated backing to Ryan's electric and acoustic guitar. The real star of the show, however, is Downey's rich, deep voice, so the backing musicians maintained just the right degree of virtuosity and restraint.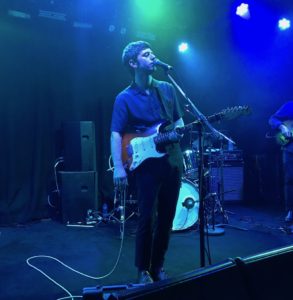 Ryan moved smoothly around stage with graceful little glides and subtle feints. His playing was slick and his band's barely there backing suited the songs perfectly. Perversely perhaps, he opened with The End, but then took up the acoustic guitar and played Running, which is one of the best songs of the year. When Jenny Beth from Savages sent out an Instagram request for new songs to play in her Start Making Sense podcast, I submitted Running – and it made the cut.
The setlist consisted of the album in its entirety, including the instrumental interlude, Forecast, plus Tidings, a song form an earlier online only E.P.
There's no denying that Ryan Downey is a handsome chap and the encouragement from a few of the girls near the front (i.e. taunts of barely constrained lust) caused him to blush more than once. All of this just made him more endearing of course. He is not some jaded heartthrob – this sort of adoration is still new to him. like Marlon Williams, he might have to start getting used to it.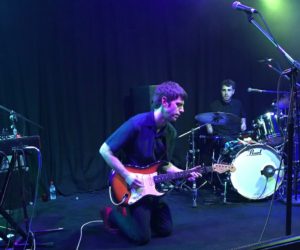 The band disappeared and Ryan closed the set with a solo rendition of Those Eyes That Answer that he played in a different arrangement to the album.
When the band returned for an encore, they played a lively cover of Eurythmics' Love is a Stranger, not necessarily what I would have expected, but they captured it nicely.
This was a little gem of a gig to match the album it accompanied. The only slightly awkward moment came when Ryan announced the winner of the free t-shirt competition for all those who pre-bought tickets, only for the first three names read out to not be there.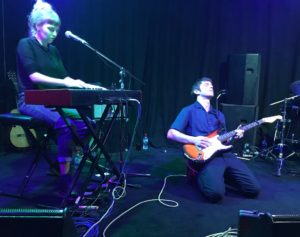 Normally I try to maintain a modicum of detached cool at such events, but when he emerged post-gig to meet the fans, I took the time to congratulate him on the show and the record.
While the rest of the English speaking world is arguing over whether a particular audio meme says 'Laurel' or 'Yanny,' I'm just glad I have Ryan Downey's album to listen to instead.  He is supporting Sarah Blasko at 170 Russell in a few weeks and I look forward to catching him again.
Setlist
The End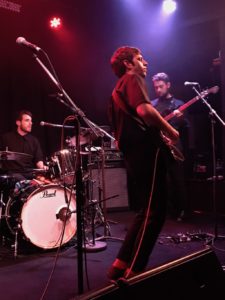 Running
The Big Sink
Renewed
Forecast
The Weather Song
Love Me, My Meal
Techno Dolls
Tidings
1+1
Those Eyes That Answer
——-
Love is a Stranger