Mere Women
Mere Women
John Curtin Hotel, Carlton
Friday 30 June 2017
$12
MERE WOMEN BY NAME, NOT BY NATURE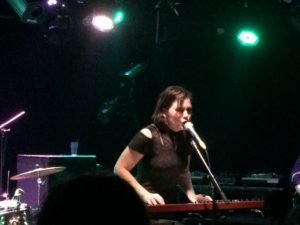 Like most Melbourne music fans of a certain vintage (i.e. old) I was excited when Radio Birdman and Died Pretty announced a double bill at the Croxton Park Hotel for this weekend. My enthusiasm waned considerably, however, when I saw that it was going to cost $90 a ticket. That's right, $90! For two bands who, let's face it, are both 30 years past their prime, or nearly 40 years in the case of Birdman. That doesn't mean they're not any good, but the most recent song either band was likely to play was going to predate Justin Bieber's birth, Princess Diana's death, the Howard years, the internet, 9/11 or even Millenials.
So I ummed and ahhd for a few months about buying a ticket until in the end both shows sold out before I'd made a decision. But the very fact that I had to think about it for three months suggested that perhaps I was never going to go. So instead I forked out $12 and went with my friend Ralph to see Mere Women at The Curtin.
Mere Women were touring to launch their new album Big Skies. We missed the support acts and sat downstairs in the front bar where the DJ was spinning discs that pre-dated even Died Pretty: The Jam, X Ray Spex, Brian Eno, Elvis Costello, Ian Dury, Television et al. I don't think we heard anything post 1981. The crowd at the Croxton wold have loved it, although the Millenials hanging out in the front bar at The Curtin seemed less enamoured.
Upstairs wasn't too crowded, but it filled up quite quickly when the band took to the stage. I hadn't seen Mere Women before, but I quite liked the split 7 inch they put out with Gold Class last year and the new album sounded pretty good. So I thought I'd turn my back on my own generation and pretend to be young again by seeing a contemporary band.
They are Mere Women by name, but not necessarily by nature – for a start, one of them is a bloke. The band comprises Amy Wilson on keyboards and vocals, Trisch Roberts on bass, and Katrina Byrne on drums, with Flyn McKinnirey on guitar.
It's a measure of the sort of man I am that one of my first thoughts was to wonder whether there were more or fewer groupies for the sole guy in an otherwise all girl group, than if he played in an all-male band. I suppose we should ask Kims Deal and Gordon and the hundreds of other women who have been the sole female in a band with a bunch of smelly, sweaty, opinionated muso blokes.
It turned out the DJ in the front bar knew what he was doing, for Mere Women have a distinct 1981 new wave ring to their sound. There was lots of reverb on the guitar, the drummer was working her entire kit to set up complex syncopated beats and singer Amy Wilson punctuated the verses with a melodic 'Woo oh oh' or two. Her voice is not unlike Siouxsie Sioux's so that added to the impression that we were listening to the Banshees' play their Kaleidoscope album.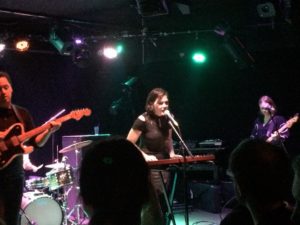 When L.P. Hartley once wrote that 'the past is another country, they do things differently there,' he obviously wasn't factoring in the recurring nature of rock music. The past has been affected by globalisation and in some cases sounds much the same as the present. Mere Women are proof of that.
As it happens, I particularly like that period and style of music, so I was enjoying the performance. Ralph got in a couple of beers and we stood nearly inconspicuously among the young peeps near the stage.
If I have a criticism of the band, it's that there wasn't much variety in their sound, but that is neither uncommon or particularly unexpected in new bands. There's plenty of time to work in latin beats, string sections, jazz stylings or out of control drug habits.
In particular, Flynn McKinnirey's guitar sound didn't vary noticeably from one song to the next. Each note was coated in such a swathe of reverb that in some songs he only needed an occasional swipe at his strings to fill the room with an echoey buzz. This is fine, but it lent a sameness to each song. Really, a new effects pedal would do the trick. Only Curse, a slow, keyboard led ballad half way through the set offered any change to the sonic soundscape.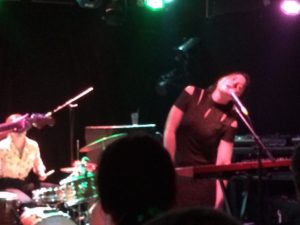 That said, I enjoyed the energy of the band and watching Katrina Byrne on drums. Her percussive patterns set the tone for most songs and I found it quite hypnotic watching her set up complex drumming sequences for each song. Ralph even wondered if she should adopt a simple beat, even just for one or two songs, just to change things up.
A cursory conclusion evolved into a quite genuine encore with the audience setting up a loud cheer for more. They acquiesced and played Drive, a powerful propulsive number with Wilson delivering clipped, cryptic lyrics and the simple shout of 'Drive!' for the chorus. It may have been this that put the idea into Ralph's head to give me a lift home, so it was a good song on which to end.
Mere Women are a good band and I enjoyed the show, but I did wonder if I'll be purchasing overpriced tickets to see them in 2047 when they play the heritage trail.
Setlist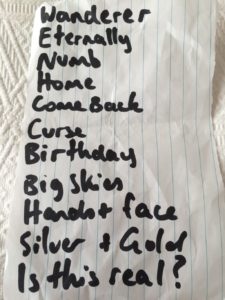 Wanderer
Eternally
Numb
Come Back
Curse
Birthday
Big Skies
Hands and Face
Silver and Gold
Is this Real?
————–
Drive