Steve Gunn
Steve Gunn
NGV
Friday 7 July 2017
$30
GUNN CONTROL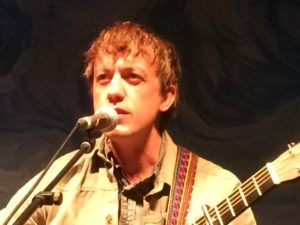 No sooner did Prime Minister Malcolm Turnbull announce an amnesty on guns than Steve Gunn handed himself in to tour Australia. This might be a coincidence, but it also might mean that we're going to see a sudden influx of bands like The Gun Club, Guns 'N Roses, The Celibate Rifles, Machine Gun Fellatio (still one of the great band names) and The Sex Pistols.
Steve Gunn was playing as part of the NGV's Friday night series to coincide with the Van Gogh Seasons exhibition. Given Vincent's troubled relationship with his ears, is it a bit insensitive to attach a music program to a Van Gogh exhibition?
To be perfectly honest I didn't know who Steve Gunn was, but his bio said that he'd played with Kurt Vile and that was good enough for me. Also, every time I planned to go along to the exhibition the Friday night would sell out before I booked in. I'd missed out on Grouper and The Blackeyed Susans in recent weeks, so this time I projected forwards a few weeks and landed on Steve Gunn. His album, Eyes on the Lines, sounded good and my friend Fiona decided to join me for the occasion.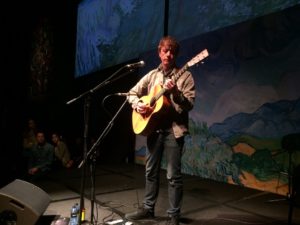 vvg@ngv
The Van Gogh exhibition was loosely based around the four seasons with drawings and paintings depicting the various moods of nature. Any concentration of Van Gogh works is going to be worth seeing, as evidenced by the 'sold out' sessions and the hordes of people trooping through the galleries, but in truth and not surprisingly, this exhibition was more or less the painting equivalent of Van Gogh's B-sides and demos.
There was no Sunflowers, Irises, Starry Night Over the Rhone or Bedroom in Arles – instead there were lots of peasants working the fields, a few desolate looking wastelands, some swirly clouds and the odd sprig of flowers. From this exhibition, only Wheat Field With Cypresses and one of the self-portraits, or selfies to use the modern parlance, would make a Van Gogh 'Best of' compilation. But that is okay because it gave the exhibition an element of surprise. Among those surprises was that Van Gogh's selfie looked a little like a portrait of The National's Matt Berninger.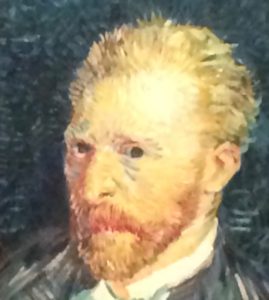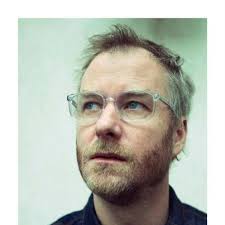 sg@ngv
The people who curate the NGV Friday night series must enjoy looking for performers or bands with a link to the exhibition. How else to explain The Fauves, named after an art movement inspired partly by Van Gogh, who played earlier in this series. It makes you wonder if organisers tried to tempt The Ears back together for a performance.
There is no obvious relationship that I can see between the art of Van Gogh and the music of Steve Gunn. Except, I suppose, that Van Gogh died after he shot himself with a gun. I don't imagine the curators are that glib, so presumably they simply piggy-backed off Gunn's pre-existing tour dates.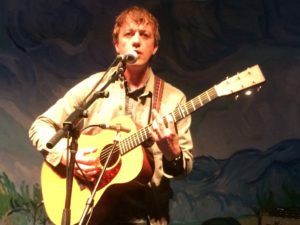 Like Van Gogh, Gunn is serious and uncompromising about his art. He was alone on stage with just an acoustic guitar and a nest of pedals. Before he began, a voiceover reminded the normally verbose diners in the Great Hall to speak softly. It was a request Gunn followed up. During his second number, Ancient Jules, he walked over to some girls seated on the side of the stage and politely asked them to be quiet.
He wasn't being precious, because the chatter escalates inside the Great Hall and as he said, "I'm just one man with an acoustic guitar." As it was, throughout his show you could hear the hum of socialising coming from the gallery's foyer, but there was a good-sized crowd gathered close to the stage concentrating on Gunn's quiet, contemplative songs and intricate playing.
Dressed in crumpled denim, he maintained a serious demeanour throughout. His playing verged on the baroque as he teased out gentle, sinuous guitar lines. His lyrics were thoughtful and poetic and came slowly, with long musical gaps between verse.
On his latest album Eyes on the Lines his playing reminds me a little of Tom Verlaine – he looks a little like him as well. On stage with acoustic guitar, however, he picked out intricate, circuitous melodies, sometimes seeming to get multiple melodic lines going at once. The opening line to Park Bench Smile is, "Moving with a sleight of hand," which is an apt description of his style. I'm not a guitarist, but I imagine those in the audience were entranced by his fluid playing.
One small boy was. Probably three or four years old he was pressed against the stage and watching intently. Gunn dedicated a song to him and anyone else under 10 years of age (there were a few), noting that the audience seemed to be under 10 or over 50. I'm not sure whether that pleased or depressed him.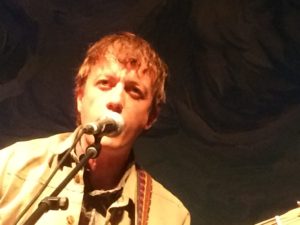 Despite his nest of pedals, he didn't overdo the effects; in fact, I would have liked some more of his occasional dissonant touches and zephyrs of feedback. And if I'm going to be picky, perhaps more variety of pace and tempo, but that would be to discount his mesmerising playing and gentle demeanour.
Gunn said at the beginning of his set that it was inspiring to be playing in such a venue. He certainly lived up to it. His final song, Mr. Franklin (about Buddy?) was a virtuoso piece for which he used a metal slide to coax out some fuzzy blues.
At the end of the show he wandered around to the front of the stage to sign albums and chat to fans. Fiona had a chat to him while I wandered over to the merch stall to see if there was any vinyl, but sadly it had all sold out.  I was disappointed to miss out, but it after such a good gig, it was no surprise that the audience, perhaps put off by overpriced Van Gogh prints, had made a bee-line for Gunn's records.
Setlist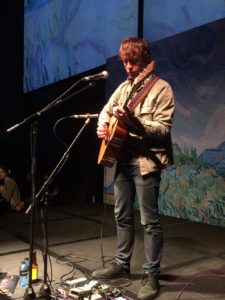 Old Strange
Ancient Jules
Milly's Garden
Night Wander
Water Wheel
Way Our Weather
Park Bench Smile
Wildwood
Mr. Franklin