Jess Cornelius (2), Jess Ribeiro (2)
Jess Cornelius
Jess Ribeiro
The Tote Hotel, Collingwood
Tuesday 27 June 2017
Free
TWO JESSES ARE BETTER THAN ONE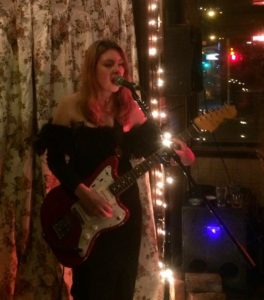 Some men like Asian babes, some blokes prefer Scandinavian women while others like women of colour. It seems, however, that I have a thing for Kiwi chicks, musically at least. For three of the very brightest talents and most played artists on my turntable all hail from New Zealand: Lorde of course, who everyone loves and whose new album is quite brilliant, Aldous Harding, whose album Party is one of the best albums so far released in 2017, and Jess Cornelius, lead singer of Teeth & Tongue and now emerging solo performer.
I've tried to sound mature and make it all about the music, but there is no skirting about the fact that they are also all beautiful women.
I don't know if there are websites devoted to the appreciation of Kiwi girls or if it is a niche fetish for a certain type of mature gentleman, but there is certainly a musical gene running through the female population on the other side of the Tasman. Aside from the four women I've mentioned, there is also Kimbra, Jenny Morris, Dame Kiri Te Kanawa, Gin Wigmore, Ladyhawke, and who knows how many Finn sisters and nieces.
Regular readers of this site will already be familiar with Jess Cornelius through my regular visits to her shows, both solo and with her band, Teeth & Tongue. I've seen her perform in theatres, bars, wineries, record stores and Parliament House. I've even watched Facebook posts of her playing songs in her bedroom. There would be some people, my wife included, who suspect that my 'thing' for Jess Cornelius has shifted from benign musical appreciation to serial stalker territory. But I don't know what they're talking about. Just because I recorded Rockwiz when she was on doesn't mean anything. And surely it's perfectly normal to have kept a setlist from a Teeth & Tongue show on which you can make out her footprint.
So as if I was going to pass up an opportunity to see her perform for free at the Tote.
To celebrate the Tote opening on Tuesdays, Jess Cornelius was performing free shows in the front bar every Tuesday in June. Each week she had different special guests providing a support slot.
I went to the last of the Tuesday residencies, partly because Jess Ribeiro was supporting, but also because going to the Tote on a Tuesday night in winter isn't on many people's bucket list, so it is the sort of thing you put off until the last possible moment.
JR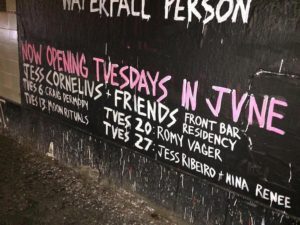 The front bar was packed when I arrived. People occupied every stool and available standing spot. It was a squeeze to get to the bar and order a drink. I'd missed Nina Renee who plays in a band with possibly the best name of any Australian band – Suss C***s. With a name like that they're clearly not expecting to be asked to support Taylor Swift anytime soon. Beer successfully procured, I moved out but got trapped right next to the microphone stand just as Jess Ribeiro began her set.
There was no stage, just a sort of patch of carpet in the corner into which Jess had been pushed. Playing solo with electric guitar, she opened with Hurry Back to Love from her Kill it Yourself album, but that was the only song I recognised. From thereon she played new songs. She said she'd been holed up in her she-cave writing, so this gig saw the debut of a number of new songs, at least one of which was unfinished,  by her own admission.
Her playing was simple and subtle and her singing was warm and intimate. She managed to create an atmosphere of appreciative silence in the pub, until the barman pressed the button on the soft drink gun and created a great gushing noise during a particularly quiet and sensitive song. He looked sheepish as he realised his unintended accompaniment, but the business of a bar should never be quelled by a ballad. Jess Ribeiro seemed entirely unfazed – the miracle really was the gulf of silence she had created to make this seem like an interruption rather than the normal operations of a front bar.
It was the same when Jess Cornelius played which illustrates why the Tote is the poster venue for Melbourne's live music scene – the people who go there, actually love music and go to listen.
JC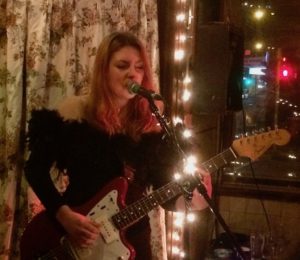 Before she started, Jess Cornelius rigged up a patterned curtain as a backdrop across the corner doorway of the Tote, turned on some fairy lights and then appeared at the mic wearing an off the shoulder, ankle length black gown with a feathered collar.
Of course anyone who has been to the Tote will know that it takes more than drapery and a feathered collar to glam up the front bar, and even Cornelius ran out of energy for the exercise, for she completed her ensemble with chunky black Doc Marten boots.
Like Ribeiro, Jess Cornelius played unaccompanied, just voice and electric guitar.  Also like Ribeiro, she used the occasion to road test new material. She played only one Teeth & Tongue song, the rest of her set was made up entirely of unreleased material. Some of it, she said, will come out later in the year. I had heard some of the songs when she played at the Noisy Ritual Winery recently, but the difference here was that the venue was much more conducive to music.
Where Cornelius differed from Ribeiro is that she is less subtle or more dynamic, depending on how you want to put it. Both styles are good, but Cornelius ramped up the drama and intensity. She opened with Jealousy, a dark brooding number that showcased her lower register. Another new song, Eyes on the Prize, plunged into the baroque territory that defined many of the best songs on her album, Grids, while I Wanna Go There, which deals with lust in pub bathrooms, had more of a fast-paced rock feel.
Another new song was called Difficult Things and People, a title she conceded didn't exactly roll off the tongue, "but that's what it's about anyway."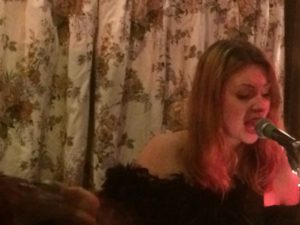 As with Jess Ribeiro, the place was packed and the audience gave her their absolute attention. For anyone who has been irritated by the Babel-like chatter at NGV gigs and the Forum, the Tote is a more music friendly environment. But nor is it too reverent like the Recital Centre. Partly this is due to the distinctive Tote odour, which if you could distil and bottle, you might turn it into a rugged masculine cologne – Tote pour homme by J'adore.
Towards the end of her set she played the title track from Give Up On Your Health, followed by one of the standout songs of her new batch, Love and Low Self-esteem, a slow bluesy barroom lament that ratchetted up the drama.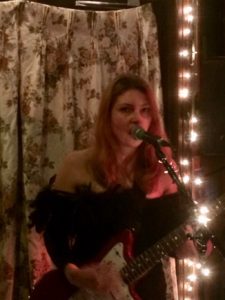 This was a great show by Jess and not just because she wore an off the shoulder gown. Her voice was deep and resonant and her guitar playing raw and rugged. She announced that Teeth & Tongue will be playing a final show "for quite a while" at the Gasometer on 4 August. That's my son's 18th birthday so unfortunately I won't be able to go. Although I have bought a ticket just I case, because any 18-year old worthy of the milestone is likely to ditch their family and head out with their mates. In which case I may try and get along.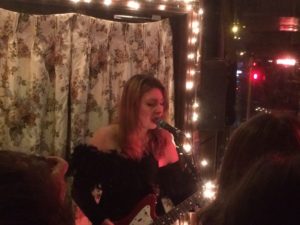 Setlist
Jealousy
Banging My Head Against the Wall
Eyes on the Prize
Difficult Things and People
I Wanna Go There
Born Again
Life is Brutal
If It Makes No Difference
Habits
Give Up On Your Health
Love and Low Self-esteem
Jess Cornelius – Noisy Ritual Winery – March 2017
Teeth & Tongue, Jess Ribeiro – Parliament house – Nov 2016
Teeth & Tongue – Polyester Records – Sept 2016
Jess Ribeiro – Northcote Social Club – Sept 2015