Midnight Oil
Midnight Oil
The Smith Street Band
Sidney Myer Music Bowl
Wednesday 15 November 2017
$99.90
GREY SKY MINING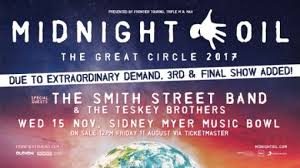 Wednesday 15 November 2017 was a day of reckoning for Australia; a landmark day for civil rights, but even more importantly, for our nation's sporting glory. It was the day the Australian Bureau of Statistics were to announce the result of the marriage equality plebiscite. Not only that, it was also the day of Australia's final World Cup qualifying match for Russia 2018.
Like many people, I was hoping for the 'Yes' vote and Socceroos victory double. But l feared this might be asking for too much. So I pondered the ethical dilemma that if I could only have one, which would I choose – equality and a basic civil right for a community of which I was not part, and which therefore didn't affect me personally, or a sporting triumph that would bring me some personal joy? Perhaps it was a good thing that I had a ticket to see Midnight Oil that night, for if anyone can provide certainty around ethical dilemmas, it's Peter Garrett.
Also, watching the Socceroos in a must win game can be excruciating so I was happy to have a distraction.
Midnight Oil were playing their third and final concert at the Music Bowl as part of the Great Circle tour that had been traversing the globe throughout the year. I had a lawn ticket, which was not ideal from a viewing perspective, but I thought that if any band can transcend the problems of the vast arena, then it is Midnight Oil.
The good news was that the Yes vote got up, but by the time I met my friends in Young & Jackson's ahead of the show, the bright, sunny skies had turned ominously charcoal and a storm threatened. I'm not sure if that necessarily boded ill for the Socceroos, who were playing in Sydney anyway, but it certainly meant that we'd be getting wet.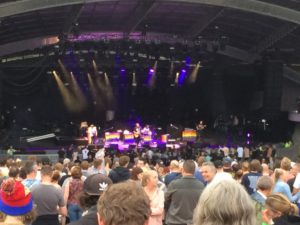 We took up a spot on the hill just as The Smith Street Band came on. Their gear was decked out in rainbow flags to celebrate the Yes vote in the same sex marriage plebiscite. The chances of a real rainbow appearing remained a romantic notion however, because a resolute drizzle persisted. This didn't dampen the mood of The Smith Street Band's singer Wil Wagner, for he seemed positively chuffed by the result of the vote, but even more by sharing the stage with the Oils. Plus he was under cover.
They sounded pretty good too. They play a sort of rambunctious Aussie pub rock that translated well to the bigger space and their sound easily filled the Bowl's amphitheatre.
The audience on the hill was pretty laid back. The prevailing fashion was Oils tour t-shirt under a waterproof poncho, and the prevailing activity was waiting in queues for food, drinks, merch or toilets. I stayed more or less on the hill listening to the band, who seemed to be going down reasonably well. I may never have seen The Smiths play, but I can at least say I've seen The Smith Street Band.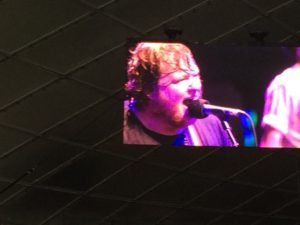 Long Memory
The last time I saw Midnight Oil was in 1980 or so at La Trobe University on their Head Injuries tour. I'd also seen them at Melbourne Uni the previous year and remember them being a dynamic live act. I don't know why I didn't I see them again; I guess we drifted apart as they grew more popular and I grew more pretentious.
I had their first two albums and the Bird Noises EP, but I went off them a bit as they became more political. Also, I had a group of friends who played them relentlessly, so their music became ubiquitous – particularly around the time of the 10-1 album. You didn't need to buy Midnight Oil albums, because everyone else had them, and their gigs were held at ever bigger venues which I tended to avoid. But their reunion tour was something of an event so I decided to join some of the old Oils friends for this gig at the Bowl.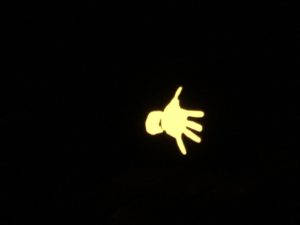 Gay Wedding Cake Island
The main concern around seeing Midnight Oil on the day of a big socio-political decision was that Peter Garrett might spend more time ranting than singing. Plus I wasn't sure whether a Yes or No result would make him more insufferable.
Bizarrely, the No campaign had become fixated on the rights of bakers to resist baking wedding cakes for same sex couples, as if it was the inalienable rights of pastry chefs rather than same sex couples that the Australian people were voting on. I did hope this might mean that the Oils would play their instrumental track Wedding Cake Island; but instead they opened with their own nod to the No campaign, Redneck Wonderland.
At their previous Melbourne show a week earlier, guitarist Jim Moginie had torn a hamstring, or 'done a hammy' as we say in Melbourne, so he was wheeled into position on a makeshift ramp and played the entire show from a wheel chair. I don't know if this necessarily affected his playing, but he did seem to be obsessed with the reverb knob on his guitar, sending a pulsing wave of reverberating feedback over most of the songs. Still, not a bad effort, most footballers are out for at least two weeks with a tear like this, yet Moginie didn't miss a show.
Despite this, Garrett remained the central focus for most of the night and although he didn't leap and strut about in quite the manic, exaggerated manner he once did – he did exude more energy than you might normally expect from a former cabinet member.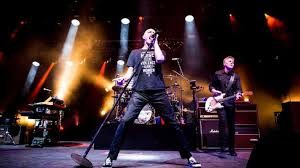 I was unfamiliar with much of the early part of the set, but they were playing a good mix of album cuts and the occasional hit to keep occasional fans like me interested. They made sure that the entire span of their career was represented by playing songs from each album. I picked No Time For Games from their early period, but couldn't recall which album it was from (Bird Noises). They followed with Short Memory which got the fans on the hill singing along.
At times I felt twice removed from the gig as I watched through the phone of the guy in front of me who spent most of the show filming the large screen. Basically he was filming a film. This was when my son Declan messaged me to say that Australia had scored in the soccer, "GOAL!!!!!!. Jedinak with the free kick outside the box LIKE A BOSS" he wrote. I spread the word and we wondered why they weren't running the soccer on at least one of the screens – or at least showing the highlights.
The rain continued but it wasn't heavy enough to ruin the evening – that was the sound engineer's job. If Bones Hillman's bass was plugged in, you couldn't hear it on the hill, and the whole thing, though certainly loud enough, had way too much top end by the time it reached us. In fact the sound cut out entirely for a fleeting nano-second on a couple of occasions.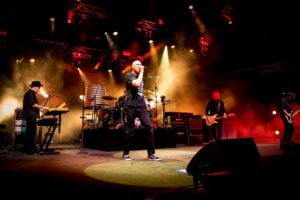 When the drummer sings
Where the mixing was most at fault, however, was the decision to leave drummer Rob Hirst's microphone switched on. Hirst had contributed out of tune back up vocals to a couple of tracks and had at one point played a stand up snare at the front of front the stage so he could sing. Given the Oils already have one of the great frontmen of Oz rock in Peter Garrett, it's difficult to imagine why Hirst imagined they might need another one.
So it was even worse when he took the lead vocal on When the Generals Talk. Whatever the generals were saying, it would certainly have sounded more tuneful than Hirst's 'everyman' vocal. It was a relief when the generals gave the order for US Forces and Garrett reclaimed the lead vocal.
Garrett kept his political observations to a minimum, there was the occasional rant about Adani, a short diatribe about Tony Abbott, and of course an acknowledgement of the same sex vote. All good things, but no mention of the soccer. Luckily Dex was keeping me informed via text and we were 2-nil up before long.
The Hunters and Collectors horns joined the band on stage periodically to provide a suitable blast when required.
The hits came in a rush towards the end, like Socceroos goals (3-1 after another penalty): Best of Both Worlds led into Blue Sky Mine which gave way to Beds Are Burning before Forgotten Years rounded out a show on a fitting note, given it was a reunion show.
We knew there would be an encore because Moginie was left stranded in position when the rest of the band departed. They returned to play The Power and the Passion to general audience revelry.
It was a good gig and testing new arrangements for songs like Short Memory and US Forces ensured that it was more than an exercise in nostalgia. However, the sound on the hill wasn't great and even worse, my feet were killing me after standing for nearly three hours. My enjoyment of gigs is directly proportionate to my proximity to the stage, so it was always likely to be beyond the power of even the Oils to bring intimacy in such a vast amphitheatre, particularly carrying an injury. Even so, the Yes vote got up and the Socceroos qualified for the World Cup, so on a day that made us proud to be Australian, who better to provide the soundtrack than Midnight Oil.
Setlist
Redneck Wonderland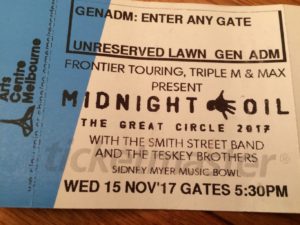 Lucky Country
Hercules
Earth Sun and Moon
Dreamworld
Truganini
King of the Mountain
Koala Sprint
Mountains of Burma
No Time for Games
Short Memory
When the Generals Talk
US Forces
Kosiciusko
Only the Strong
The Dead Heart
Best of Both Worlds
Blue Sky Mine
Beds Are Burning
Forgotten Years
————–
Power and the Passion