Mitski
Mitski
Howler, Brunswick
Saturday 2 December 2017
$49
THE BEST AMERICAN GIRL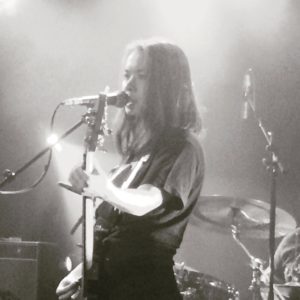 The rain that hadn't fallen in Friday's super storm came on Saturday night – most of it while I was walking down Sydney Road on my way to Howler to see Mitski. Despite most of my path being covered by shop awnings, I was still saturated when I met Fiona in the front bar of Howler.
It was the sort of weather that would persuade most people to stay at home, notwithstanding the fact that we already had tickets. I figured, however, that if Mitski could cross the Pacific for the show, then I could cross the Tullamarine freeway, regardless of the weather.
I was glad Fiona was joining me for this gig, because with Mitski's young 20-something crowd, I worried that I might give off a sort of Harvey Weinstein vibe if I was by myself. I probably still looked a bit creepy, particularly as I was drenched, but I was thankful I had some back-up.
Mitski Miyawaki is a 27 year old Japanese-American singer-songwriter. Her two most recent albums, Bury Me at Make Out Creek (2104) and Puberty 2 (2016) are both excellent, full of dark, brooding songs that spark with moments of unexpected ferocity. I only heard of her when I noticed she had a sold out gig coming up at Howler and thought I should have a listen. I loved it so when a second gig was announced, I picked up a couple of tickets, and here I was squashed in near the front on the side of the stage.
A three piece band included Mitski on bass, a guitarist who looked like the IT work experience kid but who shredded his strings like Andy Gill from Gang of 4, and a drummer who resembled a logger and bashed out the beats with all the finesse you'd expect from an experienced woodsman. Fiona thought the drums were too loud, which might have been the result of where we were standing, or might just have been because he was hitting the fuck out of them. I thought it was magnificent. In fact I'm not sure drums can be too loud.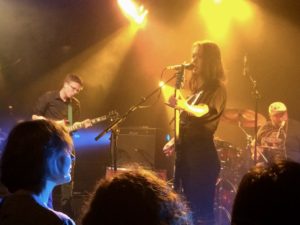 She opened with the moody and melodic Francis Forever and the feedback drenched I Don't Smoke from Bury Me at Make Out Creek. From there the set alternated between songs form that album and her latest, Puberty 2, with I Want You, a quiet, slow burner from her second album the only exception.
Her voice was strong and powerful, particularly during Townie ("I want a love that falls as fast as a body from the balcony, and I want to kiss like my heart is hitting the ground") and Your Best American Girl, the latter fizzing and sparking with a Pixies like intensity.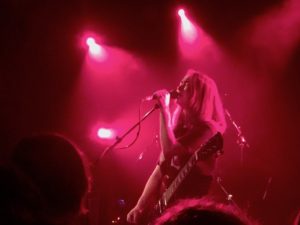 Her stage persona was detached and even slightly aloof. "I hear Melbourne is a big comedy town. I have no jokes" was one her rare sorties into stage banter. She did, however, thank us for coming out in the rain.
One of the key moments came in the crash bang of Drunk Walk Home when Mitski put the microphone into her mouth and howled into it like a she-devil. Not that I saw it; I was pushing my way through the crowd to get to the toilet, but I certainly heard it, as I suspect, did most of Brunswick.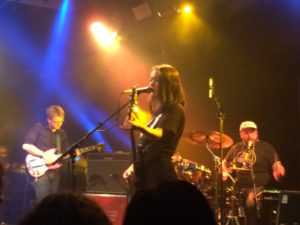 The band members departed the stage and Mitski took the lead guitar for the relatively subdued A Burning Hill, before cranking out the magnificent mono-note racket of My Body is Made of Crushed little Stars, which was the highlight of the set for me.
After closing with Class of 2013 from her second album Retired From Sad, New Career in Business, the band returned for an encore and played a cover of This is What We Look Like by Personal Best, "one of our favourite UK bands."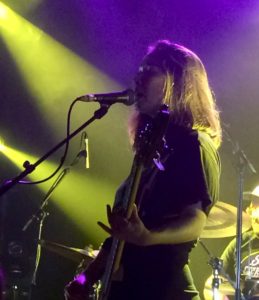 Feist and Mitski on consecutive nights made for a great weekend of rock, particularly as the weather ruled out most other summer activities. On the Monday after this gig, I saw a guy wearing a t-shirt that said 'The future is female' and I couldn't help thinking he must have had tickets to the same gigs.
Setlist
Francis Forever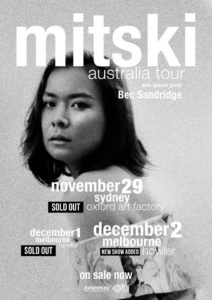 I Don't Smoke
Happy
Once More to See You
Townie
Your Best American Girl
Thursday Girl
I Want You
I Bet on Losing Dogs
First Love/Late Spring
I Will
Drunk Walk Home
A Burning Hill
My Body's Made of Crushed Little Stars
Last Words of a Shooting Star
Class of 2013
————–
This is What We Look Like