Models
Models, Machinations
Friday 8 September 2017
Croxton Park Hotel
$50
TWO CABS TO THE CROXTON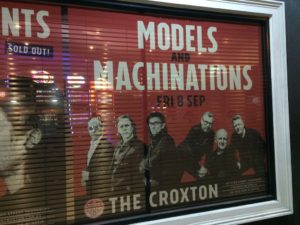 It's Melbourne Fashion Week, so what better band to see than Models – survivors from Melbourne's new wave era of the late 1970s and early 1980s, as well as from various fights, feuds and Freuds. They were playing a double bill at The Croxton with fellow 1980s veterans Machinations.
There weren't many people in the room when Fiona and I arrived for the show, but there were plenty of mitigating factors, not least of which was the weather, with Melbourne suffering a wet and chilly winter overhang – in other words, Melbourne Spring.
In addition, there was plenty of competition for Melbourne's music lovers that night with Placebo playing Margaret Court Arena, Kate Miller-Heidke playing at NGV and Jen Cloher playing at Howler. And that's just the gigs I knew about.
Plus there was the footy, with 95,000 people packing the MCG for the Qualifying Final between Richmond and Geelong and most other people staying at home to watch it.
But perhaps the biggest disincentive was the ticket price of $50 for two bands who might generously be said to be past it. Earlier in the year the Croxton's double bill of Radio Birdman and Died Pretty was set at an ambitious $90 – which stopped me from attending, but at least they sold out two shows.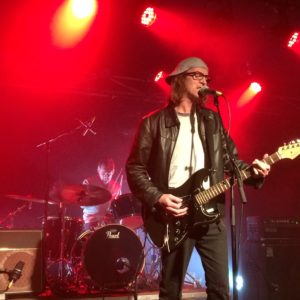 However, while Models were always a big Melbourne band whose appeal took in pompous and popular music fans alike, I doubted the pulling power of Machinations. I remember them as a one-hit wonder type band, except I couldn't even remember the hit. Perhaps they had been big in Sydney or Brisbane.
As it turned out, not only did I recognise one of their hits, Pressure Sway, but faint memories also stirred for No Say In It, so they were two-hit wonders at least. Perhaps they had more, but nothing else they played triggered any recognition from me. While it is tempting to think that I was simply way too cool for Machinations back when they were around, the more likely explanation is that I simply wasn't paying attention, or was going through my Doors and Velvets period.
They did have some fans though, or one fan, for among those clustered near the stage, there was one guy with a bald head who jumped, sashayed and sang along to virtually every track with a big grin on his face. I don't think he'd had this much fun since Simple Minds toured last year.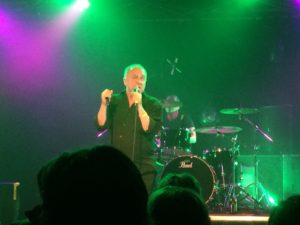 Role Models
Between bands I checked the AFL app to ascertain whether Richmond was still leading. They were aiming for their first premiership since 1980, which coincidentally, was the same year that Models released their debut album, Alphabravocharliedeltaechofoxtrotgolf. Synchronicity perhaps.
Models were a band I saw regularly in the early 1980s and I had all of their records. Still do as it happens. The album I pull out to play most often is Local &/or General, which I remember buying with the ill-gotten proceeds from picking the winner (Just a Dash) in the 1981 Melbourne Cup. That I remember this is symptomatic of either just how good the album is, or how few winners I've tipped in the Melbourne Cup.
If I had to name my five favourite Models songs, I'd probably nominate (in order) Local &/or General, Cut Lunch, A Rainy Day, Man O Action and Two People Per Square Kilometre. So it's a measure of their greatness that despite not playing any of these tracks on the night, Fiona and I had an absolute blast, dancing and singing along to a host of other old faves. And in the case of Barbados, old songs I never really liked that much in the first place. That's the thing about nostalgia, everything basks in its warm glow, even Barbados, a song I disparaged wildly at the time.
If you think that makes me a music snob, well I wasn't the only one. My memory is that Andrew Duffield, who was on stage in front of me playing keyboards, recreating the steel drum sounds of that very song, left the band as a direct consequence of the musical direction that Barbados hinted at. Just before they cracked it big. It was his Pete Best moment.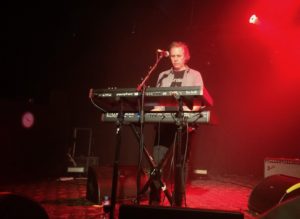 This Year's Models
Oh well, he was back there now, still looking slightly flummoxed by his bank of keyboards, together with Sean Kelly on guitar and vocals and Mark Ferrie (of Rockwiz fame) on bass, with Ash Davies playing drums.
Where Machinations looked like the bunch of old blokes they are, all beer guts, wrinkles, drooping jowls and greying wisps of hair, the Models still resembled edgy rock stars. Sean Kelly gave off a kooky scientist vibe with long hair spilling out from below a beret or backwards baseball cap, Andrew Duffield also still boasted an impressive head of hair, while Mark Ferrie, who was already balding in the 80s has added a long moustache and dark aviators to lend himself a cool look. It was helped by the glow of TV fame he has acquired for his role in the Rockwiz band, plus the trademark Models black and white hooped shirt.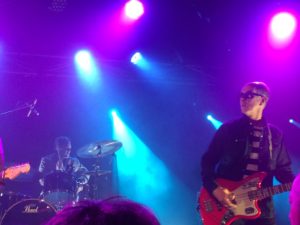 If I had to pick my sixth favourite Models track, it would be Two Cabs to the Toucan, and this was the band's opening song. Ferrie's bopping bass notes, Duffield's synth squeaks and blurts, and Kelly's scratchy guitar and growling vocals providing the impetus to get the audience's creaky legs moving to its staccato rhythms and joining in the call and response triggers.
The setlist took in all periods and modes of the band, and both Duffield and Ferrie took a turn at lead vocal – Ferrie in his star turn from Local &/or General, Unhappy, and Duffield in That Guy, a song from 2015 that he sang with relish, if not necessarily smooth tonality.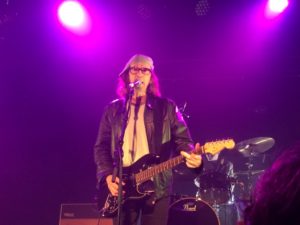 So the show wasn't entirely an exercise in 80s nostalgia, although the only other 'new' song they played was a cover of Peter Lilley's 1981 song Drive-Through Love, a song they recorded in 2013 for the GTK EP.
The best moments for me though were predictably the songs that are hard-wired into my DNA from youth – Happy Birthday IBM, I Hear Motion and Pate Pedestrian. These are songs that lend themselves to exuberant dancing and the shouting out of lyrics. Here Fiona took on the dancing role while I was on shouty vocal duties.  Against my superior 80s sensibilities, I even sang along enthusiastically to Barbados and Out of Mind Out of Sight.
For the encore they played another old fave, Atlantic Romantic and the big stomping glam number, Big on Love.
This was a great gig, one in which I could abandon my normal earnest navel gazing, chin stroking rock aficionado pose and just enjoy the music.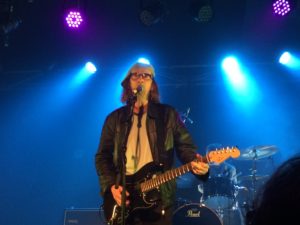 Setlist
Two Cabs to the Toucan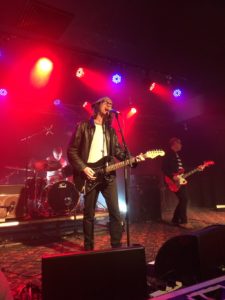 Hold On
Unhappy
That Guy – Duffield
Out of Mind Out of Sight
God Bless America
Happy Birthday IBM
Evolution
Drive Through Love
Barbados
I Hear Motion
Pate Pedestrian
———
Atlantic Romantic
Big on Love