Spiritualized
Supersense: Spiritualized
Hamer Hall
Sunday 20 August 2017
SPIRITUAL AWAKENING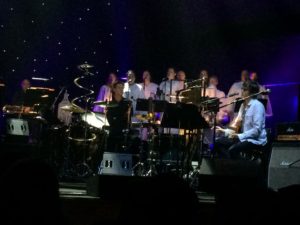 Einsturzende Neubauten translates as 'collapsing new buildings' which is more or less what the band's music sounds like. In a similar vein, local band Ouch My Face play music so hard and loud that it actually makes your face hurt. Likewise, Black Sabbath and Judas Priest play a sort of satanic rock. So it should have come as no surprise that a band called Spiritualized would exhibit an overwhelming Christian sentiment in their lyrics and sound a bit, well, Jesusy.
Yet I was surprised, which not only betrays how little I know about the band's oeuvre, but possibly says something about my naivety. Being a rock band, I had always assumed the name Spiritualized to be some sort of drug reference; some junkie jargon or in-joke about the heightened state of consciousness brought on by acid, ecstasy or some other trance inducing hallucinogen.
But it seems that you can take some things at face value. At least if the final songs of Spiritualized's Hamer Hall show are any indication. For they concluded their set with So Long You Pretty Thing, a paean to Jesus, while for the encore they played the old Christian hymn and gospel song, Oh Happy Day.
Space Oddity
Clearly my knowledge about Spiritualized runs about as deep as my knowledge of theology. Rightly or wrongly I tended to overlook a lot of the one-word British bands in the 90s, or Britpop as they were collectively known. I liked the main bands; Suede, Pulp, Oasis, Blur and Radiohead to varying degrees, but as is the way with British music, much of the rest was underwhelming and overhyped.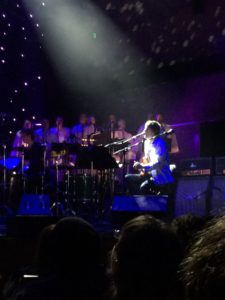 Like most people, at some point I became aware of Spiritualized's most celebrated album, Ladies and Gentlemen We are Floating in Space. It had some good songs and some weird and interesting elements, as well as the regulation overblown and wanky elements. Unlike Oasis' Be Here Now, which dealt exclusively in the overblown and wanky. It was a good album and moreover has stood the test of time. But it was no OK Computer or The Boatman's Call which were my favourite albums from that year.
I'm largely ignorant, however, of the rest of the band's output or indeed, any biographical information or folklore about them. For a start, I didn't know that they exist as a band by conceit or concept only, with frontman Jason Pierce being the only consistent member, much like Mark E Smith in The Fall, James Murphy in LCD Soundsystem or Richard Ashcroft in The Verve.
Nor did I know about the wife swapping incident or menage-a-trois between Pierce, Ashcroft and Kate Radley. Perhaps I would have paid more attention to them had I known; at least to the gossip, if not necessarily the music.
I was also unaware that Pierce styled himself as some sort of Spaceman, which seems a little puzzling, especially considering that Bowie had laid pretty solid claim to that territory about 25 years earlier. It's a bit like Benjamin Clementine suddenly adopting purple as his theme.
Anyway, the Supersense festival pass included a ticket to either Spiritualized or Nazoranai, a sort of noise supergroup. So I chose Spiritualized. For one, I'd heard of them and knew one or two songs, but also, they were billed as Spiritualized with the Australian Art Orchestra and the Consort of Melbourne, which sounded suitably intriguing, if a little pompous. Even now, having been to the gig, I have no idea who or what the Consort of Melbourne is. I wondered if it was the Supersense equivalent  of the King or Queen of Moomba.
Ladies and Gentlemen We Are Lounging in a Comfy Concert Hall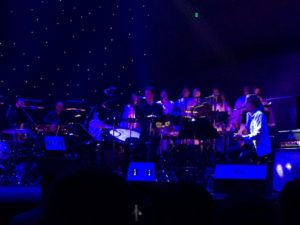 Whatever I may or may not know about Spiritualized, there are obviously many people who revere Jason Pierce and his music, for Hamer Hall was largely full and the merch desk in the foyer was doing a roaring trade in 'Ladies and Gentlemen…' album cover t-shirts.
I had a good seat about five rows from the front and saw around me many of the same people I had seen at Pussy Riot and Severed Heads. Some of us were on nodding terms by this stage of the two day festival.
It had been an exhausting weekend with a whole day and night at Supersense the previous day and three separate children's sporting events that morning. Plus I'd had a Kirin in the foyer, so as I sank into the welcoming comfy plushness of my Hamer Hall seat I gave into the very real liklihood that I might nod off if it all became too cerebral.
Come Together
By the time everyone was in position there were 30 people on stage and the dressing room hierarchy was apparent in their wardrobe.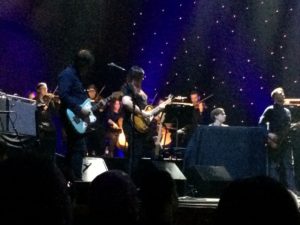 First to take the stage was the choir wearing white cassocks, followed by the brass and string sections in regulation smart orchestra black.
Then came the Spiritualized band members who wore casual ensembles of denim and t-shirts.
Lastly, main man Pierce wandered on clapping above his head like a soccer player acknowledging the team's supporters. He too was attired in casual clothes, but was sporting sunnies, the ultimate rock accessory and signifier here of his place at the top of the pecking order.
Pierce took up position on a seat to stage left, with the band forming a semi-circle in front of the orchestra and choir. What this meant was that there was no one front and centre, leaving quite a large gulf between performers and audience. I kept expecting Pierce, or someone, to move to the centre of the stage, but everyone stayed resolutely in position.
Not only that but Pierce didn't once address the audience, even in response to the obligatory, "We love you Spaceman" catcalls. I don't expect him to respond to every shout-out, but there's probably a sensible middle ground between nattering and stonewalling that he could have traversed.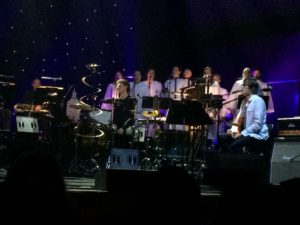 While this was disappointing, the acoustics were glorious. With so many players and such a mix of electric and acoustic instruments, the sound was astonishing. It was clear, robust and resounding, and perfectly mixed. So even someone like me who wasn't overly familiar with a lot of the material could revel in the music as much as the soft comfy furnishings of the Hamer Hall seat.
I particularly liked watching the work of the young percussionist who was positioned next to Pierce. I assume from his black uniform that he is part of the Australian Art Orchestra, rather than Spiritualized, unless he was the consort? But he was industrious as he went about his routine of tapping, striking, scraping and shaking the variety of intriguingly shaped objects at his disposal.
Floating in Space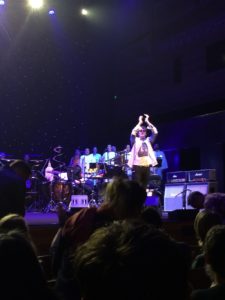 Looking at the setlist after the show I realised that the song selections followed chronological order. They opened with two songs from their first album, If I Were With Her Now and Shine a Light, and then moved on to songs from subsequent albums.
Not surprisingly, the biggest cheers came for the songs from their third album Ladies & Gentlemen We Are Floating in Space, from which they played four songs in succession, and then revisited it for the album's epic track, Cop Shoot Cop that featured a full-on, all-in battery of one-note noise that they sustained for several minutes.
The finely tuned acoustics of Hamer Hall and the seated audience don't always suit rock bands, but the lush orchestral sound and uplifting anthems of this 30-piece Spiritualized line-up filled the room beautifully. The standing ovation at the end was neither surprising nor misplaced.
Setlist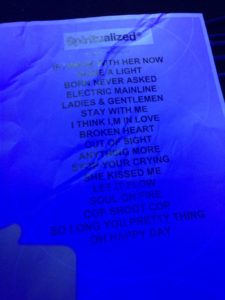 If I Were With Her Now
Shine a Light
Born Never Asked
Electric Mainline
Ladies & Gentlemen We Are Floating in Space
Stay With Me
I Think I'm in Love
Broken Heart
Out of Sight
Anything More
Stop Your Crying
She Kissed Me
Let it Flow
Soul on Fire
Cop Shoot Cop
So Long You Pretty Thing
——-
Oh Happy Day