Next Question
Next Question
Palace Hotel, Camberwell
Saturday 21 October 2017
Free
QUESTION TIME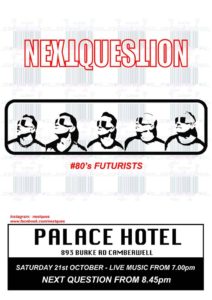 While this blog ostensibly covers live music in Melbourne, I have tended to focus on bands and artists who perform original material. In doing so I'm overlooking a vast and vibrant sub-section of live music performance – namely, cover bands. Not tribute bands – that is a genre that warrants its own study, perhaps even psychological testing of bands and audiences alike – but cover bands who play popular, well known songs in pubs, parties, at fetes and weddings.
Without doing a quantitative survey, it's probably the way the majority of people experience live music, so it would be remiss of me to ignore it.
As it happens, a few of my old high school friends who formed a band at school when they were 16 still play together in their 50s, and they had a gig at The Palace Hotel in Camberwell. With my son Oscar needing to build up his driving hours as well as looking for an excuse to avoid studying for his VCE exams, we ventured across town to Melbourne's leafy south-eastern suburbs to catch up with some of my old friends and catch their band, Next Question.
The Future Is Now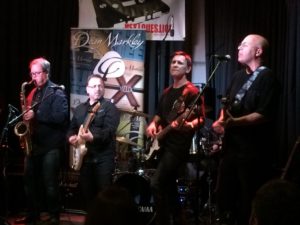 Next Question is a six piece featuring Steve Cooper on guitar and vocals, Louis Papageorgiou on guitar, Evan Stents on bass, Shayne Artis on keyboards, Paul McQuaig on drums and Al McNab on sax.
Steve, Louis and Evan are the three band members I went to school with. They bill themselves as '80s Futurists', which not only gives you a clue as to what you're likely to hear, but is quite prescient when you consider that many contemporary 'original' bands are looking to that era for inspiration, if not outright pillaging.
I haven't seen most of the guys since we finished high school in 1982, the era of many of the songs they play, so if not for my retreating hairline and expanding girth, it will seem like time has stood still.
The Palace Hotel on Burke Road is on the border of Melbourne's longest surviving dry zone, meaning it is the only pub for miles. As such, there was a good crowd in attendance. There's nothing like scarcity to create demand. Oscar and I took seats on the side as the band set up. I recognised my former classmates as they tweaked knobs, set levels and tuned guitars, but thought I'd save the reunion until after the gig.  I scanned the room for other familiar faces but couldn't see any immediately.
With the stage set up in the bistro, the house lights were left on as the band started. Clearly the proprietors considered it more important for the patrons to be able to see their parmigiana and chips than the band.
There's No Point In Asking…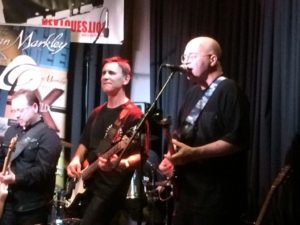 Louis got the ball rolling with a laid back riff that developed into Why Didn't You Tell Me?, a song I vaguely recognised, but had pretty much forgotten about. Given the band's name it was fitting they opened with a song posed as a question. When Steve asked if anyone could name the band that originally performed it, only one member of the audience proffered a guess. Fischer Z if you're interested.
Cover bands rely on the ability of the audience to recognise the song, so they only work if the musicians are skilled enough to pull off a convincing enough facsimile of the original. No one is looking for radical reinterpretations or genre bending experimentation – just the song played and sung in a recognisable manner. On this measure, Next Question fulfilled the cover band charter with aplomb.
Louis on guitar gave new meaning to the word nonchalant; Evan on bass bit his lower lip and took it all in his stride like a seasoned west coast session muso, except for when his big moment came on Primary and he just went for it. Steve sang and played with ease, his steady voice suited the material well. There were no 'look at me' solos, although McNab was up to the task on those occasions that called for sax intervention in the bridge.
It was in the choice of material that set Next Question apart from most cover bands. Sure they peppered their setlist with a few obligatory crowd-pleasers, such as Billie Jean and Kiss, both of which got a few people to their feet, and they also threw in a couple of 80s standards, Blister in the Sun and Happy Man. However, they didn't necessarily go for the obvious songs, preferring to tackle some of the lesser known songs from well known bands; Planet Claire by the B52s, Found a Job by Talking Heads and Gut Feeling by Devo – the highlight of the set for me, partly because it was so unexpected. Plus they did all of these songs justice.
They took a foray into the 90s with Blur's Song 2 and Smashing Pumpkins' 1979, "a song written in the 90s about the 70s, so we consider it 80s" said Steve, and they also tried out a couple of originals, both of which sat nicely in amongst the rest of the set.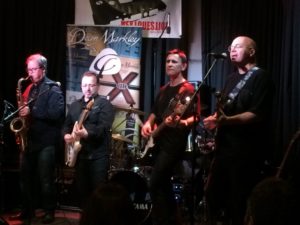 There was also a brace of Pixies songs half way through the set, Where is My Mind? and Cactus, plus some classic Cure, In Between Days and Primary. Singing along to these I recalled how we discovered these bands and songs together as teenagers. Hearing music from your teenage years is often nostalgic, but it was doubly so for me hearing people from my teenage years playing it.
As with any decade of music, you could easily pick an hour of utter rubbish that would approximate the times, and perhaps that goes doubly for the 80s, but Next Question's setlist illustrated the often overlooked fact that if you ignored the new romantic movement, the cheesier synth interludes and What About Me?, there was just as much great music from that era.
One obvious disappointment was that the band's overarching 80s ethos wasn't matched by contouring, eyeliner, flouncey shirts and hair product, but Steve at least got the hair just right for his Billy Corgan turn.
It was a good night and the band were decidedly better than when I saw them playing in the school gym in 1981. And I was very pleased when they closed the encore with Pretty Vacant – definitely one of those songs that we discovered together as teenagers back at school.
They may be called Next Question, but it isn't necessarily an invitation to pose one, because as the song has it, "There's no point in asking, you'll get no reply…"
After the gig we caught up for a drink and a chat with the band members and a few other old school friends who were hiding in the audience. It's good to reconnect and as with many friendships, music provides the opening.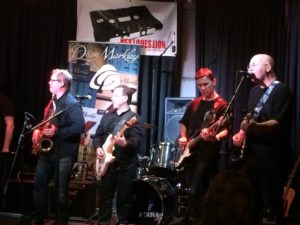 Setlist
Why Didn't You Tell Me?
1979
Happy Man
Billie Jean
Gut Feeling
Found a Job
Song 2
Where is My Mind?
Cactus
Kiss
In Between Days
Blister in the Sun
My Girl
Troubled Mind
Primary
Burning Down the House
Say Goodbye
Lighthouse Keeper (?)
———
Planet Claire
Pretty Vacant