RVG
RVG
Terrible Truths
Howler
Friday 20 October 2017
$18
RVG…OMG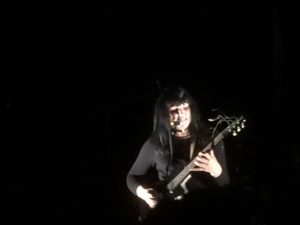 On the day of RVG's album launch at Howler, I read a description of the band that said they sounded like a cross between Patti Smith and Robert Forster. Unlikely as that seemed, on listening to their debut album, A Quality of Mercy, I thought this description seemed reasonably accurate. There's Vager's raspy drawl, quasi poetic lyrics that lift the lid on life's quirky minutiae, and lilting guitar lines and song structures that might have been lifted from any Go Betweens album.
On stage, however, as Romy Vager spat out her vocals and swiped at her guitar, and the band strained for every distorted decibel, I thought they sounded more like a cross between Patti Smith and Husker Du. It was fast, frenetic and exhilarating . As good as the album is, it sounds tentative and tame compared to the chaotic bombast of the live show.
RVG (Romy Vager Group) follows in a long line of band's that are known by acronyms, abbreviations or initials. The most famous are probably ABBA, AC/DC, U2 and INXS, but there are quite a few others: PIL, REM, ELO, SPK, LRB, XTC, OMD, ABC, MGMT and of course TMG, or Ted Mulry Gang, who you might be surprised to learn are still playing, even though eponymous band member, the TM of TMG, departed this world more than 15 years ago.
RVG is also Melbourne's latest 'It' band. There seems to be a new one every few months and RVG follow in the recent footsteps of Cable Ties, Camp Cope, Gold Class, Courtney Barnett, Eddy Current Suppression Ring, Dick Diver, UV Race etc, who have all had their turn.
Readers of this blog will know that I'll jump on any musical bandwagon, especially if I think it might make me look cool, so I invited my friend Fiona and we met at Howler on Friday night to check them out.
Terrible Truths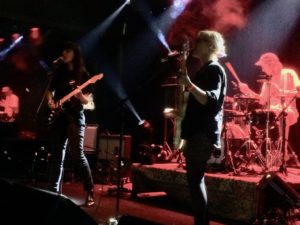 We missed the first support act, but wandered into the band room in time to catch Terrible Truths, a three piece band consisting of Rani Rose on guitar, Stacey Wilson on bass (although they swapped instruments half way through) and Steve Bell on drums.
The first thing to say about Terrible Truths is that they are great musicians and a tight unit. Bell's drumming was intricate and inventive, while the two women set up shimmering infectious riffs that raced along with a Pixies like verve.
The second thing to say about Terrible Truths, what you might call the terrible truth, is that they are not as adept vocally as they are instrumentally. The vocals were shared by Rose and Wilson who both favoured the shouty style of singing. It wasn't that it was off key or out of tune or bad as such, that's a matter of taste I suppose, just that their sharp, staccato exhalations were at odds with the fluid run of the music.
I don't know if they deliberately sought this juxtaposition, but I couldn't help but think how great they'd sound with Karen O on vocals. But then, most bands would sound better with Karen O on vocals, so you've gotta work with what you've got, and at least you could dance to them. Well Fiona danced while I got the lagers in.
RVG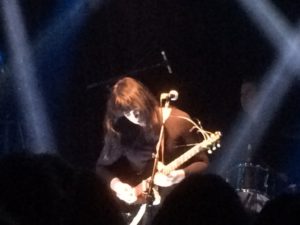 The four members of RVG emerged on stage and launched into Heart Paste. On record this song is one of their most melodic and Go Betweens-esque, but here its tempo was quickened dramatically, the distortion dialled up to ten and the volume amplified to smother any remaining nuance. Vager sang the opening line, "I had my heart crushed into a paste, I spread it on my sleeve" with a fiery intensity that made it almost believable. It was great!
Vager is a striking frontwoman. Her look is classic punk femme-fatale, jet black hair framing her face and an all-black wardrobe, like Morticia Addams with a fringe. But the most striking thing about her for the uninitiated, like Fiona and I, is that well, it was apparent that she is trans-gender, or at least some way along the journey.
Luckily she's a musician and songwriter rather than a footballer, because the AFL had just this week disqualified trans woman Hannah Mouncey from nominating for the AFLW draft. Where this leaves Vager in relation to the annual Rockdogs v Megahertz Community Cup match is perhaps a controversy for another day.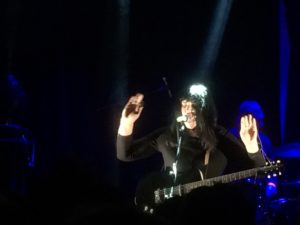 If nothing else, music is a broad church and welcomes all types, so much so that being trans-gender is barely even a selling point anymore. All that matters is the song and the stage, and on both counts Vager is completely adept.
She sang with spark and passion and virtually assaulted her guitar, its uncut strings that splayed in disarray from its neck a symbol of untamed electricity. "Anger is an RVG" Johnny Rotten might sing. Where Vager's frontwoman credentials are most apparent is that you don't really notice the other band members. Sure the lights singled out Vager, but the bnad seemed content to lurk in the shadows. For the record they are Marc Nolte on drums, Reuben Bloxham on guitar and Angus Belle on bass.
RVG have released only eight songs, so there was plenty of the setlist that was unfamiliar to me. Even so, given the breakneck speed at which the songs were played and the lashings of distortion bestowed in them, even those I did know were virtually unrecognisable from their relatively quaint recorded siblings.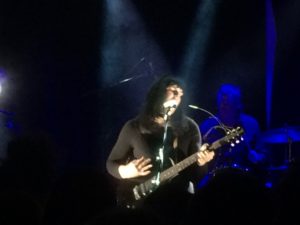 Vager reached new heights of outrage in A Quality of Mercy as she depicted the bloodthirsty vitriol of people who write letters to the editor of the Herald-Sun, while IBM retained its trace of grandiose Echo & the Bunnymen phsychedelia, just more so.
When they returned for an encore they pumped out non-album track Asteroid and the classic Feral Beach.
This was a cracking gig and RVG lived up to the buzz that surrounds them. When they play with Cash Savage and Camp Cope at The Forum in a few weeks time, it's going to be a colossal gig – a showcase of Melbourne's best bands and a statement about the preeminence of women in rock.
Setlist
Heart Paste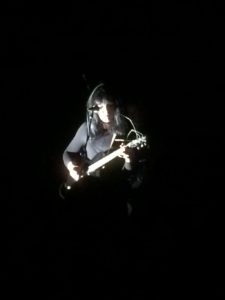 Cause and Effect
?
?
A Quality of Mercy
IBM
?
?
The Eggshell World
That's All
?
?
—
Asteroid
Feral Beach
Melbourne Sirens
The AFL draft for women took place this week with the top female football players putting themselves up for selection by clubs for next season's AFLW season.
One player Hannah Mouncey, a transitioning man, was ruled ineligible, which caused minor controversy amongst Guardian columnists, but otherwise the event was generally viewed as another sign of the emerging women's century.
It would be tempting to say that women are the new men, except it is unlikely women will ever cause the same extent of damage as men have. Sure, they'll be annoying in numerous ways, but they won't necessarily be as destructive. Well, Pauline Hanson aside.
Rock and roll is another bastion of the male oligarchy that is gradually being broken down by women. And as with football, Melbourne is establishing itself as the home of rock chicks and Romy Vager of RVG is the latest formidable rock chick to catch the eye of rock recruiters.
Perhaps the best way to express the emergence of women currently dominating Melbourne's music scene is to present them in a way that makes most sense in Melbourne, that is, as a football line-up. And after seeing RVG play last night, Romy Vager is joining Cash Savage in the ruck.
Back: Jenny McKechnie, Jen Cloher, Fiona Kitschin
Half Back: Alex Lahey, Jade Imagine, Joanna Syme
Centre: Grace Kindellan, Adalita, Marita Dyson
Half Forward: Laura Jean, Georgia Maq, Jess Ribeiro
Forward: Tash Sultana, Jonnie Standish, Cash Savage
Followers: Romy Vager, Courtney Barnett, Jess Cornelius
Interchange from: Alana West, Emma Russack, Melody Pool, Memphis Kelly, Nina Renee, Natalie Foster, Summer Flake, Sally Seltman, Holly Throsby, Elizabeth Fraser
Emergencies: Vika and Linda Bull
Coach: Clare Moore