Noga Erez
Noga Erez
Elisabeth Murdcoh Hall, Melbourne Recital Centre
Festival of Jewish Art and Music (FOJAM)
Sunday 8 September 2019
$90
OFF THE RADAR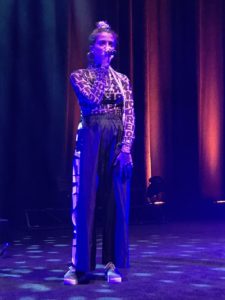 This was one of the weirder concert experiences I've had. The headline act of a festival playing in a plush, acoustically perfect 1,000 seat concert hall to an audience of approximately 50 people – most of whom had taken up position between the front row and the stage. In fairness, it was probably even weirder for Noga Erez, the artist in question, as she performed while looking out to banks of empty seats.
Noga Erez is my favourite Israeli EDM or avant-dance artist, which I realise is a bit like saying Chopin is my favourite Polish exponent of the etude – you know, I'm not exactly au fait with the genre – but her album Off the Radar was one of my favourites from last year. And she has released a series of interesting stand-alone singles since. Smart, sassy songs with sparse arrangements and taut, layered beats.
So I was excited when she was announced on the bill for the Festival of Jewish Art and Music (FOJAM). There were no other shows scheduled for her so Fiona and Mark joined me for the evening session of the festival which also included Deborah Conway, a drag artist and a show featuring local artists paying tribute to Lou Reed's Transformer album.
An interesting concept for a festival, but I feel that Noga Erez was let down by the organisers and the marketing team. Evidently the organisers of FOJAM thought that Jewish people would go to anything so long as it is performed by Jewish people.  And while all nations and races have their parochial choices – how else do you explain Australia's love of John Farnham – it's not necessarily how music taste works.
For instance, if I was a promoter or festival organiser bringing an artist all the way from Tel Aviv for a show, I'd probably think twice about scheduling her to play at 10PM on a Sunday night. I mean, I get that Saturday is the Jewish Sabbath, so they're not going to hold the festival on that day, but 10PM on a Sunday is probably the least optimal time for anyone to hit the stage. For inconvenience, it's a toss-up between then and Tuesday at 5.30AM. After all, it's not like she's a household name. There's a reason her album is called Off the Radar – hardly anyone knows it exists.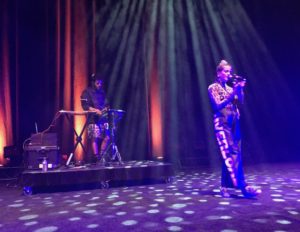 Noga was accompanied on stage by a chap manning the decks and the computer whizz-bangy gear. So basically, the stage was as empty as the auditorium. They opened with Toy – one of the fine numbers from the album – with the DJ dude chap pressing the buttons and summoning the beats, while Noga strutted the stage. We were sitting dutifully in our assigned seats about four rows back, but heeding the gestures of a woman in the front row, Fiona and I moved down to the stage to help give Noga Erez the semblance of an audience.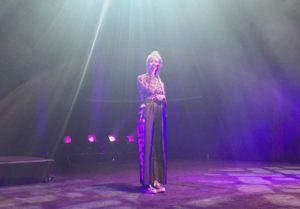 I don't know which she would have found more depressing; the small audience or the fact that one of the only people singing and dancing along was a portly, balding 50+ man.
Still, she put on a good show and kept the energy up in what must have been trying circumstances. Most of the tracks came from Off the Radar, the title track being one of the best, but there were also a few news songs as well as a cover of Kendrick Lamar's Black Friday.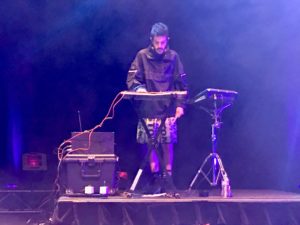 Noga was wearing baggy active wear pants with the word OVERLOAD emblazoned in large upper case letters down one leg. I don't know if the word was a reference to the sensory experience she was hoping to convey, or just a fashion brand. Her top contained more letters of the alphabet, but I felt like I was playing a word puzzle to work out what it said.  Is this what they mean by 'statement piece?' I noted however, that the DJ was wearing matching shorts and I wondered if the two halves of the combined to deliver a subversive message.
At one stage three girls jumped up on stage to dance along, an act that prompted a burly security guard to push through the front row and plonk himself dead centre with his back to the stage. He tried standing right in front of me but I told him that he could only stay there if he danced. It was bizarre though that for an audience of 50 people who couldn't have been more considerate or better behaved, the organisers thought they needed to send in crowd control.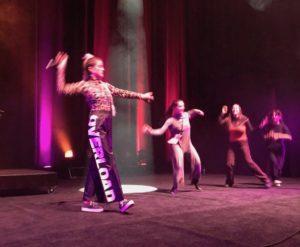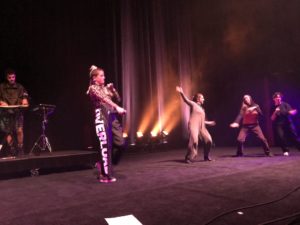 I thoroughly enjoyed the show – it was basically a private show – and I look forward to when Erez becomes the next Madonna and several thousand people claim to have been there the night she played to 60 people in Melbourne.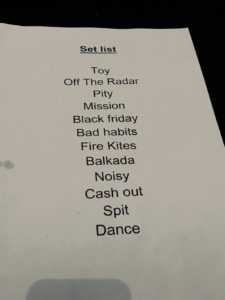 Setlist
Toy
Off the Radar
Pity
Mission
Black Friday
Bad Habits
Fire Kites
Balkada
Noisy
Cash Out
Spit
Dance While You Shoot