Transformer: Tribute to Lou Reed
Transformer: A Tribute to Lou Reed
Elisabeth Murdoch Hall, Melbourne Recital Centre
Festival of Jewish Art and Music (FOJAM)
Sunday 8 September 2019
$90
WALK ON THE WILD SIDE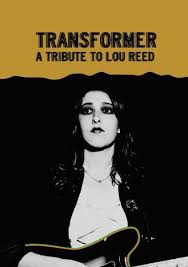 Contemporaneous to the trend of bands recreating one of their classic albums on stage, it has also become something of a modern trope for groups of musicians to get together and play someone else's classic album. It is especially popular with artists who don't have a 'classic' of their own to play. Or in this case, where the album in question is Lou Reed's Transformer and Lou is no longer around to do the show.
Not that the famously contrarian Lou Reed would concede that Transformer is his 'classic' album (even though it is) and he certainly wouldn't stoop to play an album that people actually like. In typical fan friendly fashion, when he did come to Australia to play an album show for Vivid, the album he chose was Metal Machine Music – 90 minutes of abrasive industrial noise that he recorded to fulfil a record contract.
So the idea of a tribute to Transformer at the Festival of Jewish Art and Music (FOJAM) offered an intriguing take on Lou's legacy. It was curated by local musos Gabriella Cohen and Kate 'Babyshakes' Dillon and featured a string of local and international guest vocalists. I'm not familiar with Dillon, but I know Cohen through her wonderful album Pink is the Colour of Unconditional Love and that's what enticed me to the show.
The set up of the festival meant that everyone attending had an allocated seat in Elisabeth Murdoch Hall, but with several shows taking place simultaneously throughout the Recital Centre, the auditorium was not full for what was ostensibly the headline act.
The line-up of vocalists was a mix of names I knew and some I didn't, but I was most looking forward to hearing Cohen and Ryan Downey.
In the way of these types of shows, the vocal performances were uneven, however, let me say at the outset that the band was uniformly excellent. From Clio Renner's lilting piano refrain of Satellite of Love, the sax solo at the end of Walk on the Wild Side, to the Oom pah pah tuba solo in Goodnight Ladies, Cohen led a superb ensemble of musicians who played with feeling and finesse and carried the show.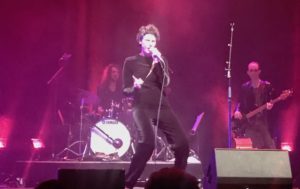 Deborah Conway was first up to sing Vicious – a song that suits the sassy snarl of her voice – or would have if the volume had been set to inject maximum oomph.  As it was, the sound was strangely subdued and despite Conway giving it everything as she glided across the stage in a slinky black catsuit, the mix was set at lounge room rather than concert hall levels. This detracted somewhat from her performance until the good people at the mixing desk fixed the levels half-way through the song.
To contrast Deborah Conway's energetic performance, Chris Cohen of Deerhoof fame sauntered on to sing, or rather mumble his way through Andy's Chest. He was actually reading the lyrics from a crumpled sheet of notepaper as he shuffled about the stage in a performance that gave the word 'deadpan' new meaning. And when I say 'reading' I mean 'reading,' there was no hint of inflection or cadence that might mark out his vocal utterance as actual singing. I get the slacker thing, but a bit of preparation, energy, or failing that, a music stand might have helped.
Where Chris Cohen was disappointing, Spike Fuck was intriguing, managing to strip Perfect Day of any emotion, a task I would have thought impossible had I not been there to hear it. As the music swelled for the big emotive, singalong, arms around your neighbour chorus, Spike Fuck maintained her conversational yelping vocal style – which suits her own material quite well but didn't do any justice to the anthemic majesty of this song. Lou would have loved it. Subverting expectations was one of his specialties. And if nothing else, Spike Fuck brought some counter-culture elan to proceedings. Post-gig I checked out her Smackwave E.P. which is very good. She shares similarities in attitude and subject matter to Lou Reed and proved a good choice for this show.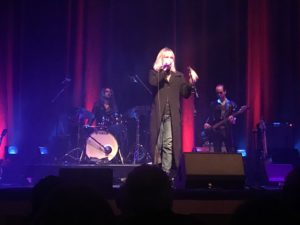 Nevertheless, I was pleased that Ryan Downey was next. Not only did he give a great rendition of Hanging Round, but also took the audience on a suitably evocative Walk on the Wild Side. Perhaps it helped that he boasts a similar a baritone to Lou Reed and that this is the album's signature track, but his earnest intensity added some gravitas to the show.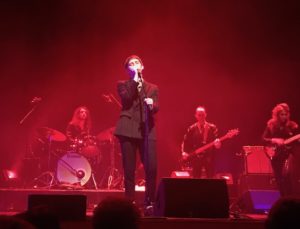 And in case you're wondering how they handled the 'and the colored girls go…' refrain in these woke times, they simply left out the non-PC word 'colored.'
The uneven vocal performances were best illustrated by Alex Gow of Oh Mercy. Like Downey, he tackled two songs. During his first, the delightfully camp Make Up, he looked bored and disinterested, like he was channelling Chris Cohen, although it's possible he was just confused by the choreographed performance of a person at their toilette taking place alongside him as he sang.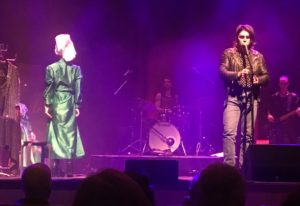 Such theatrical touches that appeared in a few songs were quite effective and well done. The highlight of the show however was Gow's Satellite of Love. After giving the impression during Make Up that he didn't want to be there, from the very first note he made Satellite of Love his own. It was possibly the best version I've ever heard of this well-covered song.
Gow also inadvertently highlighted another criticism I had with the production. Between his two songs he introduced himself, but looked around uncertainly and actually asked if he was allowed to talk. It was a welcome sign of audience engagement by the rotating parade of performers. I don't know if it was a deliberate attempt to channel some of Lou Reed's trademark unfriendly aloofness, but I just found it irritating that it took until the fifth singer before one of them thought to tell us who they were. I mean, it's not like they were household names.
The occasional introduction would have been a welcome concession to the fact that there was an audience present. You don't need to go the full Bert Newton in Lou Reed fancy dress at a lectern delivering a comprehensive CV of each performer, but at the very least it would have been courteous to let the audience know who we were listening to.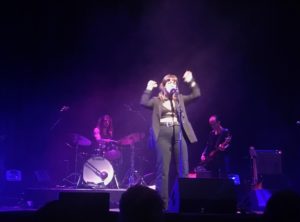 Bella Venuti from IV League – a promising local band who may or may not still be together – gave an impassioned performance of Wagon Wheel, while Vivien Goldman's jazzy version of New York Telephone Conversation was adventurous but perhaps less successful, or at least less to my taste.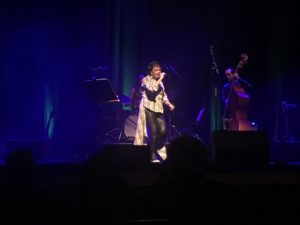 One of the backing singers – it may have been Babyshakes Dillon, or not, how would we know? – took us through I'm So Free before Emily Lubitz of Tinpan Orange rounded out the album with the cabaret stylings of Goodnight Ladies.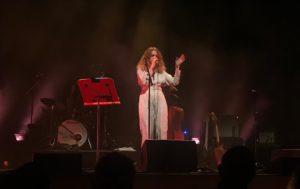 Gabriella Cohen who had led the band with aplomb took the vocals for an encore of I Found a Reason from The Velvet Underground's Loaded LP. She is an engaging performer, always on the move and barely able to contain her energy.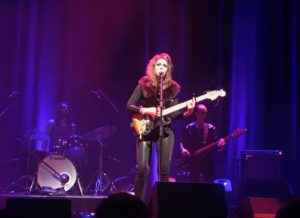 Overall the performance of the vocalists was uneven and perhaps that it is inevitable and even preferable. Having said that, the staging was creative and interesting with the theatrical touches never dominating but still adding a visual element. The main attraction however, was the band who were superb and of course Lou Reed's magnificent suite of sleazy cabaret rock songs.
Setlist
Vicious – Deborah Conway
Andy's Chest – Chris Cohen
Perfect Day – Spike Fuck
Hangin' Round – Ryan Downey
Walk on the wild side – Ryan Downey
Make up – Alex Gow
Satellite of Love – Alex Gow
Wagon wheel – Bella Venuti
New York Telephone Conversation – Vivien Goldman
I'm so Free – ?
Goodnight Ladies – Emily Lubitz
– – – – – – – –
I Found a Reason – Gabriella Cohen