Spoon
Spoon
Deep Sea Arcade
The Forum
Wednesday 11 February 2015
$65
Lovin' Spoonful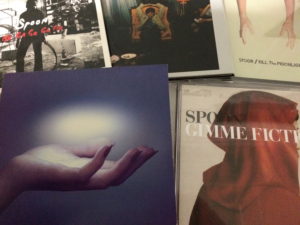 It took me awhile to come around to Spoon. Not because of anything to do with their music, which is a pretty good mix of pure rock riffs, catchy pop melodies, scuzzy distorted guitars, post punk dissonance and driving rhythmic structures, but because of their name. Spoon!
Is it a drug reference? Do they see themselves as the implement that stirs together these disparate musical elements into a nourishing whole? Is it based on some notion that their music is the utensil through which we are fed cultural sustenance? Or am I perhaps overthinking it?
The name just doesn't make any sense to me, which may seem odd given that one of my favourite bands is called Echo & the Bunnymen. But I am nothing if not image obsessed, so perhaps I just struggle to see the artistic qualities in a band named after such a utilitarian implement. In any case, with Knife Party touring Australia at the same time, all we needed was American folk quartet Twin Forks to turn up and we'd have the whole cutlery drawer here at once.
Deep Sea Arcade
I was at the Forum with John, Manny and Robbo for this gig, making up our standard music-going foursome. We wandered in just as support act, Deep Sea Arcade, were commencing. None of us were familiar with the band but a brief Wikipedia review told us that Deep Sea Arcade hailed from Sydney. It also informed us that they are a psychedelic band, a fact more eloquently expressed perhaps through the paisley shirts that at least two of their members were wearing.
Deep Sea Arcade sounded okay, although it is always difficult for a support act to achieve consistent sound when the venue is only half full. From where I was standing their set suffered from the usual echo that results when the tide of music swells to fill the yawning void left by the lack of people in the room. If there was any space in their songs, it was soon filled by the backwash of echo and reverb flowing through the venue, drowning out any subtlety they might have worked into their material.
Also, the four of us had a looming football season to discuss as well as the recent Liberal Party leadership spill and Prime Minister Tony Abbott's 'near death experience.' So perhaps our attention wasn't fully focused on the jangly guitars and neo-psychelic stylings of Deep Sea Arcade.
I subsequently listened to their album Outlands and thought it was excellent, full of delightful pop melodies, running rhythms and subtle instrumentation. Not unlike Spoon in many ways. I wished I'd paid more attention on the night, but I made a mental note to try and catch them in a venue more suited to their sound, once I've dug out a paisley shirt that is.
Spoon
The signal that the main band is about to emerge is when the background music is suddenly foregrounded. In this case it was AC/DC's Dirty Deeds (Done Dirt Cheap) – an Aussie anthem that provoked a few in the crowd to raise their fists in time to the 'Oi Oi Oi' refrain. As Manny observed, you want to be pretty good if you're coming on following AC/DC.
Spoon managed to skirt this problem with two solid minutes of loud feedback buzz reverberating throughout the room before they wandered on stage – anything they played after this was going to sound dynamic and melodic. As the band members plugged in leads and took up their positions, the buzz morphed into the opening of Rent I Pay, the lead-off track from most recent album They Want My Soul, with band leader, Britt Daniel – whose ginger mop makes him looks a bit like a young Jim Courier – out front and in fine voice.
Alex Fischel is the latest addition to the band, fleshing the live unit out to five members. He inhabits the music in the same way as Jack Black in The School of Rock, banging his head, jerking his body and generally rocking out to every nuance of noise. For the live sound he supplies much of the jagged dissonance that has long been part of Spoon's sound. He doesn't play his instruments so much as wring music out of them. Rather than strumming guitar he swats at it, and even playing the keyboard, as he did during Small Stakes, the second song of the night, he bashed away at the keys in such a way as to emphasise that the piano is part of the percussion family. Even the guitars were treated as percussion instruments in some tracks.
After an extended intro to Small Stakes, an older track from 2002's Kill the Moonlight – we also got an extended mid verse break when the mic dropped out and Britt waited for the onstage tech guys to fix it, while the band continued to hammer away at the incessant staccato soundscape of the song.
Happily, that was the only technical glitch and the sound was uniformly excellent – not always the case at The Forum – with all instrumentalists shining. One thing I like about Spoon is that the individual members don't all feel the need to be playing at once. The songs are marked by thoughtful arrangements that leave space for the listener to find their way into the song.
Not afraid to vary the tempo and mood, the band launched into the soul grooves of Don't You Evah, the laid-back shuffle of Who Makes Your Money and the blues of My Mathematical Mind, before revisiting the steady pulsing piano chords that propel The Ghost of You Lingers.
Memory Lane
I've been a casual listener to Spoon over the years, but long time fans were enjoying a set list that drew equally on material spanning more than 10 years and their past four or five albums. Indeed, it was several tracks in before they played another track from They Want My Soul, the album's rocker Rainy Taxi.   
More of the newer material followed; the dancy New York Kiss, the punchy Do You and the sublime Inside Out, but these were intermixed with some of the riff heavy numbers from previous albums, including Don't Make Me a Target, The Beast and Dragon, Adored and Got Nuffin, before finishing their set with Black Like Me from Ga Ga Ga Ga Ga. 
Generally I'm not into lengthy encores and Spoon got it just about right, returning for a burst of four songs, starting with Outlier from the new album that chugs along with Rob Pope's rolling bass. Daniel said at this point that he'd been based in Melbourne for a few weeks and complimented us on our great city. It may have just been the legendary Texan manners at work, but if he had been staying in town, one thing he would have learnt about Melburnians is that we like nothing more than being told how great we are, so we lapped it up.
In a further nod to us locals the band then played a razor sharp cover of Eddy Current Suppression Ring's Memory Lane, before winding up the night with crowd favourites, You got Yr Cherry Bomb and their sing-a-long break-out hit, The Underdog, both from Ga Ga Ga Ga Ga. 
Live, Spoon are dynamic and tight. Britt Daniel is an energetic frontman whose wiry frame, frenetic guitar playing and powerfully frayed voice create a strong focal point.
I still don't understand why they would call themselves Spoon, but to paraphrase Shakespeare, "What's in a name? That which we call Spoon by any other name would sound as sweet."
Setlist
Rent I Pay
Small Stakes
Don't You Evah
Who Makes Your Money
My Mathematical Mind
The Ghost of You Lingers
Rainy Taxi
The Beast and Dragon, Adored
New York Kiss
Satellite
Don't Make Me a Target
Do You
I Summon You
Inside Out
I Turn My Camera On
Got Nuffin
Black Like Me
– – – – – – – – – –
Outlier
Memory Lane (Eddy Current Suppression Ring cover)
You Got Yr. Cherry Bomb
The Underdog
Encore: Accepting the 'Album of the Year' Grammy for Morning Phase this week, Beck had to face down one of Kanye's now routine stage invasions. Kanye evidently thought that Beyonce should have won, so staged a 'walk-by' in protest. As with Taylor Swift before him, Beck can expect his popularity to skyrocket now that Kanye has questioned his credentials. Perhaps as a way of shoring up his own support, Tony Abbott should arrange for Kanye to challenge his leadership.