Mick Harvey
Mick Harvey: Intoxicated Man – the Songs of Serge Gainsbourg
NGV, Melbourne
Friday 2 September 2016
$30
INTOXICATING MAN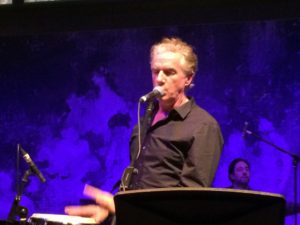 The NGV Friday Night series accompanying this year's Winter Masterpieces exhibition of Degas has seen some wonderful performers grace the stage under the stained glass ceiling of The Great Hall; including local artists Jen Cloher, Jess Ribeiro, The Grates and Husky, as well international acts such as Kid Congo & the Pink Monkey Birds.
So even if you're not a Degas scholar or someone who is titillated by his soft-porn paintings of women in bath tubs, there is plenty of incentive to attend the exhibition more than once. As indeed I have done. I previously came to see The Apartments in July (click the link to check out the article) and I was backing up with Mick Harvey who was playing his English language versions of songs by the famous French pants man, Serge Gainsbourg.
Mick Harvey is a legendary Melbourne musician, producer, arranger and performer, best known for his work as a member of The Birthday Party and as the 'good' seed in Nick Cave and the Bad Seeds, as well as producer and musical collaborator of PJ Harvey. In fact with PJ Harvey appearing at the Melbourne Writers Festival only the night before, there were plenty of rumours buzzing about town that she would be making a guest appearance at this show. I think I may have even started one of them.
The show was billed as Mick Harvey – Intoxicated Man, named after the first of his three albums of Gainsbourg covers, but at $10 a beer, 'intoxicated' seems a tad far-fetched, or more like wishful thinking.
In fact his latest album, Delirium Tremens, is named after the condition better known as the DTs, caused by alcohol withdrawal, which given the length of the bar queues and the price of the drinks, was unexpectedly prescient.
The French Connection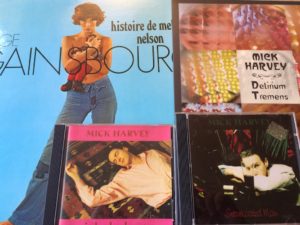 Presumably Harvey was invited to perform as a result of the French connection between Degas and Gainsbourg. Indeed, although these artists worked in entirely different mediums and lived at separate times (Gainsbourg was born 11 years after Degas' death), they have more in common than just their nationality. Both men were what you might have once described as bon vivants, ladies men, Don Juans or Lotharios, but which we now know to call lechers, or plain old pervs. You suspect that had they lived at the same time they would have run into one another in a female bathroom at some stage.
Where Degas used pre-pubescent prostitutes as models, and possibly vice-versa, Gainsbourg too gained notoriety for his concept album Histoire de Melody Nelson that tells the story of a Lolita-esque relationship between a 40 something man and a 15 year old girl. And in a time when almost every taboo has been broken down, Gainsbourg still causes outrage with his song Lemon Incest, originally recorded in 1984 as a duet with his daughter, Charlotte (as in Charlotte Gainsbourg the actress and singer), who was aged just 13 at the time.
Gainsbourg's most notorious song is the sexually explicit 1969 hit, Je t'aime…moi non plus, recorded with Jane Birkin that features the vivid sounds of a female reaching orgasm over a sensual organ riff. This was several years before Donna Summer attempted the same on Love to Love You and 20 years before Meg Ryan's famous scene in When Harry Met Sally. Sadly, however, Harvey didn't play this song on the night, denying the audience the frisson of seeing how such a song might be performed live.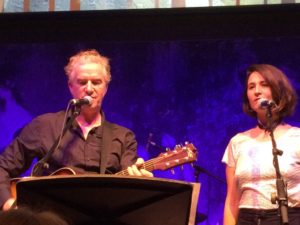 As an interpreter of Gainsbourg, Harvey might be seen as a little anachronistic.  As my friend Ralph observed on the night, he has something of the air of a school teacher about him, with his pants pulled high, his hair greying around the temples and his penchant for admonishing the audience for chatting. But perhaps he was always miscast as the 'straight-laced' or 'sensible' seed and it is Gainsbourg's sordid songs about a louche man about town that more accurately reflect his real persona?
In any case, I was looking forward to the show. I like all three volumes of Mick Harvey's Gainsbourg albums, the first of which, Intoxicated Man, acted as my entry point to the French singer own recordings, or his oeuvre, if I may adopt the French.
Intoxicating Women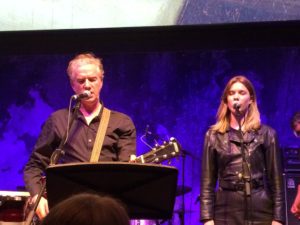 I was there with my friends John, Judy, Ralph and Nina and we were well into our second $10 Little Creatures Pale Ale by the time Mick Harvey took up his spot at the front of the stage. He stood behind a music stand with a set of bongos to his side. The band opened proceedings with The Ticket Puncher, a jaunty carnival tune that belies its dark tale of a railway ticket inspector who fantasises about punching a hole in his own head.
In addition to Mick, the band consisted of Drone, Dan Luscombe, on keyboard/guitar, J.P. Shilo on keyboards and piano accordian, Hugo Cran on drums and Glenn Lewis on bass, who thumbed out the lyrical, funky bass line that opens 69 Erotic Year. The band was joined for this song by a four-piece string section (Ross, Charlotte, Andrea and Bron if I heard correctly) and vocalist Xanthe Waite, who had a Jane Birkin look and sang with a similar detached deadpan expression. I mean that in a good way – she was perfect for these songs.
The extended ensemble performed Don't Say a Thing and Deadly Tedium, both from volume 3 of the Gainsbourg series, Delirium Tremens, before the core band took over for the menacing and brooding I Envisage, also from the new album. At more than six minutes, this was by far the longest track performed on the night, as most of Gainsbourg's songs are short little vignettes.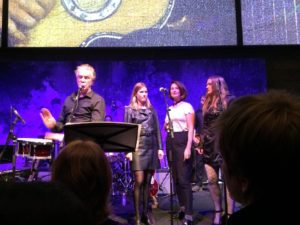 As Mick had promised at the outset, guests continued to come and go throughout the set, including Jess Ribeiro, who joined Xanthe to sing Baby Teeth, Wolfy Teeth, a song from the as yet unreleased fourth volume of Gainsbourg songs, Intoxicated Women, that features duets and songs for solo female voice.
The strings and the parade of guest vocalists added plenty of colour and variety to the sound. Lyndelle-Jayne Spruyt joined Xanthe and Jess to sing the "oh so highs" as Mick inventoried the skyscrapers in New York USA, while also delivering a spanking bongo solo. Xanthe Waite took the lead vocal for Overseas Telegram and Harley Davidson – for which her attire of a double leather jacket and skirt combo was perfectly apt.
Don't Say a Thing
Increasingly irritated by the chatter coming from the diners and drinkers on each side of the hall, Mick introduced A Day Like Any Other by saying, "We'll play this one nice and softly for all the people who want to talk. For the people in the middle trying to listen, you'll just have to concentrate." Of course those talking wouldn't have heard this remark and just continued yakking, cheerfully oblivious to Mick's mounting fury. The music wasn't overly loud, but you suspect that the mass of people seated off to the sides could have drowned out AC/DC. A cry from someone to 'turn up the guitars!' simply provoked a prickly retort from Harvey that the mix had nothing to do with him.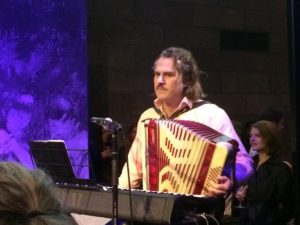 Don't Say a Thing, which they had played early in the set, was unusually apt on this occasion.
The set drew mainly on volumes one and three of the series and featured the jauntier, perky numbers like Ford Mustang and Bonnie & Clyde that certainly brought out the best in Mick's bongo playing. After one particularly vigorous tattoo he complained that his palms were hurting.
They concluded with Intoxicated Man and a resounding version of Initials B.B. that featured all three women belting out Gainsbourg's tribute to his former lover Brigette Bardot.
Unfortunately there was no encore and no appearance by PJ Harvey. I was told later that she was there, but I didn't see her. Of course it didn't matter, the night was all about Mick and Serge and the band members who were there played an excellent show. If you see one Serge Gainsbourg tribute act this year…
With news that there is a fourth volume of Harvey's Gainsbourg covers to look forward to later in the year, we went to The Curve Bar for a nightcap. It's what Serge would have wanted.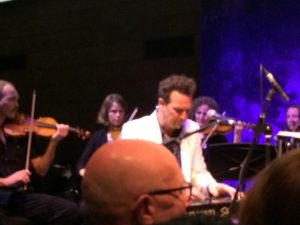 Setlist (English titles)
The Ticket Puncher
Coffee Colour
69 Erotic Year
Don't Say a Thing
Deadly Tedium
I Envisage
Scenic Railway
Baby Teeth, Wolfy Teeth
New York USA
Overseas Telegram
Harley Davidson
Ford Mustang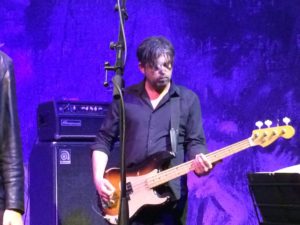 A Day Like Any Other
Bonnie & Clyde
Sex Shop
The Convict's Song
Intoxicated Man
Initials B.B.