Regina Spektor
Regina Spektor
Hamer Hall
Sunday 8 July 2018
$105
ODE TO A WEDDING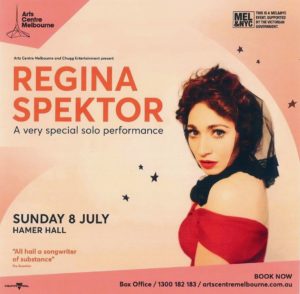 In a happy confluence of events, one of Angela's and my favourite artists, Regina Spektor, was playing a solo show at Hamer Hall on the night of our 22nd wedding anniversary. To celebrate we booked tickets to the show and a night at the nearby Langham Hotel where we had spent our wedding night.
Aside from our own personal occasion, the show was part of a cultural exchange between Melbourne and New York, billed as MEL&NYC.
In Melbourne we were treated to an exhibition of works from MOMA and a Regina Spektor concert, among other signature New York events. I'm not sure quite how we reciprocated with our friends in the Big Apple – perhaps some Ken Done tea-towels and The Footy Show doing a live broadcast from Time's Square. Either way, I think we were getting the better end of the deal. Mind you, not everything that comes out of New York is good – think Donald Trump.
Spektor walked on stage and took her seat at the grand piano. Drawing attention to her outfit – black leggings, black skirt and a kind of asymmetrical black poncho – she said, "I look like a cross between The Penguin from Batman and Cassandra the Prophetess of Doom."
She then announced that she didn't have a setlist, prompting a stagehand to wander out with a sheet of paper. Spektor continued chatting away about how 'out of it' she was feeling and how she could feel the earth moving, before whispering "that's not it" into the microphone. This prompted the stagehand to reappear with the actual setlist (what had he brought out the first time I wondered – a laundry list?). Even then, Spektor said it looked like someone had thrown random letters onto the page. In which case, perhaps we were in for one hell of a show.
Not that a setlist was entirely necessary, for those near the front were more than happy to proffer suggestions. After opening with Folding Chairs from Far and Grand Hotel, one of the best songs from her most recent album, Remember Us to Life, she obliged the vocal people near the front and played a couple of the requests, Prisoners and Machine.
Personally, I find people who yell out song titles at concerts slightly irritating, but not nearly as irritating as those who yell out "I love you, Regina!" during the slightest pause between songs. Sadly, the excellent acoustics of Hamer Hall simply only served to exacerbate this problem. The upside, I suppose was that Spektor's voice and playing were clear and crystalline.
It was a cold night in Melbourne, and possibly Spektor was feeling it because she rubbed her hands together for warmth between each song. Unless this was just part of a piano player's normal prep.
She played a good mix of songs from across her career and gave full expression to all her vocal ticks and quirks and showed glimpses of her Avant-Garde or anti-folk origins.
A case in point was when she relocated to an electronic keyboard facing the audience and played Poor Little Rich Boy from Soviet Kitsch.  She played the keyboard with one hand while adding her own percussive accompaniment with a drum stick in the other.
Remaining at the electric keyboard, she played Ballad of a Politician which she introduced by saying how gratifying it is that politics attracts only the very best type of person, and Don't Leave Me (Ne Me Quitte Pas). If there is anything as coquettish as Regina Spektor singing in French, then I haven't heard it, except perhaps Iggy Pop singing in French.
Shifting the focus of the audience, Spektor moved from keyboard to guitar for Bobbing for Apples and That Time – one of my favourite Regina Spektor songs with its disarming mix of playfulness, pathos and punk guitar.
I welcomed her decision to move around the stage. Angela and I had seen her on her previous tour in 2012 when she played at The Plenary – probably the worst venue in Melbourne. On that occasion we had seats only a few rows from the front, but due to the placement of the piano and the aircraft hangar design of the theatre, she sat with her back to us for the entire night.
She returned to the piano for a set of songs that included Apres Moi before standing centre stage to sing a brace of a capella songs. Her cover of Lennon's Real Love took us into the final leg of the gig that included fan favourites Eet and Blue Lips.
Spektor closed the set with Obsolete, a song from her most recent album that explores the place of art or at least the self-doubt of artists, and Us, an early song that might be about love, the vagaries of celebrity culture or the collapse of the Soviet Union. Or something else entirely. That's the beauty of Spektor's songs; there's something for everyone. It explains her universal appeal – even our teenage sons like her.
Returning for an encore she thanked us for putting up with her surrealness, but she needn't have, for that's where most of her appeal lies.
She brought the night to an end with Samson. It was a fitting way to spend our anniversary, although I don't know what to read into the fact that she didn't play her break-out hit and most well-known song, Fidelity. At least she didn't play Ode to Divorce.
Setlist
Folding Chair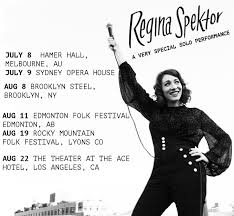 Grand Hotel
Prisoners
Machine
Older and Taller
Wallet
Better
Poor Little Rich Boy
Ballad of a Politician
Don't Leave Me (Ne Me Quitte Pas)
Bobbing for Apples
That Time
Loveology
The Light
The Devil Came to Bethlehem
Apres Moi
Silly Eye Colour Generalisations
My Man
Real Love
Eet
Blue Lips
Obsolete
Us
– – – –
Samson
The photos I took didn't turn out, but Joshua Braybrook from themusic.com.au took some good ones. Check out his gallery here.