Fraser A. Gorman
Fraser A. Gorman
Rocksteady Records, Melbourne
Friday 13 July 2018
EASY PIECES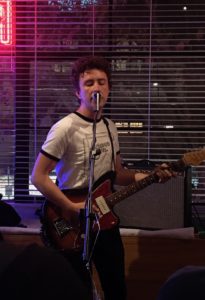 I left the office around 5.30pm on Friday night with just enough time to get to Rocksteady Records in Mitchell House on the corner of Lonsdale and Elizabeth for Fraser A. Gorman's 6pm in-store performance. He was launching his new album, Easy Dazy.
I'd seen him supporting Aldous Harding earlier in the year at the Croxton Park and thought he was someone to look out for. And what could be more convenient than a 6pm gig on my way home. Plus, it was free. And given I was attending the Kendrick Lamar the next night for $152 (x 3 if include the kids), the universe owed me a free gig.
A good crowd was in the store when I arrived. I edged through them to get close to the performance space and browsed through the second-hand racks while I waited.
By the time Fraser arrived and installed his mum behind the counter so she had a good view, the crowd was spilling out into the corridor.
Gorman was joined on stage by drummer Holly Thomas and bassist Richard Bradbeer who was wearing a nice Dylan/Tom Petty tour t-shirt – which is a show I actually saw at Kooyong in 1986.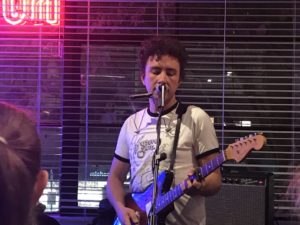 Speaking of Dylan, a subject never far from my discourse, I noted among the thank you's on the back cover of Gorman's album one for 'the never-ending shining beacon of light that is Bob Dylan.' And as he strapped his guitar over his mop of thick curly hair and white t-shirt with black braiding, I couldn't help but notice Gorman's resemblance to a young Dylan circa Highway 61 Revisited.
Fraser A. Gorman, I should point out, is not that mythical musical creature, the new Dylan. Only Bob's musician son Jakob can really make any claim to that title – and even then, only through genetic inheritance.
Nevertheless, Gorman writes original, idiosyncratic songs and has a charming, even impish personality that comes out in his performance. He even apologised for the bad pun in the title of The World Sure Looks Dark (Through These Sunglasses). He needn't have – it's no worse than The Future's So Bright, I Gotta Wear Shades by Timbuck 3.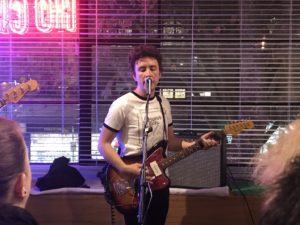 The band played an entertaining set of songs from the new album. They were one down in number, with guitarist Anika Ostendorf away in Germany, so it was a subdued sound, but we were in a small record store after all, with businesses still functioning neighbouring rooms. So stacked amps weren't required.
Gorman speaks with a slight stutter or a noticeable hesitation on some sounds. Interestingly however, for those of us who know nothing about neurology, this isn't at all apparent in his singing which is clear and laconic. In both his stage banter and singing, he displayed a winning mix of naive charm and wry observation. Even if you didn't particularly like his music, I find it hard to believe that anyone listening to Fraser A. Gorman would not be won over by his demeanour.
The album too, is a little gem.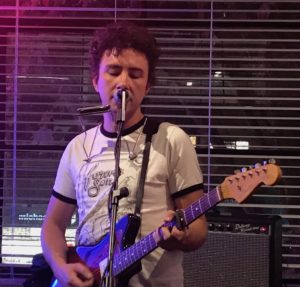 Setlist
Walking to Oman's
Silence Turns to Gold
Ask Marcelle
New England
The World Sure Looks Dark (Through These Sunglasses)