Sarah Blasko & Ryan Downey
Sarah Blasko
Ryan Downey
170 Russell, Melbourne
Friday 22 June 2018
$50.10
DEPTH OF SOUND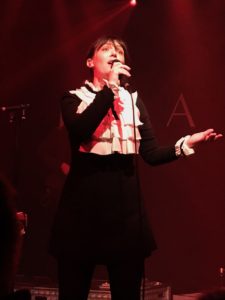 My two favourite Australian albums so far this year are Sarah Blasko's Depth of Field and Ryan Downey's Running, so imagine my excitement when I heard that Downey would be supporting Blasko on her Australian tour.
I went to the gig with Fiona and after plunging into the subterranean cave of 170 Russell, we took up a spot somewhere near the front. We felt safe that Downey's gentle ballads and Blasko's mid-tempo electronica were unlikely to provoke excessive moshing. Any fears of this were further alleviated by the general age of the audience, most of whom seemed to be in the 35-55 age group. Really, a sit-down venue would have been our collective preference.
As a fan of Downey's I was pleased that his set was so well received. Wearing a sort of Hawaiian shirt tucked into his pants, he looked more like a middle manager on casual Friday than an up and coming rock star. He had the same band with him as he did at the Northcote Social Club a month earlier and they played a similar set.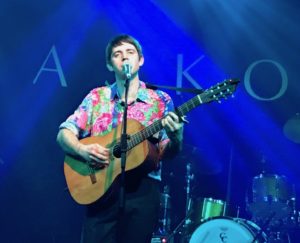 The performance was slick and the songs sounded good in the more spacious environment of 170 Russell. Given that most of his songs are slow, brooding numbers, it's conceivable that he'll become known as Ryan Downer, but it is a testament to their depth and delivery that people generally paid attention. Sometimes you can barely hear the support act for the chatter.
As with his recent headline show, they closed with a solo arrangement of Those Eyes That Answer and a cover of Eurythmics' Love is a Stranger that even coaxed the crowd into a gentle boogie. Job done.
Setlist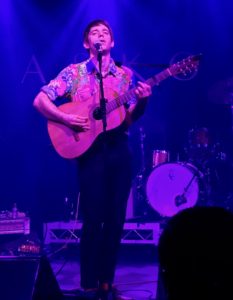 The End
Renewed
Running
The Weather Song
Love Me, My Meal
Techno Dolls
Tidings
1+1
Those Eyes That Answer
Love is a Stranger
Sarah Blasko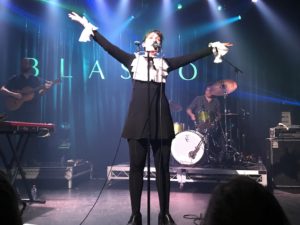 I've only seen Sarah Blasko perform once in a solo show at the Recital Centre. It was a beautiful show that highlighted the unique quality of her voice and the strength of her songs. She also previewed several of the songs that would later appear on Depth of Field. I was keen, nonetheless, to her see her with a band and hear the new material in its fully fledged live form.
In some circles being seen twice in the same outfit is a fashion faux pas. Clearly Blasko doesn't move in such circles or doesn't care, because she emerged wearing the same outfit she'd worn when I saw her at the Recital Centre. It's not something I would necessarily notice, but it was a fairly distinctive outfit – not unlike a French maid costume, but with puffy lace sleeves. However, in a week when Melania Trump has visited a child detention centre wearing a jacket with 'I Don't Care Do U?' scrawled across the back, surely all fashion rules are out the window.
The pulsing thrum of Phantom oscillated out of the speakers and Blasko commenced a sort of spasmodic tribal dance that was as instinctive as it was unchoreographed. I mean that in a good way – you could sense the music coursing through her.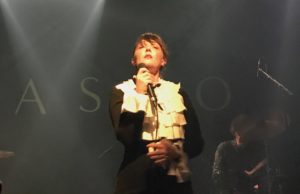 This was a very different beast to her solo show. Where that performance showcased finesse and subtlety, this one, while no less slick and polished, was deep primal rhythms. On this occasion Blasko left the music to her band while she remained up front on vocals.
They performed the Depth of Field album in its entirety and in sequence, and then ventured into some of her older numbers. This suited me as I think the new album rates among her best work.
She journeyed into back catalogue in reverse order with a brace of songs from Eternal Return, I Awake and As Day Follows Night.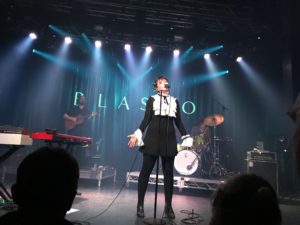 As is normal I ended up behind the tallest man in the room. Plus, there were the usual people who pushed in once the show has begun. One of them was clearly a super fan, singing along to every song and waving his arms around like tendrils with each inflection of the music. It was in turn endearing and annoying.
Blasko was captivating on stage, alternating between art rock poses, ironic art rock poses and letting herself get lost in the electronic soundscape. All the while, her smile and warm personality seeped through the façade of performance. It was the final show of a long tour and the band were clearly enjoying themselves.
There's an old saying in football that what happens on the field, stays on the field, but in this case I've been It was great to see two quality Australian performers play such a stunning show. 'Savour it' as the song has it.
Setlist
Phantom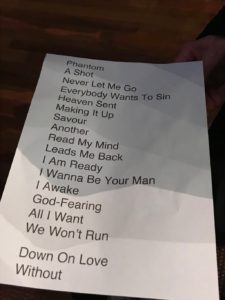 A Shot
Never Let Me Go
Everybody Wants to Sin
Heaven Sent
Making it Up
Savour it
Another
Read My Mind
Leads Me Back
I Am Ready
I Wanna Be Your Man
I Awake
God-Fearing
All I Want
We Won't Run
—————–
Down on Love
Without
Sarah Blasko at the Melbourne Recital Centre 15 June 2018
Ryan Downey at the Northcote Social Club 17 May 2018