Robert Forster
Robert Forster
The Toff in Town, Melbourne
Saturday 12 March 2016
$40
I LOVE ROBERT FORSTER AND I ALWAYS HAVE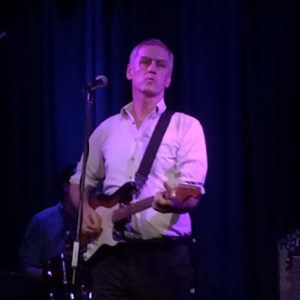 One thing I've noted about myself is that a number of the men I most admire in the arts are unusually tall and inordinately thin. Add to that list their excessive talent, plus in most cases a healthy coiffure, and it doesn't take a psychologist to see that basically they're everything I'm not.
In literature there is Samuel Beckett, Patrick White, Jonathan Franzen and Peter Carey, while in the music world there is David Byrne, Nick Cave and Robert Forster.
(For reasons I can't explain my favourite visual artists are generally short and pudgy – Picasso, Bacon, Nolan, Lautrec et al – perhaps it is something to do with the height of easels or the fact that they just wanted to keep women's breasts at eye level, Bacon excepted).
But back to music. Robert Forster, ex of the Go Betweens has been a long time favourite. He looks like a cross between David Byrne from Talking Heads and former Victorian Premier, Jeff Kennett. In fact his stage demeanour and early songwriting carry many Byrne hallmarks and Forster has acknowledged his debt to the Talking Heads frontman. It's less clear, however, what he might have taken from Jeff's armoury. Nothing I suspect. Any resemblance is probably just an accident of stature and hairstyle. In fact Forster had the very good sense to be living outside Australia for much of Jeff's short reign.
Dive For Your Memory
I've followed Forster's career from about the age of 16 when me and my friends would sneak in underage to Go Betweens gigs at The Tiger Lounge in Richmond. I bought their 7″ single I Need Two Heads on the basis of a review and have picked up everything since (although I gave away the 12″ singles for Right Here and Cut It Out – not their best moments). When The Go Betweens split in the late 80s, I followed Robert Forster's solo career more closely than Grant McLennan's. Of the two, I preferred Forster's left of centre approach, his angular melodies and lyrics that mixed the poetic with the prosaic and the flippant with the fervent.
I also responded to his sense of showmanship and his literary demeanour – I could easily picture him in Paris in the 1930s, sipping absinthe with Samuel Beckett and James Joyce. This might say more about my pretensions than anything to do with Robert Forster, but it is nevertheless emblematic of the esteem in which I've always held him.
I've been seeing Robert Forster perform for 35 years with both The Go Betweens and solo at numerous venues across Melbourne; the Central Club in Richmond, The Club in Collingwood, The Seaview Ballroom in St Kilda, The Exford Hotel in the city, Chaser's nightclub in South Yarra, Melbourne University in Parkville, The Ferntree Gully Hotel in Ferntree Gully, Festival Hall in North Melbourne supporting REM, the Continental Café in Greville St Prahran, the Dan O Connell in South Melbourne, the Toff in Town in the city, the Thornbury Theatre, the Old Greek Theatre in Richmond and numerous other venues long closed down and forgotten. In Go Betweens parlance, that's 'round and round, up and down, through the streets of my town'.
From an earnest, nervy performer in The Tiger Lounge days prior to the release of their first album, Send Me a Lullaby, he gradually developed into a loquacious and extroverted performer. By the time Tallulah was released in 1987, he had long, peroxide blond hair and was returning to the stage for encores wearing a dress – a full-length ball gown and makeup. The song Draining The Pool For You was usually his cue for putting his guitar aside and embarking on slick, snake hip dancing and some vocal extemporising.
At the Central Club in Richmond, the dressing room was upstairs. Most performers would finish their set and wait in the wings while the audience dispersed, because it could seem a bit anti-climactic to shout an exhilarated "Goodnight Melbourne!" followed by lots of "Excuse me's" and "Sorry's" as they pushed through the crowd to get to the stairs.
Not Forster. He concluded an encore one night with a commanding, even lordly gesture for the crowd to part, and as the rest of the band continued playing, Forster strode imperiously through the channel that opened up, like Moses through the Red Sea, and made his way unimpeded to the stairs and dressing room.
Rock and Roll Friend
There's a song on Robert Forster's new album, Songs To Play, called I Love Myself and I Always Have. As the second last song on the album, it is perhaps the exception that proves the second of his 'rules' (from his book, The 10 Rules of Rock and Roll) that 'the second last song on every album is the weakest'. If there are any weak songs on Songs To Play, then this isn't it.
At an in-store launch of the album at Readings book shop in Carlton last October, Forster revealed that the genesis of this song was when his email broke down and to re-generate it he needed to send himself an email, but rather than simply send and email with "test" or a series of key strokes, he actually wrote himself a loving missive. When his wife accidentally saw this, she observed that he really did have a good opinion of himself. From here he developed the song, for which he employed, he said, a favourite old trick of using a humorous title to mask a reasonably serious song.
The song might be about self-esteem, being true to yourself or a simple comment on onanism, but the general sentiment is one I share – I Iove Robert Forster and I always have.
Songwriter on the Run
He is always entertaining on stage. My friend John and I had seen him play at The Thornbury Theatre in November to support the new album, and when this show was announced to coincide with his visit to the Port Fairy Folk Festival, we decided to come along again.
The Toff in Town is an intimate little venue that hosts cabaret, music acts, comedy and theatre. It is located in Curtin House, an art nouveau building on Swanston Street that is also home to Metropolis bookshop, niche fashion boutiques, Cookie Bar and Thai restaurant and a rooftop cinema. We met our friend Manny in Cookie Bar, on the level below, for a pre-show drink.
When the curtain parted the band was already on stage playing Learn To Burn, the opening track from Songs To Play. The band consisted of the John Steel Singers' Scott Bromiley and Luke McDonald on guitars, bass and keyboards plus Chris O'Neill on drums and Forster's wife Karin Baumler on violin.
At that Readings in-store appearance, Forster had said that Learn To Burn has a rockier edge and that when he wrote it, he did so as a Tom Verlaine type riff, played on the lower strings which was different to his normal method. It's a great song and a suitable opener to this gig.
After the lyrical Let Me Imagine You, Forster introduced the group saying, "We're from Brisbane and we're a young band playing a new kind of folk rock" before they launched into I'm So Happy For You, also from the latest album.
I was at the bar for Surfing Magazines, which he dedicated to the lapping waves of Port Fairy, and which contains a nice 'Da dada dad' sing-along moment. I was back in my spot just a few people deep for the old Go Betweens number, Head Full of Steam. This set most of the audience into a nostalgic sway. Without his baseball cap I couldn't be sure, but the bloke next to me looked a little like Glenn Bennie, the guitarist from Underground Lovers, who I had seen just the night before.
The band was tight and crisp throughout, providing just the right light touch for the material. Highlights included Songwriters on the Run, which he introduced by saying he'd played it at a panel show that morning at Port Fairy where it had absolutely bombed.
Also Finding You, originally sung by Grant McLennan on the Go Betweens' Oceans Apart album, and Heart Out To Tender from his first solo album. For this song he forsook the guitar, took the mike from the stand and made earnest eye contact with every member of the audience as he told his tale about looking for love.
The set concluded with one of the best songs from the latest album, A Poet Walks and the rollicking Go Betweens song Here Comes a City, also from Ocean's Apart, about a train ride through Germany.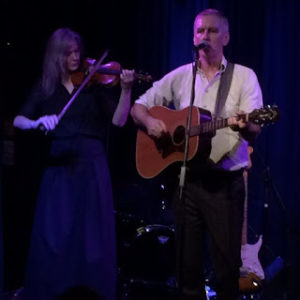 The first song of the encore was Part Company that Forster and wife Karin Baumler performed as a duet with guitar and violin. The rest of the band returned to the stage for Make Her Day and a sprightly version of Spring Rain. At the Thornbury Theatre show a few months previous Forster had said that he always tries to include in the set a song with the word 'rain' in the title, and there is perhaps no better one than this classic 1986 Go Betweens song.
The full band returned for one final track, the marvellous Danger in the Past, to close out another fabulous Forster show.
Looking back, there is not a lot of danger in my own past, but there is an inordinate amount of time spent listening to Robert Forster. I couldn't have been in safer hands.
Setlist
Learn To Burn
Let Me Imagine You
I'm So Happy For You
Surfing Magazines
Head Full of Steam
Born To a Family
Disaster In Motion
Songwriters on the Run
Finding You
Heart Out To Tender
I Can Do
I Love Myself and I Always Have
A Poet Walks
Here Comes a City
– – – – – – –
Part Company
Make Her Day
Spring Rain
– – – – – –
Danger in the Past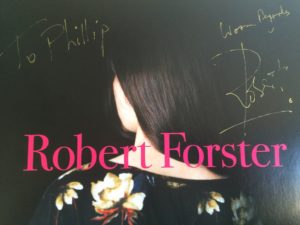 Encore: I'm not necessarily one for meeting my heroes, but I felt pretty safe with Robert Forster when I joined the signing queue at the Readings in-store appearance. I was one of those annoying people with multiple items for him to sign – the new album on vinyl that I bought on the night, as well as my copy of The 10 Rules of Rock and Roll and a CD version of my favourite Go Betweens album, Before Hollywood. Even then I thought I was keeping things to a minimum, and considered it a sign of maturity that I didn't get him to sign my left breast. I can't promise I'd play it quite so cool if armed with a permanent marker in the presence of PJ Harvey or FKA Twigs, but hey, I'm only human.