Underground Lovers
Underground Lovers
Gasometer Hotel, Collingwood
Friday 11 March 2016
$25
GOING UNDERGROUND
By the time my friend Ralph texted me to see if I wanted to catch Alpine, who were playing for free at the Moomba festival in the city, I was already sitting in The Gasometer Hotel with my brother Graeme waiting for the Underground Lovers to come on stage. As it happened we'd made the right decision not to go to see Alpine because later that night a youth gang known as Apex ignited a riot at the city's Moomba festivities.
To be fair, it's unlikely that Alpine's shiny pop stylings fomented any of the trouble – I certainly didn't see anyone wearing hot pants on the footage shown on the news – but then the pinnacle or peak of an alpine area is known as the apex, so you just never know – perhaps its the nickname their fans give themselves. Besides, after seeing both Sleater-Kinney and the Jesus and Mary Chain during the past week, I thought I might as well cap off the week with yet another reformed band from the 90s.
Underground Lovers were one of the few new Melbourne bands I used to go and see in the early 90s. All the other Australian acts I followed at the time – Ed Kuepper, Nick Cave, Died Pretty, Dave Graney, Tex Perkins, Robert Forster and Grant McLennan, Dave McComb, Paul Kelly etc – had basically just hung around from the 1980s. Like me really. It's not that there weren't any good new bands back then, I just didn't make much effort to find out about them.
Part of the initial appeal of Underground Lovers was their name, incorporating as it does the names of two legendary US proto-punk bands –The Velvet Underground and the Modern Lovers. You wonder if they ever considered Modern Velvet?
The other part of course was the sound, particularly the layered, reverberating chords of Glenn Bennie's guitar and the distinctive vocals of Vincent Giarusso. The Lovers sounded like a blend of Happy Mondays and New Order with a touch of Sonic Youth's guitar approach, all filtered through an Australian prism.
The sound evolved with each album, incorporating more experimental elements as well as dance beats. Plus they were always great live. I don't know if it's just that my brother Graeme is a fan, but my memory of Underground Lovers gigs is that they were generally beer soaked affairs. I recall a particularly exhilarating gig at The Palace in St Kilda for the Leaves Me Blind album and one at The Armadale Hotel in the mid 90s for the Rushall Station album, as well as numerous shows at pretty much every long lost venue in Brunswick Street, Fitzroy.
A group of us caught them a few years ago at the Northcote Social Club after they reformed, and John, Graeme and myself were back for this gig that had been advertised as a preview of their forthcoming album, Melbournism.
The Gasometer band room has a retractable roof that was open to the night sky as the band sauntered on stage. So there we were, underground yet looking at the stars. The staircase was crowded, as was the balcony. I saw Dave Graney and Clare Moore in the audience and I think Rob Snarski from the Blackeyed Susans as well (or at least, someone wearing a pork pie hat) – the Underground Lovers don't play all that often so it is an event when they do.
An ominous bass and keyboard rumble started up just as Bennie gave his guitar an almighty thrash and veered into the riff for Eastside Stories, the brilliant opening track from arguably their best album, Leaves Me Blind. Bennie continued the wall of noise guitar into another track from that album, Got Off On It, which we duly did.
Our dancing became more expansive as the band lifted the tempo with the fiery Can For Now, one of the tracks from Weekend, their comeback album of a couple of years ago. There's something dense and irresistibly hypnotic about the Lovers in full flight and it is simply impossible to not lose yourself in involuntary movement and incessant swaying. The beers helped as well.
Giarusso set the scene – head down, his shoulders in a constant rolling motion as he tapped a tambourine and swayed from side to side. But I like watching Bennie. While most lead guitarists pose up front, perhaps pouting while shaking the arm of the guitar over the front rows, Bennie hides up the back near the drummer wearing a baseball cap pulled over his eyes, and already small of stature, he hunches over his guitar like a scientist at a microscope. You almost can't see him, which appears to be his aim. He might be more at home in a band like Slipknot where he could hide behind a mask. But he is making the most noise out of anyone. He may look like a greengrocer from Vic Market, but he's a cracking guitarist.
We did get a few of the promised new songs before keyboardist Philippa Nihill delivered I Was Right in her trademark deadpan fashion. I don't think she'd necessarily be able to pull off a Foo Fighters song at karaoke, which is possibly a good thing, but she adds some light and shade to the Lovers' sound.
The set concluded with a rollicking version of Au Pair from Weekend. The song has an uptempo 60s spy movie vibe and saw Giaruusso bellowing out the title repeatedly as it built to a raucous conclusion. By then I was quite pissed and was belting it out with him. Happily the band was so loud no one could hear me.
My singing threatened to become a nuisance, however, when they returned for an encore and played one of my favourite UL songs, Dream It Down, a slow, hazy number that is carried along by a beautiful, hypnotic melody.
A second encore began with Earth Manna and morphed into Las Vegas with its big sing-a-long chorus. They sent us into the night with our ears ringing to the peerless and barreling Promenade, the song that perhaps best encapsulates their sound.
Knowing the Underground Lovers, they won't play again for another three years, so I'm glad I went along this time. Admittedly I drank so much that my memory of the show remains a little hazy. Likewise the new songs they played – I can't recall in any detail what they sounded like, but I can look forward to listening to them when the record comes out.
Set list
Eastside Stories
Got Off On It
Can For Now
Feels So Good To Be Free
Every Sign
St Kilda Regret
I Was Right
The Lie That Sets You Free
Country Art Rock
Au Pair
– – – –
Dream It Down
– – – –
Earth Manna/Las Vegas
Promenade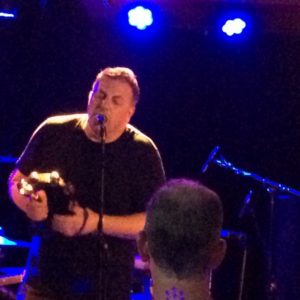 Encore: It was a week of carnage in rock 'n' roll. George Martin, the Beatles long-time producer, self-appointed genius of the band and incessant prattler in countless Beatles documentaries, passed away, as did Keith Emerson of prog rockers Emerson, Lake and Palmer – or ELP as they'd be known if they existed today. Locally, singer Jon English and Daddy Cool guitarist Ross Hannaford also died. One of my first musical memories is playing my brother's Daddy Cool album with the pink cover – my seven year old self couldn't tell whether or not Ross Hannaford was a good guitarist, but I did know he was the one who wore the helicopter hat.
On a positive note however, Brian Johnson was forced to quit AC-DC on doctor's orders or risk going deaf. Not that I'm glad he's ill, but his particular brand of screeching makes Jimmy Barnes sound refined. And if you've seen the banks of amps lining the stage at an AC-DC show, the only surprise is that he lasted this long. Unlikely as it seems, with all this going on, news that Anthony Callea was voted out of the jungle on I'm a Celebrity, Get Me Out of Here barely registered with the music public. However, if nothing else, he's out just in time as a possible replacement to Johnson in Acca Dacca.