The Killers
The Killers
MCG, AFL Grand Final
Saturday 30 September 2017
KILLING IT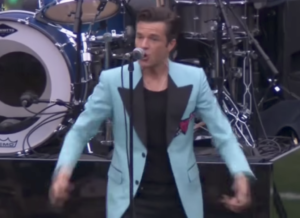 It was a break from tradition for the AFL this year having a pre-game performance at the Grand Final that was memorable for being good rather than an embarrassing disaster.
Being invited to perform at the AFL Grand Final can be a bit of a poison chalice for a musical act.  Australian singers know this, which is possibly why the AFL resorts to inviting acts from overseas. It's not so much a case of cultural cringe, as a case of the less they know the better.
This year it was American band The Killers who were set to play at the MCG before the Adelaide v Richmond Grand Final. There was a degree of serendipity about this for me. My friend Paul is a big music fan and an even bigger Richmond fan. He supported them throughout the doldrum years – which have stretched now for nearly four decades. He couldn't be at the match because he lives in London and couldn't get away, but he would be getting up at 4.00am to watch it.
Paul was also the one who introduced me to The Killers, sending me for my 40th birthday a copy of Hot Fuss by the then largely unknown, certainly by me, Killers. It is one of the great debut albums by any band. In Grand Final week you look for omens and connections – this was mine. It was fitting that The Killers were playing on the day Richmond were back at the big dance and I was looking forward to their show almost as much as the match.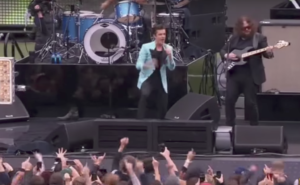 The Bright Side
Among the challenges artists face is that the stadium is vast, much bigger than a rugby or soccer stadium, so there is nowhere the band can perform where the majority of the crowd can see or even hear them – unless they set up in the tray a flatbed truck, a la Acca Dacca on Swanston Street, and skirt the perimeter of the arena (I think Mother Goose did this at the cricket one year).
Nor can they get close to the crowd – there is invariably a vast sward of grass between performer and audience that deadens any energy the band might be generating. Plus they have their backs to the majority of the people.
Not only that, but the performance is scheduled for early afternoon, so there is no recourse to fireworks, lighting effects or other helpful staging distractions.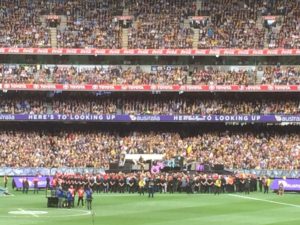 Then there's the sound. As far as sporting stadiums go, the MCG is among the most awe-inspiring and majestic in the world, but even the nearby Corner Hotel has better acoustics. There is nothing quite like the sound of leather on willow in cricket season, or the roar of the crowd when Buddy slots one from fifty, but add a kick drum and amplified guitar and the whole thing sounds like the dull, uneven thud of a distant fireworks display.
Another drawback is that football journos, not music writers, lead the critiques – i.e. people who would no sooner recognise an arpeggio than a tailender would pick a Muralitharan doosra.
As recently as 2014 and 2015, the football journos scoffed at Ed Sheeran and Ellie Goulding respectively, seemingly unaware that these two performers were among the biggest pop stars on the planet. Just because neither artist was around in the 1970s and 1980s when Australia's footy journos last made a mixed tape doesn't mean there isn't an audience for them – an audience, as it happens, of young people who might tune in specifically to see them perform, and possibly stay tuned when the game starts.
And if the footy journos make for misguided music critics, imagine how the Twitterati trolls respond.
It is a cursed position for a performer – some people just want Mark Seymour to sing Holy Grail or Paul Kelly to sing Leaps and Bounds every year. Fortunately these people  are assuaged by the reliable presence of Mike Brady singing Up There Cazaly every year.
The main problem facing most performers at the AFL Grand Final of course is that none of them are Beyonce.
However, if ever there was a band who would compel footy fans to look on the bright side, then it was The Killers.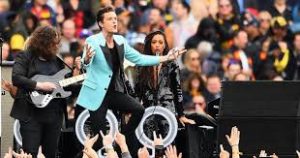 Hot Fuss
An added problem this year was the inadvertent pressure caused by comparisons to the NRL's Grand Final entertainment to be staged the following day. With the same sex marriage postal vote underway in Australia, the NRL invited Macklemore to sing his same sex marriage anthem, Same Love at their big day.
So far, so harmless you might think. Until former PM and eternal right wing reactionary twat Tony Abbot called for Macklemore to be banned from performing the song. A call that was predictably taken up by every other right wing commentator in politics and the media – well, Bob Katter, Corey Bernadi and Miranda Devine at least.
The controversy completely overshadowed the build-up to the NRL Grand Final – which is not that surprising given that no one much cares about the game itself. Certainly not in Melbourne, notwithstanding the fact that Melbourne Storm were one of the teams. More to the point, however, it overshadowed the build-up to The Killers' impending performance ahead of the AFL Grand Final.
My favourite Killers song is Somebody Told Me, the chorus of which goes: "Well, somebody told me you had a boyfriend who looked like a girlfriend that I had in February of last year…" which Corey Bernadi might construe as having some sort of 'gender morphing' overtones, but even so, it was hardly a same sex anthem. And it certainly wasn't creating anything like the controversial buzz that Macklemore was.
The most controversial it got in the lead-up was a letter to the editor in The Age by someone wondering whether, in this age of violence and terror, it was irresponsible of the AFL to invite a band called The Killers to play at their flagship event. On that basis I fear for the chances of  Suicide, Napalm Death and Anthrax ever gracing us with their presence on the big occasion.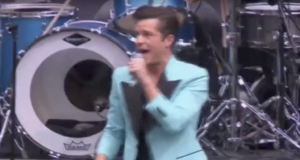 For Reasons Unknown
Given the acoustics and the size of the venue, by far the best place to take in the pre-game entertainment is at home on the TV. The stage was set up on the outer wing, but was facing the MCC Members Pavilion. In other words, Brandon Flowers and gang performed facing the members, who were approximately 1 kilometre away (no, I'm not exaggerating), while having their backs to approximately 40,000 people who were sitting within 50 metres. Sure there was a group of 250 or so fans standing in front of the stage to create the illusion of a normal gig, but the intervening 1km of vacant turf behind them was less convincing.
Perhaps this set up would be understandable if the sound was clear, but from my vantage point, it couldn't have been worse. It was essentially a muffled rumble of bass. It sounded like they were playing underground. Yet if you watch it back on television, it sounds magnificent, which I suppose is credit to the broadcaster's sound engineers if nothing else.
This of course is all peripheral stuff out of the band's control; they performed wonderfully. Many commentators have called it the best pre-game entertainment we've ever seen at the AFL Grand Final. You may not necessarily consider this to be much of a big call given the many lamentable acts we've endured, but I fear those making this claim are overlooking Peter Allen's performance at the 1980 decider when he packed pretty much his entire two-hour Vegas routine into 10 minutes. Coincidentally, that was the last occasion when Richmond won.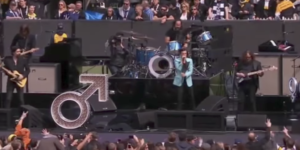 Forgotten Years
That said, The Killers were hard to top. They pulled out their first four singles, their most recent single, The Man, and a Midnight Oil cover, Forgotten Years, which Flowers introduced by saying, "Thank Carlton for your draught and don't forget to thank God for Midnight Oil."
There is no greater way to win over a Australian audience than by complimenting us. Playing an Oils track, or Kylie for that matter, was always going to do the trick nicely.
It was close to the most inspirational moments of the day and just shows that if the AFL won't get Australian acts to play, it's just as good to get international acts who can do Oz rock covers. It was every bit as good as the original too. It's just a shame we'll never hear Luciano Pavarotti sing Shaddup Ya Face.  Forgotten Years was also appropriate from a football perspective, with Adelaide's most recent premiership being 19 years ago and Richmond's being 37 years ago. Forgotten Years indeed.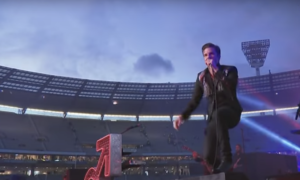 He's The Man
Frontman Brandon Flowers is a genuine rock star – he's cool, he has charisma and who needs a light show and special effects when you're that handsome and can rock a powder blue jacket with such nonchalance.
As he sang he roamed the stage, stood atop the foldback speaker, played a note or two on his keyboard that was hidden behind a massive male gender symbol, and goaded those near the front to get involved. He did it all with an air of such casual elan that he had the crowd on side from the start.
They closed with their classic, Mr Brightside, which rocked the G more than any other song I can remember – with the possible exception of We're From Tigerland the week previous when Richmond won through to the big one. It was a dynamic set and the general sense was that The Killers killed it. Not only that, but on the strength of their performance I suspect that tickets for their March 2018 Australian tour sold out before the ball was bounced for the match to begin.
Neon Tigers
The post-match show provided one of the chief talking points of the day. Not, as you might suspect, the shot of me singing along when the camera panned across the crowd. My friend Linda texted to say she'd seen me, but she was mainly seeking verification that Brandon Flowers is as good looking up close as he is on TV. 'Yes he is' I reported back. 'Even more handsome.' Me, maybe less so.
No, the main talking point was when Richmond Full Forward Jack Riewoldt joined the band on stage to duet with Brandon Flowers on Mr Brightside. Though not a Tigers fan, it was an exhilarating moment that brought the house down and raised the bar for future post match celebrations. And even though Riewoldt's microphone was switched on, Flowers' voice remained dominant in the mix.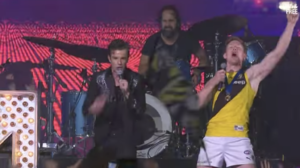 The moment also created a nice distraction for Riewoldt, because people talked about his singing rather than his first quarter shots on goal – neither of them hit the mark, but at least the singing was a moment of pure joy. The phrase, "Destiny is calling me…" rang out with particular poignancy for Tigers fans.
The Killers have set a new standard for all future acts playing at the Grand Final. They played a full-on 40 minute greatest hits show, including reprising a couple of songs they had played in their pre-game slot (When you Were Young & Mr Brightside), plus a cover of Creedence Clearwater Revival's Bad Moon Rising.
Credit to them for embracing the occasion, with Flowers giving a shout out to Tigers fans and the drummer wearing a Richmond scarf as he took up his spot behind his kit.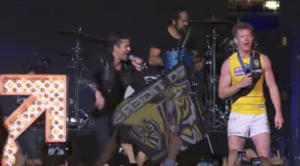 Flowers let the lighting inject the colour for the post-match show, swapping his blue dress jacket for a black tasseled number. They opened with Human and followed it with a series of singalong anthems that made you realise just how many of their songs you knew. I had thought I only really knew their first album, but found myself singing "Are we human, or are we dancer" and "my heart it don't beat, it don't beat the way it used to" as if they were always on my playlist.
The large scoreboard crossed to a shot of several Richmond players out on the ground with the premiership cup during All These Things That I've Done, which was perhaps an appropriate time and drew a huge roar from the audience. I wonder if the band thought about playing Neon Tiger?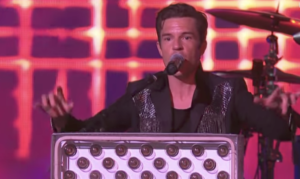 I've been to a few of these post-match shows when Hawthorn has won the premiership, but I've never seen the masses pack into the stands in anywhere near the same numbers. I don't know if it was Richmond or The Killers who drew them in, but it made for a great Grand Final celebration. And for the neutral fan, provided a much needed reprieve from hearing "Oh we're from Tigerland…"
pre-game
When You Were Young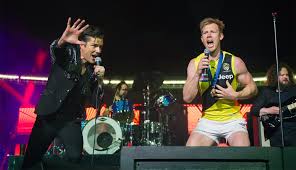 Somebody Told Me
The Man
Forgotten Years
Read My Mind
Mr Brightside
post-game
Human
Spaceman
Smile Like You Mean it
The Way it Was
Run For Cover
Bad Moon Rising
For Reasons Unknown
Runaways
All These Things That I've Done
When You Were Young
Mr Brightside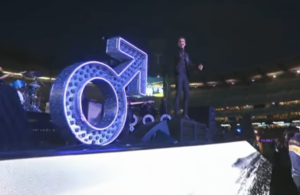 Sting, The Living End, Vance Joy – 2016 AFL Grand Final
Bryan Adams, Ellie Goulding, Chris Isaak – 2015 AFL Grand Final