The Apartments
The Apartments
NGV, Melbourne
Friday 22 July 2016
$30
NO SONGS NO SPELLS NO MADRIGALS…BUT PLENTY OF NUDITY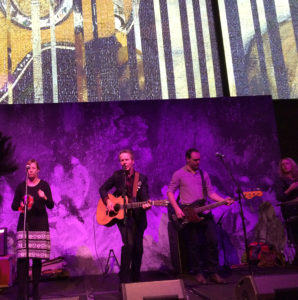 Economists and property market analysts regularly issue warnings that Melbourne will soon suffer from an apartment glut. This may be true in a real estate sense, in so far as developers erect a new glass apartment tower every second week, but it is certainly not true in a musical sense as The Apartments, as far as I'm aware, haven't played in Melbourne for some considerable time. Quite the opposite of a glut in fact. Indeed, I think they have performed here only a handful of times in recent years, and I was blissfully unaware on each occasion, which made this rare one-off appearance at the NGV such a special occasion.
To be clear, I don't want to come across as some lefty art snob who thinks that the niche new wave musical stylings of a minor Australian post punk identity are somehow more important or serve some higher purpose than robust commerce. For it must be said that on balance, the demand for apartments in Melbourne is somewhat greater than demand for shows by The Apartments, even if a few of them do remain unoccupied. However, performances are sufficiently rare that I wasn't going to pass the opportunity to attend this one.
The Apartments is the long-term musical project of Peter Milton Walsh. They began in Brisbane sometime in the late 1970s and continued in one form or another in and around Walsh's short-lived stints in The Go Betweens and Laughing Clowns, among numerous other bands.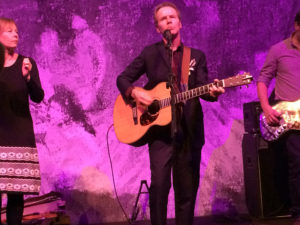 After releasing their debut album, The Evening Visits…And Stays For Years, in 1985, follow up albums weren't recorded until the mid to late 1990s. Another long break ensued after the tragic death of Walsh's young son Riley from leukemia. The Apartments didn't record again until 2015 when they released their album, No Song, No Spell, No Madrigal featuring songs that Walsh had been writing about his son during his illness and over the ensuing years since his death. It is a lush, chamber record of beautiful, heartbreaking songs.
The Apartments are big in France, or at least bigger there than in Australia, so most of their recent tours have been in France. Which is presumably why they've been selected to play as part of the Friday Nights at NGV series to accompany the gallery's Winter Masterpieces exhibition of paintings and sculptures by the Franch master, Edgar Degas.
"I Just Can't Seem To Get Out of Bathrooms"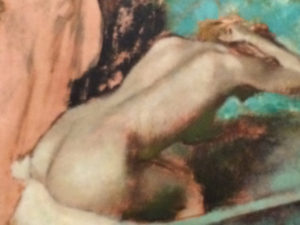 If you visit the bathroom at the NGV, you'll see printed in large Arial font on the mirror above the basins a quote from Degas that reads, "I just can't seem to get out of bathrooms." Out of context, this rather odd admission suggests that perhaps Degas suffered from a bladder problem, or had some sort of obsessive-compulsive cleanliness disorder. But no, once you view the exhibition it all makes sense and you realize that he basically spent a good portion of his time skulking about in the ladies drawing pictures of women getting in and out of baths.
These days you can arouse a certain degree of suspicion if you're caught in a female bathroom with an iPhone camera, so full marks to Degas who managed to remain inconspicuous even while lugging about an easel, palette and a range of charcoals and paints while sketching the rounded behinds of unsuspecting women at their toilette.
Indeed, Degas' ouvre consists primarily of a sort of 19th century voyeurism, 'Woman Taken Unawares,'  'Seated Woman, Wiping her Left Side' or 'Actresses in their dressing room,' as well as numerous examples of women bathing 'Woman seated on the edge of the bath sponging her neck' (all sketched from behind – Degas was an arse man it seems). There's even upskirting, 'Woman seen from behind climbing into a chariot', plus the fetishism of all those paintings of young girls in tutus, '14 year old ballet dancer.' With all of these paintings concentrated in one exhibition, you begin to form the view that if he were alive today, Degas would probably be wearing an electronic ankle bracelet and be subject to a court order banning him from going within 2km of a school or ballet concert.
Songs and Spells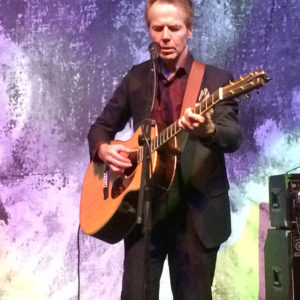 The NGV Friday Nights are excellent value – $30 for the exhibition and a performance by a leading local or international act. Plus the show is over by 10pm, meaning you can grab a drink afterwards and still have time to catch a tram or train home. The lineup for this exhibition is uniformly excellent and I have also bought a ticket to see Mick Harvey perform his Serge Gainsbourg translations later in the season.
The last time I was at an NGV Friday Nights gig was to see Black Cab at the Warhol/Wei Wei exhibition. It was considerably more crowded for that show than it was for The Apartments. I don't know if that is indicative of the relative popularity of Black Cab and The Apartments, or Warhol and Degas, but I suspect the latter.
I grabbed an overpriced Peroni and joined the handful of people gathered at the front of the stage. I wasn't sure what sort of lineup to expect, Walsh's recent tour of France had been as a trio, but this time there were several mike stands set up. And indeed, six people took to the stage at more or less the appointed time. I missed most of their names, but in addition to Walsh on acoustic guitar, there was Wayne Connolly on electric guitar, Amanda Brown of Go Betweens fame on violin and Claire Moore on percussion. There was also a bassist and a trumpet and flugelhorn player. Brown and Moore also provided backing vocals and everyone at some stage shook a percussive implement.
They show was bookended by tracks from No Song No Spell No Madrigal – they opened with the quiet and melancholy Swap Places, in which Walsh expresses the desire to swap places in death with his son, and closed their set with Twenty One, in which Walsh laments the missed birthdays and milestones that his son won't get to experience.
This is harrowing material, but for all that, it wasn't a depressing show. Most of the misery was offset by melody and the rich instrumentation of the songs. The playing was restrained and sensitive, but perfectly pitched and Walsh's vocal delivery was earnest and emotive. This allowed the audience to get lost in the moment of performance rather than the very real grief at the root of some of these songs.
In truth, a large percentage of the audience sitting at the tables to either side of the stage were lost in their own conversation and the house red, wich was making them ever more loquacious. I heard some mutterings of discontent from among those gathered in a knot near the stage, but the chatter wasn't distracting me and it was really no worse than at any other pub gig.
The only other song they performed from No Song No Spell No Madrigal was Please, Don't Say Remember, with the rest of the set drawn from across The Apartments' four earlier albums. Walsh didn't speak much, other than to make requests of the mixer to turn something up one minute and down the next. He did introduce Thank You For Making Me Beg as being written in response to a meeting with a heavyweight in the Australian music industry. He didn't name names, but given how few people fit that particular description, he didn't really have to. Once you've ruled out Kyle Sandilands there are only one or two other options.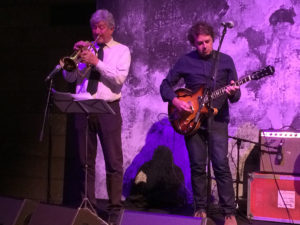 Projected onto the wall above the stage was an ever-changing slideshow of Degas' paintings, which made for an effective backdrop to the performance. In particular the enlarged detail of the guitar in the painting entitled 'Degas's father listening to Lorenzo Pagans playing guitar' – one of the few occasions it would seem that Degas emerged from the womens bathouse to join his family.
According to the website of the Museum of Fine Arts in Boston, where the painting normally hangs, Lorenzo Pagans was a Spanish singer and guitarist who became a popular in the French musical salons of Degas' time performing Spanish songs. In a way this is not unlike the journey taken by Peter Milton Walsh, who is largely unheralded in Australia, but can command good audiences in Paris. Any links Walsh may have to Parisian bathhouses is as yet unknown.
Architecturally speaking, an apartment is like a miniature house. And just as House music is a genre in its own right with hundreds of exponents and sub-genres, Apartments music is on a more modest scale and has but one exponent, but it's a very fine one.
Setlist
Swap Places
Things You'll Keep
Thank You For Making Me Beg
On Every Corner
Please, Don't Say Remember
End of Some Fear
Mr Somewhere
Every Day Will Be New
All You Wanted
Sunset Hotel
The Goodbye Train
Twenty One