Sleater-Kinney
Sleater-Kinney
Ouch My Face
Croxton Park Hotel
Thursday 10 March 2016
$55
IT'S THE WEATHER WE LOVE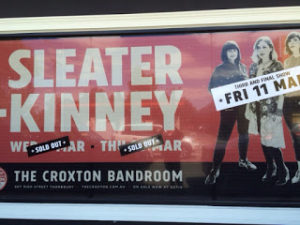 It was International Women's Day just a couple of days ago and what better way to celebrate than a Sleater-Kinney gig? Okay, I suppose some pedants may argue that equal pay for women, proportional representation in parliament, more women on boards of ASX 500 companies and freedom from sexual oppression and domestic violence might be more desirable, but failing all of that, three strong women rocking it out loudly at the Croxton is at least something.
This is the second of three sold out nights for Sleater-Kinney and my first time at the Croxton Park Hotel. A well-known venue in the 70s – 'Rock at the Croc' was the catch cry – it reopened to bands in late 2015 with The Drones and has some good acts coming up, including The Residents.
The title track from Sleater-Kinney's latest album, No Cities To Love, declares that it's not the cities they love, but the weather. Such a sentiment was being tested, however, for this was a wet night in Melbourne, with rain falling for most of the afternoon and into the evening. It didn't seem to bother the locals, for the outdoor eateries on High Street Thornbury were crowded with diners and people milled about in the rain, unconcerned about getting wet.
Ouch My Face
When I walked in I was hit by a force I had never previously encountered – the sound barrage of Ouch My Face who were belting it out on stage. It was not so much music as a force field of noise. Their sound was explosively loud and had a visceral punch to it that literally set me back a step or two, like a sonic assault. I thought I'd stepped into a warzone. Any veterans in the room might have experienced flashbacks.
The band consisted of just two women on guitars, bass and vocals, and a bloke on drums, although such was the din it sounded like there might have been upwards of a dozen musicians thrumming heavily away. I couldn't actually get close enough to tell. As it was I had to mime Mountain Goat Steam Ale to the girl behind the bar, a pantomime that tested my thespian reach.
Never, I suspect, has a band operated under a more accurate and evocative moniker, except perhaps Throbbing Gristle. But my face was the least of my problems; I feared mainly for my internal organs. One song called Graveyard the singer dedicated to her amp that had died that day – I suspect she goes through one or two each week.
Despite the physical discomfort they caused, there was something joyously cathartic about their sound and their willingness to make it. And while I have nothing against Dami Im, who was announced this week as Australia's entrant in Eurovision 2016, I feel we've missed an opportunity to make a real impression at Eurovision by not sending Ouch My Face instead.
Sleater–Kinney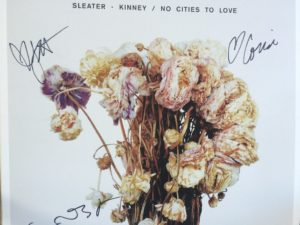 The crowd had built during Ouch My Face's set and it was a long wait to get a drink during the interval. While the expected high quotient of girls with crew-cuts wearing singlets, denim and combat boots were in attendance, it was a largely mixed audience of women and men from diverse age groups.
I'm only a recent convert to Sleater-Kinney's particular kind of racket, picking up their album No Cities To Love on the strength of reviews when it came out. Somehow, not only had Sleater-Kinney escaped my attention in the 90s, but so had the entire Riot Grrrl movement!
Now I know that a male in Australia entering his 30s can perhaps be forgiven for not being au fait with neo feminist youth subcultures developing on the other side of the world. It is still surprising however, that I missed the growth of an entire musical genre. In my defence, it isn't that dissimilar to grunge, fuzzy guitars and shouty vocals, except with women, so I probably just lumped the sounds together. I wasn't particularly into grunge, although I did like some of it, but what I liked most about it at the time was that you no longer had to iron your shirts. As far as musical movements go, it was a real time saver.
I felt a little bit better about missing Riot Grrrl when I read in Carrie Brownstein's book, Hunger Makes Me a Modern Girl, that Riot Grrrl operated along similar strictures to Fight Club, in that participants were not permitted to talk about it. In fact they had a self-imposed media black ban. So I wasn't even meant to know about it…phew! It was more a secret sorority than a subculture. In all likelihood, they probably didn't want to be confused with the Spice Girls' simultaneous girl power push, which was, let's face it, more a marketing term to sell merchandise than a proto feminist movement or a musical genre.
There was plenty of love in the room for Sleater-Kinney when they came on stage around 9.30 pm and launched into Price Tag, the opening song from comeback album, No Cities To Love. Carrie Brownstein stood stage left and provided the tough, angular guitar riff while Corin Tucker wailed her way through the lyrical agitprop about the cost of consumerism, and Janet Weiss pummeled the track along with a driving tempo on the drums. There was also a mysterious blond lurking in the shadows on bass guitar, tambourine and possibly a keyboard.
They followed this with Fangless, in which Brownstein added some vocal contrast in the chorus. The two frontwomen worked very well together. Tucker is a seriously good singer – she has an arresting timbre and brings real intensity to her vocal delivery. She has one of those wailing, shouty voices, but in addition to being powerful, it is surprisingly tuneful. I thought it might grate over the course of 90 minutes, but far from it, she had enough variety and maintained good control of her voice right to the end of the show.
Brownstein bolstered the singing in some of the big anthemic choruses and took the lead vocal on a few tracks, most notably No Cities To Love, A New Wave, and the final song of the encore, Modern Girl. Elsewhere she added an alternative voice within songs, most effectively in Words and Guitar where dual voices sing over each other. On the whole though, it was her guitar playing that cranked the show along. Her angular, jerky movements, high kicks and Townsend-esque windmilling playing arm provided a focal point for the audience, and she was not beyond pursing her lips and pulling the occasional guitar goddess move.
Where Tucker and Brownstein took most of the attention, Janet Weiss anchored the sound with powerful drumming. More than providing the beat, she contributed surging propulsion, adding thrust and impetus to the sound, and even a touch of lilting harmonica on Modern Girl.
It was a very impressive performance, so good that one of the security personnel guarding the entry through to the back stage left his post to ask me the name of the band – I had to type it into his phone.
Although I knew some of their older material, I was most familiar with the songs from No Cities To Love, so for me the highlights were Bury Our Friends and a soaring rendition of A New Wave. The set however, took in tracks from across their entire career. The concluding quartet of I Wanna Be Your Joey Ramone, Words and Guitar, Entertain and Jumpers built to a suitably raucous sonic climax. The encore concluded with the sing-a-long folk of Modern Girl.
Sleater-Kinney may insist that there are no cities to love, but they recorded their first album in Melbourne 20 years ago, so we'd like to think we hold some place in their collective heart – even if only for the weather.
Setlist
Price Tag
Fangless
Oh!
Far Away
One More Hour
What's Mine Is Yours
No Cities To Love
Surface Envy
One Beat
Bury Our Friends
Was it a Lie?
A New Wave
The Fox
I Wanna Be Your Joey Ramone
Words and Guitar
Entertain
Jumpers
– – – – –
Let's Call It Love
Modern Girl
Source: www.setlist.fm.com
Encore: While SK fans sweated it out at the Croxton, Madonna fans queued in Hosier Lane waiting for Madonna's one-off club show, Tears of a Clown, at The Forum. It was invite only for fan club members and free, but fans were kept waiting in the rain until after midnight while Madonna rehearsed inside.  Her show was a curious mix of songs, circus tricks, stand-up and even unsworn testimony in her custody battle for her son, Rocco.