Teeth & Tongue
Teeth & Tongue
Polyester Records, Fitzroy
Sunday 4 September 2016
Free
SPEAKING IN TONGUES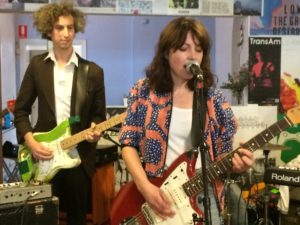 Father's Day is a special time when families come together to acknowledge dad's contribution to domestic life, to celebrate their particular patriarch's achievements and the central role he plays in their lives.
In some households it is a chance for the ceremonial observance of conjugal rites, while in others he is awoken when the kids burst in and clamber all over him with gifts, home-made cards and general bonhomie. The family unit or even the extended family might then repair for a celebratory breakfast or lunch, after which pops might be left to watch the football in peace, fire up his new power tool or be granted special dispensation to start drinking before noon from his 'World's Best Dad' stubby holder.
Of course every family has its own rituals and celebrates in their own way. Some families even reject the notion of a manufactured day motivated by a commercial imperative and fuelled by rampant consumerism. Not for them the crass commercialism of a day ordained by some anonymous authority as the day when you must express your love and appreciation for dad. Huh!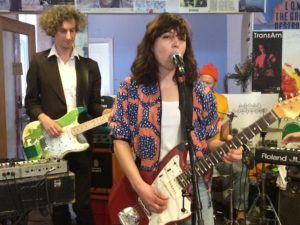 This must be the sort of family I'm in, for the morning of Father's day came without any cards, burnt toast or tepid coffee served in bed, or any tacky and inexpensive gifts from the school's father's day stall. Not so much as a 'Super Dad' beer glass or novelty tie. In fact there was no acknowledgment at all that it was a Sunday of any particular note or occasion. My wife went out somewhere and my two teenage sons got busy destroying aliens, pirates and innocent civilians in some gruesome PS4 game.
So I didn't feel at all guilty when I took myself off to Polyester Records in Brunswick Street, Fitzroy where Teeth & Tongue were playing a free in-store show to promote their new album, Give Up on Your Health. As advice goes, it is perhaps a little too late in my case anyway, but it acted as an encouraging spur to enjoy an afternoon Asahi as I waited for the band.
Wisdom Teeth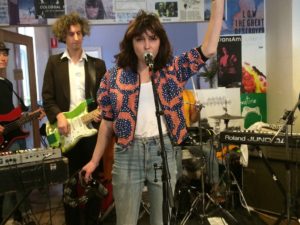 Teeth & Tongue are one of my favourite local bands – see previous post re shows in 2015 and 2014. As I'm unable to attend their album launch show at Howler next month, I was happy for this chance to hear them play their new material, especially for free.
I wandered into the shop about 10 minutes ahead of the appointed gig time and browsed through the racks while the band set their levels. Polyester has an excellent Australian section and a good vinyl selection. I was admiring some smart reissued Fall vinyl as the aisles grew steadily more crowded. The store suddenly filled as the band were about to start and I got edged forwards to the point where I was right at the front. So close in fact that I could've reached out my foot to hit the effects pedals.
I was a little self-conscious that I was in the way and blocking people's view, but then if it not me, someone else would have been standing in the same spot blocking my view. The people next to me sat on the ground and while this would have been the polite thing for me to do, I was afraid I might not be able to get up again.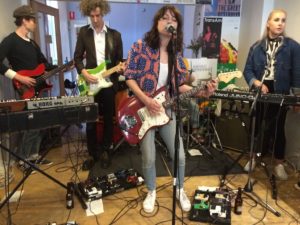 Tongue Lashing
Teeth & Tongue's new album is quite different in tone to their previous efforts. There are none of the baroque ballads like Good Man and I Feel Good that made Grids such an absorbing record. Instead, this one has much more of an up vibe with luscious pulsing synths filling the spaces and big beats defining them. But they haven't undergone a complete transformation; Jess Cornelius' rich, resonant vocals and Marc Regueiro-McKelvie's Cure-esque guitar lines – and untamed William Reid curls – remain the feature components of their sound.
And I was right up front getting the full effect of both. They opened with Do Harm, a gentle mid-tempo pop song that has just enough light and shade to make it interesting. And live it packed much more punch than the recorded version. When We Met, a strident guitar led rocker upped the tempo and energy, before Call Back changed the mood again with a relaxed summer groove courtesy of Regueiro-McKelvie's shimmering guitar line.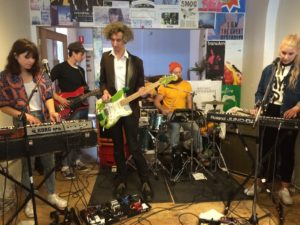 The youthful Damian Sullivan chugged away on bass with his customary happy glass-half-full grin while James Harvey on drums still managed to look macho in his citrus themed orange beanie and yellow tee – hey, it was Spring Fashion week so why not. He had an interesting set up, part acoustic, part electronic. He used a traditional high-hat, floor tom and mounted tom, but electronic snare and bass drums. He still had a bass pedal, but it generated its regimented thump by striking a tiny pad rather than a large circular skin. Jade McInally played keys and added backing vocals, but there is less scope for her voice on the new material than there was on Grids.
Sullivan switched to keys and Cornelius went guitar-less for the new version of Cupcake. What was once a guitar-led pop song in its first incarnation as a single, has been transformed into a synth heavy dance number, complete with bass drop, well sort of, as big a bass drop as you're likely to get in the Melbourne indie scene at least.
Your Ghost Is The Hardest To Kill contains probably the most surprising twist, at least in song structure. Introducing it, Cornelius mocked her own title as being "so emo," but she's right to a point. It has an epic prog rock feel with an emotive and punchy intensity, driven by Cornelius' dynamic and soaring vocal performance.
They rounded out the show with singles Diane and Turn Turn Turn that they played with passion and what seemed like ever increasing volume – accentuated no doubt by the fact that I was standing less than a metre away from the PA and the array of amps.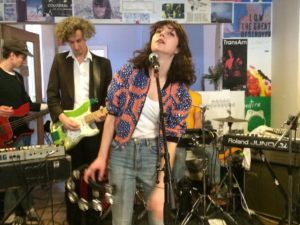 With nobody standing between the band and me, I had a very direct and immediate experience watching them play. Making eye contact with Jess Cornelius as she sang about men who have let her down or don't measure up added a certain frisson to the occasion, a frisson that admittedly only I felt, but was nevertheless both slightly arousing and also a little bit disconcerting. In her case, I concede, the balance was probably weighted more towards the disconcerting.
I didn't buy the t-shirt with Give Up On Your Health emblazoned in large black 'Frankie Says…' font on the front, for fear that it would provoke too many comments of the  "looks like you already have" variety, but I did pick up a copy of the album. It was Father's Day and the least I deserved.
When I returned home word had obviously got out and the boys presented me with a 3D card, some Lindt chocolate and the best present a man could have, a packet of cheese Twisties.
Setlist
Do Harm
When We Met
Call Back
Cupcake
Give Up on Your Health
Your Ghost Is The Hardest To Kill
Dianne
Turn Turn Turn