The Wombats
The Wombats
Festival Hall, West Melbourne
Wednesday 3 May 2017
$80
TALES OF BOYS AND MARSUPIALS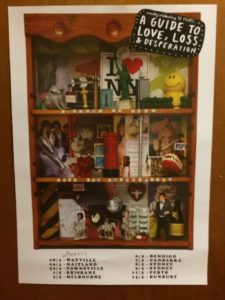 When I told my friends I was going to see The Wombats, most assumed I was referring to a children's group, some sort of amalgamation of The Wiggles and The Wombles.
Or they assumed it was an Australian bush ballad band, like The Bushwhackers. After all, it's hard to imagine any self-respecting Australian band calling themselves The Wombats or naming themselves after any of this nation's other marsupials for that matter. I don't know if it's a form of cultural cringe, but cool rock types have tended to turn up their noses at Australia's native fauna when it comes to band names. Having said that, there was a well known country rock band in the 1970s called The Dingoes, and of course Scott & Charlene's Wedding are still going strong.
The Wombats are in fact a three-piece indie pop band from Britain that both of my children like. They sound a bit like The Cure in full-on pop mode – i.e. just the uptempo moments without the seven minute dirges. On The Cure spectrum, they're definitely at the In Between Days and Why Can't I Be You end, quite opposite the Prayers For Rain and From the Edge of a Deep Sea end.  
Anyway, of all the music my children subject me to in the car The Wombats are among the least objectionable; certainly more welcome than Eminem, whose songs all seem to be about being Eminem. He's either supremely self assured or having a serious identity crisis. 
I accompanied my youngest son Declan and his friend Indie who, to the best of my knowledge is not named after a music genre. My eldest son Oscar was also attending with some of his friends and even though the tickets were bought days apart, our seats ended up being right in front of his. If he thought it was uncool attending a concert with his dad, he didn't show it. Which I hope is a sign of maturity and not of disregard.
The seats in question were hard wooden benches on the side, up the back in the unlicensed area. So, not really ideal at Festival Hall. Still, the floor area was filling fast and we could tell it was going to get squashy down in the mosh pit.
Fat (Milky) Chance
A wild rumour swept town in the hours before the show that Milky Chance was the support act, so we turned up early just in case. It turned out to not be true. Possibly the rumour was started by the actual support act, Jarrow, who were perhaps trying to drum up an audience for their set.
If they didn't start the rumour, they had certainly heard it, because the lead singer at one point apologised for not being Milky Chance.

Jarrow were pretty good. I'm not sure if Jarrow is one guy or a band, but there were a few of them on stage. They played a variety of jangly guitar pop that might have sounded better had we not been up the back of a cavernous, half-empty shed. As it was, I spent portions of their set procuring items from the merchandise stand and the (non-alcohlic) drinks stand, so wasn't fully involved. One of their songs seem to strike recognition with a portion of the crowd, so they obviously have some following.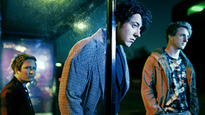 The Wombats
Say what you like about The Wombats, but they know how to get a gig going. After a recorded overture of their self-referencing theme song of sorts, Tales of Girls, Boys and Marsupials, the band bounded on stage and burst into a series of hits played with such energy and gusto that the audience was bouncing right from the start. 
Kill the Director, Moving to New York, 1996 and Give Me a Try – all standards in our car trips are obviously big hits as well, because not only did I know them, but the audience went nuts at the opening note of each. We were out of our seats and standing early on, which is unusual for a Melbourne crowd, but given the hard wooden benches, was also decidedly welcome. What might have been another band's climax was just the opening gambit for the Wombats.
The tour was ostensibly to celebrate the 10th anniversary of their debut album, A Guide to Love, Loss & Desperation. So there was no prelude of new material before the big hits got played – they were straight into it. I have to admit the release of this album in 2007 passed me by entirely – the older I get the more behind the times I become – possibly I was still discovering 90s grunge at that stage. As Dylan sang, "I was so much older then, I'm younger than that now." 
The band were Matthew Murphy on guitar and vocals, Dan Haggis on drums and Tord Overland Knudsen on bass. Both Murphy and Knudsen also dabbled on keyboards. 
Canon Fodder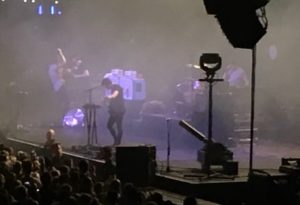 There's an old Chekovian theatrical principle which states that if a gun appears in Act One, then it has to go off in Act Three. In music concerts, the same principle applies to confetti canons, two of which we could see cocked on either side of the side of the stage just waiting for their big moment.
The show couldn't maintain this level of excitement, but even when the group changed up the pace with a slower, slightly atmospheric number like Jump Into the Fog, they regained the momentum with manic, breakneck songs numbers like The English Summer and Lost in the Post. 
The set was a mix of songs from across their three albums with greater weight given to A Guide to Love, Loss and Desperation. Some of it I was familiar with, but there was much I wasn't. Most of it I liked, but there were several anthemic radio pop flourishes I was less fond of – banked voices chanting "uh oh uh oh uh oh" or "whooh whoooh whoooh" to ascending synthesiser chords. 
Even so, the band had great energy and a strong rapport with their audience who went wild at cues I missed, clapped along when encouraged to and sang out each word. There were moments when all I could hear was my son behind me singing loudly in my ear. I was also getting buffeted by the young girl next to me who danced non-stop – so wildly at one point I thought she was undergoing some sort of religious experience. 
Little Miss Pipedream is their quirky Close To Me moment, containing a drinking reference to Oliver Reed that only me and any other parents in the room would have understood. After which they wound up the set with Techno Fan, Emoticons and Tokyo (Vampires and Wolves), the last of which is a good example of an impossibly catchy song played swiftly enough to keep everyone's adrenaline pumping. I felt we were a bit remote up in the back corner, but the people around me didn't seem to show any misgivings. 
At the end of the set lead singer held a giant stuffed toy wombat triumphantly in the air – I don't know if it travels everywhere with the band like a mascot or whether they bought it at a souvenir shop in the city that afternoon.  I'm just glad Severed Heads never had the same idea?
Known Pleasures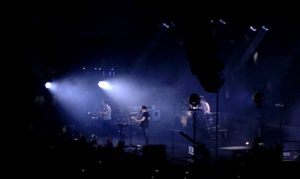 The encore was a riot of singalong pop opening with Greek Tragedy followed by their big hit, Let's Dance to Joy Division. Fittingly, it's from the album the show was honouring. The audience, already well hyped, went absolutely beserk as the song's opening notes rang out.
In the car on the way to the show I'd explained to the two youngest of my charges just who Joy Division were, the type of music they played and the sad fate of lead singer Ian Curtis. I didn't subject them to Atrocity Exhibition, Isolation or any of their other majestic anthems of misery. Nor did I explain that the band is named after a unit of female prisoners forced into prostitution by the Nazis during WWII. Sometimes you can have too much back story and context.
The song is a joyous pop nugget and the girl next to me was literally shaking with excitement as she danced – she might have been having the happiest moment of her life. So when the confetti canons unleashed their payload, you had to forget the irony heaped upon irony and just give into the exuberance. It's unlikely Joy Division ever had confetti canons, but they did go onto make some of the best dance music ever as New Order, so perhaps they would have enjoyed a rain of fluttering glitter. Certainly the mosh pit at this gig did.
Anything was going to be a bit of a letdown after that, but the band began a brief instrumental jam that had a familiar ring to it – Hendrix, Queen, Led Zep? – to end the show. The wombat got hoisted once more, Haggis threw his drum sticks into the mosh pit and Knudsen scrunched up the set lists and tossed them to the audience.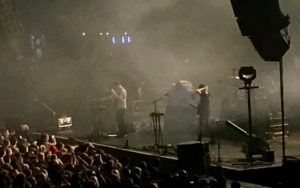 The gang I was with all loved it and I certainly got the impression the band know their audience. The songs are pretty good – sharp slice of life observations about being a young man navigating through the modern world – nothing ground breaking but sung with humour, honesty and a self-deprecation. I think it it would be interesting to hear them stripped of all their pop dressing, but I suspect the audience liked them just the way they were.
Setlist
Kill the Director
Moving to New York
1996
Give Me a Try
Jump into the Fog
The English Summer
Here Comes the Anxiety
Lost in the Post
Your Body is a Weapon
My First Wedding
Backfire at the Disco
Little Miss Pipedream
Techno Fan
Emoticons
Tokyo – Vampires and Wolves
—————–
Greek Tragedy
Let's Dance to Joy Division
jam