Gold Class
Gold Class
NGV, Melbourne
Friday 6 January 2017
$30
ART CLASS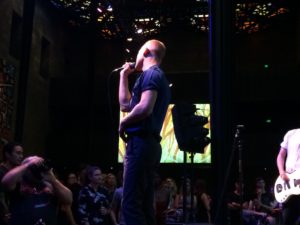 Kooky haute-couture by futurist Dutch fashionistas, portraits and landscapes created on iPad and iPhone by an octogenarian British pop artist and neo post punk music played by gritty inner urban Melbourne musos. Not so much cultural collision as cultural confusion. Or was it just cultural promiscuity? Either way, I'm sure we enjoyed it all the more for being just a little bit pissed.
Ralph, Judy and I were meeting up with our friends Ruth and Tjeb who were visiting from Cairns, so rather than just sit around in a pub, we thought we'd add a cultural backdrop to our catch up. And with one of Melbourne's most hyped bands playing at the NGV to accompany the Viktor and Rolph fashion exhibition and David Hockney Current exhibition, what better venue could there be.
As it turned out the temperature on the day was a scorching 36 degrees Celsius, so once we met up at Transport, the pub at Federation Square, we were reluctant to leave its air conditioned interior and easy flow of cold drinks. One round followed another and by the time we rolled into the gallery we only had time to see one or two rooms of the Hockney exhibition before we heard the dull rumble of Gold Class starting up in the Great Hall.
Pop Art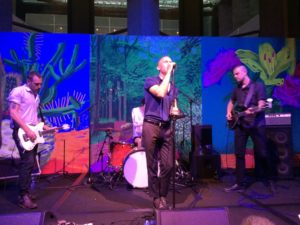 Last time I saw Gold Class I missed the majority of their set, so I didn't want to miss them this time, irrespective of the worth or otherwise of Hockney's digital daubs.
We found Ralph, who already had a prime spot front and centre, but there was plenty of room and the lead singer urged people to move in closer, so we did. The first song was one I didn't recognise, but they followed it up with Bite Down, one of the highlights of their magnificent debut album, It's You.
The band was playing against a backdrop that featured a triptych of Hockney's brightly coloured landscapes. Such was the riot of bubblegum colour that it might have been borrowed from a Katy Perry video shoot. The brilliant blues, lush greens and lurid purples depicted a vivid and iridescent bucolic wonderland that looked quite inviting given the extreme heat outside, but was somewhat incongruous against a soundscape of rumbling bass, scraping guitar and Adam Curley's rich baritone intoning songs of apocalyptic doom. Actually I don't know what most of the songs are about, but Curley could make a Jamie Oliver recipe sound like a dire warning.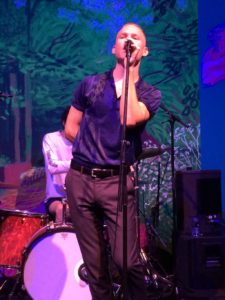 There were other incongruities: the area in front of the stage wasn't particularly crowded, so no one was jostling us. Nor was the sound overly loud, although admittedly I was still partially deaf from seeing Parquet Courts the night previous, so perhaps it was just me.
Curley conceded at one point that he found it a bit disconcerting that he could see our faces. He didn't say whether this was because he wasn't accustomed to playing in a venue where the natural light seeped in from outside, or because we were uglier than he'd imagined.
The other incongruity is inherent in the band's music and is perhaps one of their strengths. While drummer Mark Hewitt and bassist Jon Shub set the parameters of the song with a fast, relentless rhythm, guitarist Evan James Purdey added shards of guitar while Curley seemed to be singing along to an entirely different and much slower soundtrack. Only occasionally did he quicken his tongue to match the rhythm section's driving tempo. Somehow, however, it all gelled.
Despite Curley fulfilling his frontman role with all due aloofness – staring enigmatically into the middle distance and wrapping his limbs around the mic stand – it was Hewitt on drums who stood out for us. He attacked his snare and hi-hat with all the manic focus and metronomic intensity of a child with OCD. It was hypnotic watching him.
Class Conscious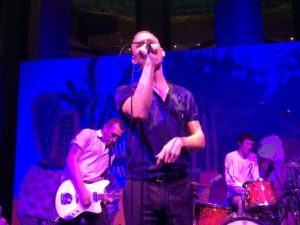 It was actually very comfortable at the NGV. Not too crowded, the air con was keeping things chilled and the mix was pretty good.
One of the problems you tend to encounter at Friday night gigs at the NGV is the chatting of the diners and drinkers at the tables to the side. I had not come to see Julien Baker for her NGV gig earlier in the season as I didn't think her quiet voice and fragile songs could rise above the din of art connoisseurs at conversation. For this gig, however, the weather had kept most of the chattering classes at home and Gold Class's robust rumble drowned out those who were there.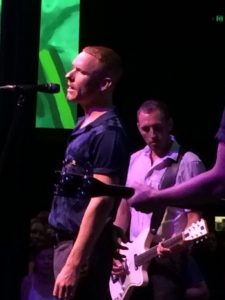 In keeping with the theme of the Hockney exhibition of new works, Gold Class' set featured quite a bit of new material, including their most recent single, Kids On Fire. The new songs sounded cleaner and sparser than those I was familiar with, but again, that may have been a false impression caused through my lingering deafness from the previous night. My audio range had narrowed somewhat. In any case, they are evidently continuing to build their repertoire and Curley at one point hinted that they would be taking a break from performing to record a new album. Judging by what I heard on the night, it will be every bit as good as their debut.
They finished off with the opening two songs from their album, Furlong and Life as a Gun, with Curley jumping off the stage to sing the final song from among the audience.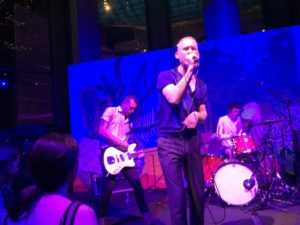 For me there was a happy element of nostalgia about this gig. Standing at the front with old friends Ruth, Ralph and Judy watching a post punk band with crew cuts,  stove pipe trousers and Doc Martens bang out Joy Division-esque dirges in a minor key was reminiscent of many Friday nights spent at the Seaview Ballroom in the early 1980s. The only difference this time was that it was all over by 9.30pm. We even had time to check out both the Viktor and Rolph and Hockney exhibitions afterwards.
Setlist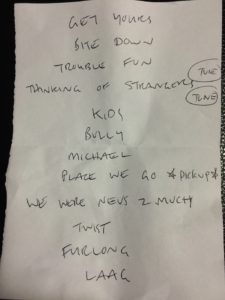 Get Yours
Bite Down
Trouble Fun
Thinking of Strangers
Kids on Fire
Bully
Michael
Place We Go
We Were News Too Much?
Twist
Furlong
Life as a Gun